The Secret Product Placement in 'Red Notice' Will Make Ryan Reynolds and Dwayne Johnson Even Richer
Ryan Reynolds and Dwayne Johnson not only made a hefty salary on Netflix's 'Red Notice,' but they could earn a lot of money from increased sales of their products.
More than 4.2 million households tuned in to watch the Netflix release of Red Notice starring Ryan Reynolds, Dwayne Johnson, and Gal Gadot. Despite the film being the biggest debut for the streaming channel to date, viewers could not help but notice the blatant product placement.
The underwhelming blockbuster featured more than 70 products. The liquor brands owned by Johnson and Reynolds earned a prominent place onscreen, providing both with a priceless advertising opportunity. The A-listers not only made a hefty salary on the Netflix film, but they stand to earn a lot of money from increased sales of their products.
Did you notice all of the product placements in 'Red Notice'?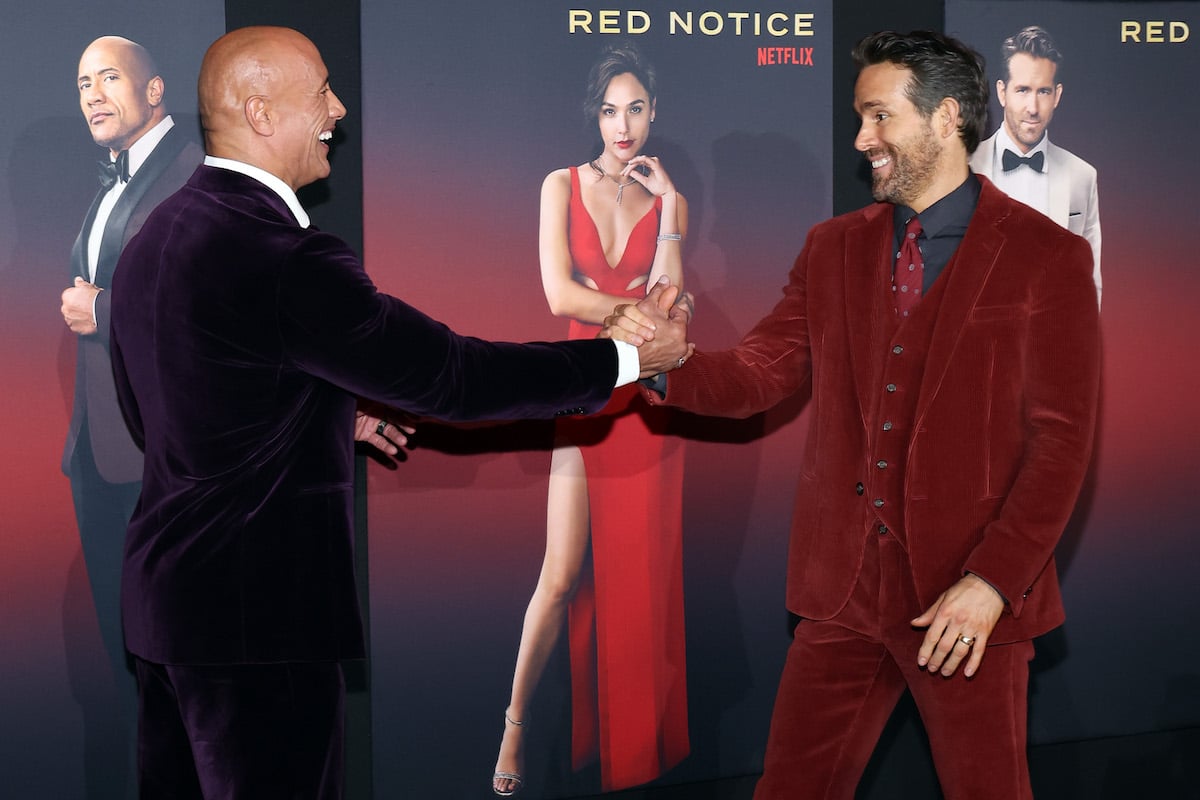 With a runtime of close to two hours, promoted products appeared on the screen for approximately 29 minutes in the action-packed film.
Netflix reported that Red Notice received 100 million views worldwide in its first four weeks on the subscription streaming service. According to Concave Brand Tracking, the star-studded movie "would provide the brands it features with around 40 million dollars in total advertising value."
Mercedes Benz received the longest screen time of their product, with two minutes spent on a 1931 Großer 770 vintage car found at the end of the movie in a Nazi lair. Apple also appeared quite often, with iPhones, a MacBook Pro, and an iPad used by the leading actors. In 2020, Apple was No. 1 in product placement in many of the most viewed movies in the country with seamless product integration.
Porsche only saw 33 seconds of screen time but was highly visible with extreme close-up shots. Ironically, even though it had the highest quality of exposure, Johnson had a hard time fitting into the Porsche Taycan. North Face, Alfa Romeo, Volkswagen, and Microsoft are among the many brands featured in the product-heavy film. However, the liquor brands owned by the leading men caught viewers' attention the most.
Both Reynolds and Johnson promoted their liquor brands in 'Red Notice'
US Weekly reported that all three actors received a salary of $20 million for appearing in Red Notice. Johnson will also earn additional money for his role as producer on the Netflix film. In a Facebook post, Johnson claimed that Red Notice is "the biggest investment Netflix has ever made in a film," with an astounding budget of $200 million.
The leading men stand to earn a whole lot more with the product placement of their liquor brands. Reynolds claims that putting Aviation Gin in the film was not his idea. He explained to Collider, "What's funny about the product placement thing is I've done it on a couple of films, and then everyone does it for me now."
The gin bottle has an easily identifiable and distinctive appearance. Thrillist reported that Aviation Gin showed up in the background of Reynolds' latest movie, Fall Guy. In Red Notice, Johnson suggested using the bottle. The Deadpool actor claims The Rock said, "Let's bring in some Aviation and put it on the table in this scene," and he quickly agreed. 
Teremana Tequila, owned by Johnson, also made a cameo appearance in Red Notice, but the gin bottle is arguably more noticeable.
How much money the 'Red Notice' stars make from their prominent liquor brands
Celebrities are finding enormous success investing in liquor brands. George Clooney sold his Casamigos Tequila brand for a staggering $1 billion in 2017.
In 2018, Reynolds became the owner of Aviation Gin. Less than two years later, he sold the brand to Diageo for $610 million. According to Insider, part of the lucrative deal was that he would remain the face of the brand for the next 10 years, receiving "payments based on the brand's future performance."
Johnson started his Teremana Tequila business at the height of the coronavirus pandemic, telling CNBC that his brand has since "sold more than 300,000 9-liter cases in the past nine months." The Jumanji star said that while Termana is a "legacy play," he would ideally like to "get it to the point where the brand can live on its own without me."
According to The Sportster, Johnson's movies have grossed more than $10 billion worldwide, "but his new Tequila brand may out-produce all of that." It seems a little product placement goes a long way in the world of celebrity-owned liquor sales.