See Keanu Reeves and Alex Winter in a Deleted Musical Scene from 'Bill & Ted's Excellent Adventure'
Wyld Stallyns fans have eagerly awaited Bill and Ted Face the Music, the long awaited third film in the series that began in 1989's Bill and Ted's Excellent Adventure. Keanu Reeves and Alex Winter are returning for the third movie, which comes 29 years after the sequel Bill and Ted's Bogus Journey and they have been sharing steady updates as the film goes through production.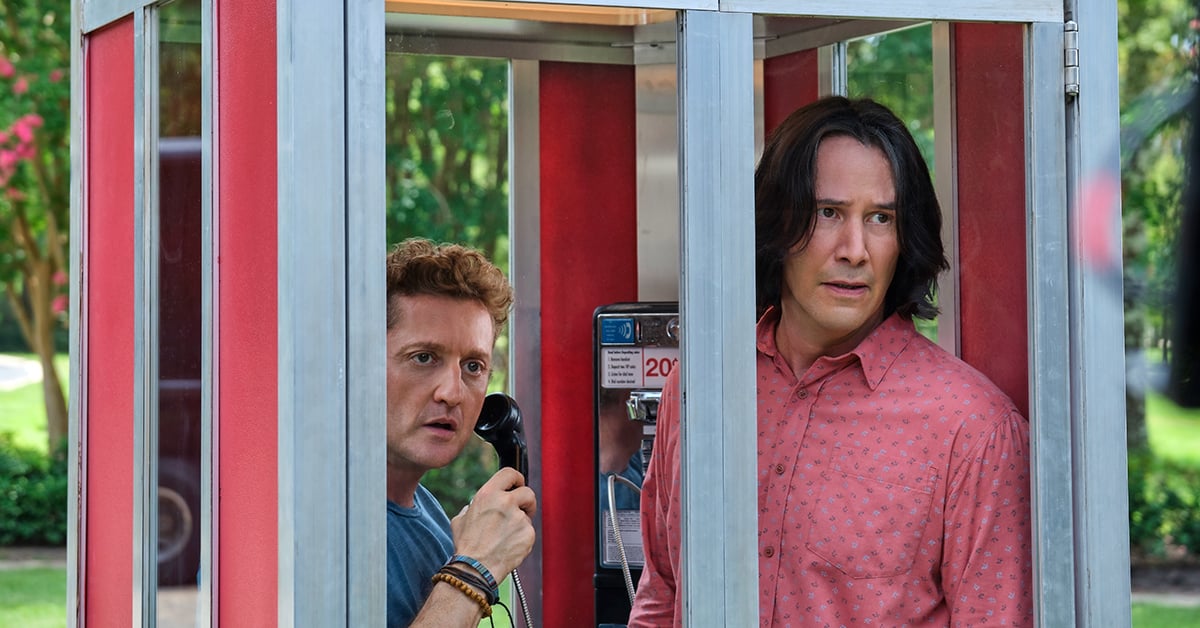 On Feb. 19, Winter tweeted some photos he found on an old hard drive from the original '80s shoot of Bill and Ted's Excellent Adventure. These pics show a deleted scene that not only didn't make it into the original film, it hasn't appeared on any of the DVD releases either. That's something to tide you over until Bill and Ted Face the Music is in theaters Aug. 21, 2020.
Keanu Reeves and Alex Winter in 'Bill & Ted's Excellent Adventure'
It all began in the future, when Bill (Winter) and Ted (Reeves)'s band Wyld Stallyns sang music that united the universe in harmony. However, back in high school in 1989 San Dimas, CA, the teenage musicians were failing history class. Ted's father (Hal Landon, Jr.) was going to send him away to military school, thus separating Wyld Stallyns before they could save the universe.
So Rufus (George Carlin) traveled back in time to give Bill and Ted a time traveling phone booth they could use to study history. They have adventures throughout history and bring historical figures like Abraham Lincoln (Robert V. Barron), Joan of Arc (Joan Weidlin), Napoleon (Terry Camilleri) and more to 1989 for their history report. You can see Lincoln in the food court in one of Winter's photos below. They passed the test and Wyld Stallyns ruled into their Bogus Journey.
Air guitarring wasn't easy for Keanu Reeves and Alex Winter
One of Bill and Ted's most endearing traits was air guitarring every time something excellent happened. Thanks to the movie magic of sound design, their air guitars actually produced audible riffs whenever Reeves and Winter mimed strumming and fingering.
Winter shared the above photo of himself and Reeves trying to figure out the air guitar on the set of Excellent Adventure. Amy Stoch played Missy and J. Patrick McNamara played Bill's dad. 
The deleted musical number from 'Bill & Ted's Excellent Adventure'
The theatrical cut of Excellent Adventure begins in the future with Rufus and cuts to Bill and Ted failing history. Originally, they didn't go right home after school. Winter wrote, "These are from the opening dance number (yes an actual, choreographed rock jam) and face off with the jocks at the bus stop that didn't make it into the movie."
The actor playing the jock in the letterman jacket finally gets screen time 31 years later courtesy of Winter's twitter. The final series shots show an acrobatic Reeves jumping in the air as Winter kneels and grinds. 
Given all the obstacles facing Bill and Ted, it's understandable that a feud with jocks was one too many. It would have been awesome to see more of Wyld Stallyns rocking out though. Hopefully they can find the actual footage of this deleted scene.