'Seinfeld': Did Jerry Seinfeld and Larry David Come up With the Sitcom Like Their Characters Did In the TV Show?
Seinfeld is a TV show "about nothing." At least, that is how George Costanza (Jason Alexander) and Jerry Seinfeld explain it. Seinfeld and creator Larry David toyed with its audience in episode 3 of season 4 when Jerry and George try to spawn an idea for NBC. Fans might not believe Seinfeld's creators came up with the idea for the sitcom just like the characters did similarly.
The pop culture cult classic Seinfeld entailed a group of friends in their 30's living their unordinary yet ordinary lives in New York City. Seinfeld and David took inspiration from their daily interactions for the sitcom's premise and even based characters on people they knew.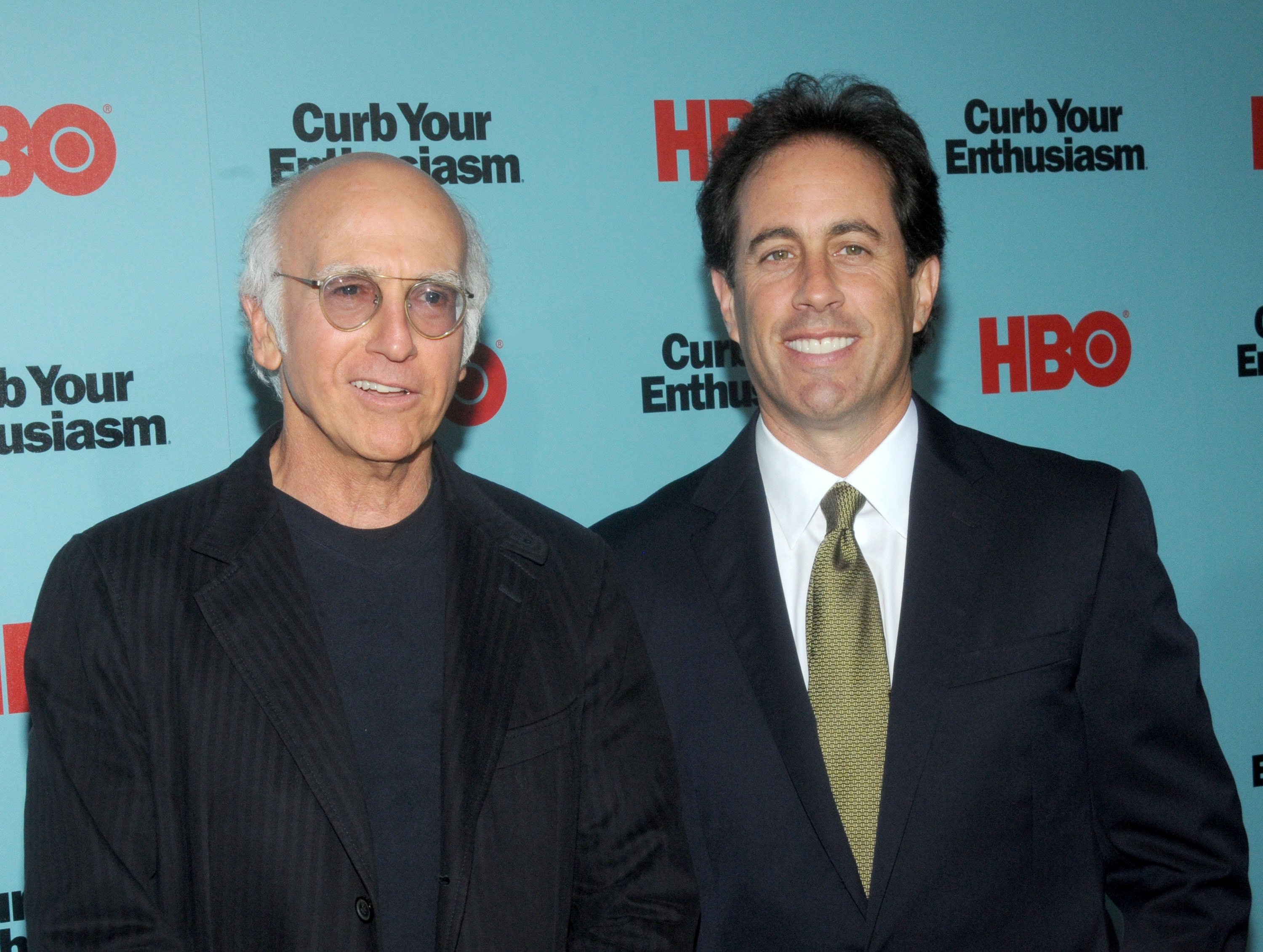 Jerry and George come up with an original show in 'The Pitch'
Episode 3 of season 4 of Seinfeld starts after Jerry gets off stage at a comedy club. Two executives approach him from NBC. They show their interest in Jerry developing his own show for the network. While at Monk's diner, George and Jerry discuss possible ideas.
The conversation deviates into talking about "salsa" and how funny the word sounds. The topic has no real importance or relevance but often happens in daily life. It is useless back and forth. After the discussion on salsa, George is struck with an idea. The premise for their TV show is "about nothing."
Jerry does not seem to understand, and George further elaborates. The series would be about the mundane things the main characters do in their lives. A character can go grocery shopping or to the mechanic or the doctors. The stories would portray the little mishaps, conversations, and interactions that could happen to anyone. In reality, the way George and Jerry come up with the idea is similar to how Seinfeld and David did in real life.
Larry David and Jerry Seinfeld were browsing a Korean supermarket and came up with 'Seinfeld'
According to Firstpost, Seinfeld and David were discussing developing a new sitcom together. The year was 1988, and the two comedians visited a Korean supermarket/deli. As they perused the aisles, they bounced ideas off each other and made light conversation. At some point, David said, "this is the show."
A similar line was used in "The Pitch" as George and Jerry sit at Monk's diner. George says, "This should be the show. This is the show," after their "salsa" banter. According to The Cinemaholic, "Larry was struck by how banter like that would never be heard on television and suggested to Jerry that they make a show where they just 'make fun of stuff.'" 
The idea stuck, and Seinfeld would become the most famous American sitcom in TV history. Fans somehow gravitated toward depicting the characters' everyday lives, frequent relationship problems, and bizarre, comical circumstances.
Some characters in 'Seinfeld' TV show are based on real-life people
The cooky and charismatic Cosmo Kramer, played by Michael Richards, is based on a real person. Jerry's next-door neighbor was based on David's actual neighbor in the early years of his career, according to The Cinemaholic. David changed the first name for the TV show.
Other characters in Seinfeld were also inspired by people David and Seinfeld knew. Jerry's father has some resemblance to Seinfeld's father in real life. In terms of Elaine, the character was a combination of David and Seinfeld's ex-girlfriends. The detail of Elaine being the daughter of a famous author is because of Seinfeld.
Seinfeld used to date a woman named Monica Yates. Yates, in real life, is the daughter of American author Richard Yates who is known for his debut novel Revolutionary Road.
Seinfeld is available to stream on Netflix.