'Seinfeld': Julia Louis-Dreyfus Cried and Demanded the 'Fat Elaine' Story Arc Be Removed
To this day, Seinfeld remains probably the greatest sitcom of all time. It's spawned so many pop culture catchphrases and touchstones, its impact is simply staggering. One of the show's most memorable characters was Elaine Benes, portrayed by the brilliant Julia Louis-Dreyfus. Louis-Dreyfus was an adventurous performer willing to take plenty of risks, but did you know there was one potential storyline Jerry Seinfeld suggested that actually brought her to tears? 
The premise of the show 'Seinfeld'
While it's now regarded as the best and funniest show of all time, Seinfeld was a revolutionary show at the time of its initial airing because nothing like it had ever been attempted. It bucked the trend of most sitcoms, becoming the "show about nothing."
While in hindsight, the show's success seems like a foregone conclusion, this wasn't the case at the time. NBC executives took a chance on the show. Many of the executives were befuddled by the show's lack of apparent direction or purpose, which was obviously by design. 
What made the show so successful? It was two main elements: 
The creative partnership of Larry David and Jerry Seinfeld. While the show was largely based on Seinfeld's act, it was also David's comedic genius that equally contributed to the show's premise and execution. Both men were equally responsible for the show's creative direction and narrative focus. 
The cast. Louis-Dreyfus, Michael Richards, and Jason Alexander were one of the most talented sitcom casts of all time. Each character became iconic in their own right, and the show wouldn't have been the same without them. 
While every member of the "Big Four" was equally important, Louis-Dreyfus was the only woman among the main cast. Her performance as Elaine was legendary. 
Julia Louis-Dreyfus as Elaine Benes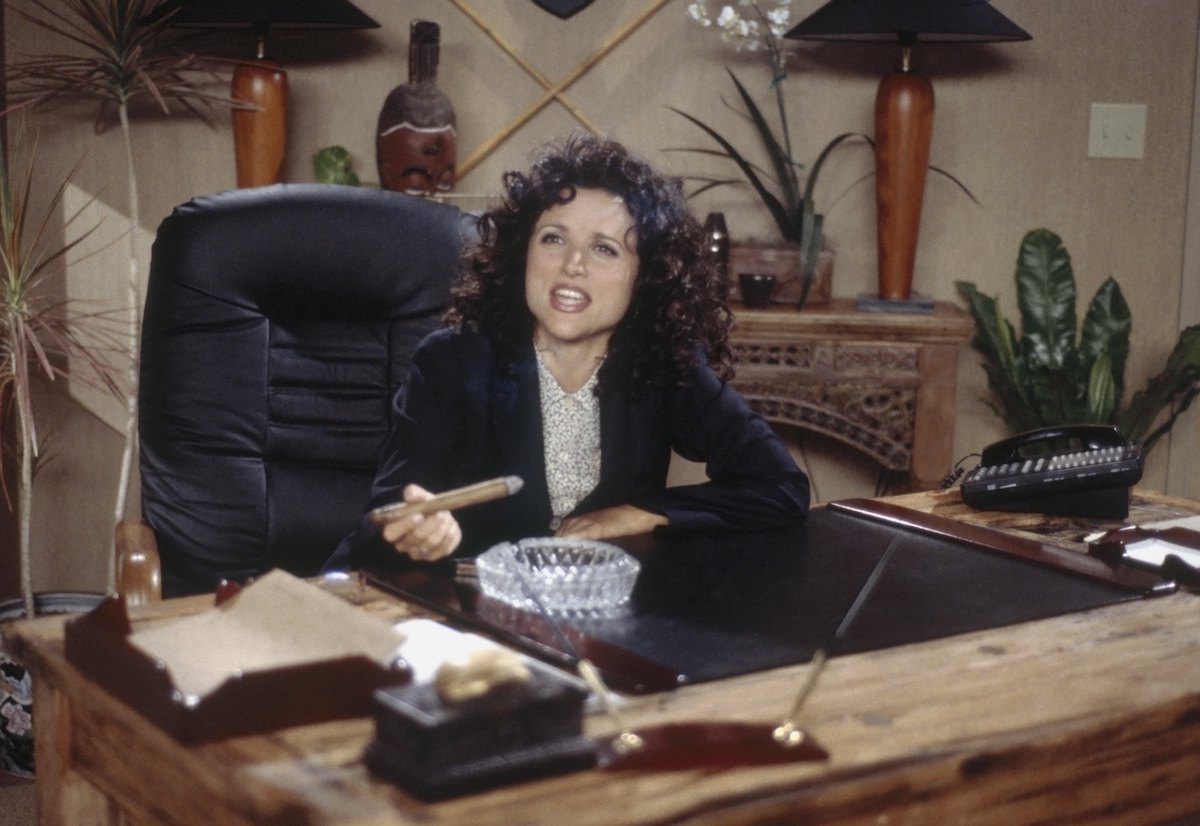 Known for her signature move and catchphrase (a shove punctuated by the phrase "Get OUT!"), Elaine was one of the show's anchors. In a sea of testosterone, she proved that the boys weren't the only ones who could be deplorable human beings. Based on Seinfeld writer and Jerry's real-life former girlfriend Carol Leifer, Elaine balanced out Kramer, George and Jerry's antics with her own style of craziness and hilarity. The character was beloved by fans and while she didn't appear in the show's pilot, eventually became an integral part of the show's inner workings. 
The time a suggested Elaine storyline brought Julia Louis-Dreyfus to tears
Louis-Dreyfus got pregnant with her husband former Saturday Night Live performer Brad Hall several times during the show's run. To get around this, the show's crew would creatively stage Elaine to mask her signs of pregnancy. They almost had another strategy, however.
In something straight out of an episode of Curb Your Enthusiasm, Seinfeld once went up to Louis-Dreyfus and, according to Ranker, asked her if she'd consider a storyline where Elaine got fat. Hearing this, Louis-Dreyfus started crying.
While the suggestion upset her, she'd later admit that it might have actually been an effective part of the show: 
"Burst into tears. Automatic. It was like a death sentence. So there are two things I have to say about that. One is you have no interpersonal communication skills. The second thing is, it was a great idea and we should have done it. It would have been a great storyline… I regret it."
Like many things with Seinfeld, a cringe-worthy moment that showed a severe lack of couth also could have played out in hilarious fashion on-screen. Kudos to Louis-Dreyfus for acknowledging the mistake. She knew, as a major part of the show, that in the right hands the storyline could have been well-done.