'Seinfeld': Lead Stars Were Threatened By Kramer's Popularity
Few sitcoms can boast that prolonged success that Seinfeld has had despite being off the air for more than twenty years. While the entire cast of characters had their fair share of fame, few characters resonated as Kramer did. Jerry's eccentric neighbor and friend became a national phenomenon throughout the show's run. However, it reached a point where the rest of the Seinfeld cast felt threatened by the rising star. 
Who is Kramer?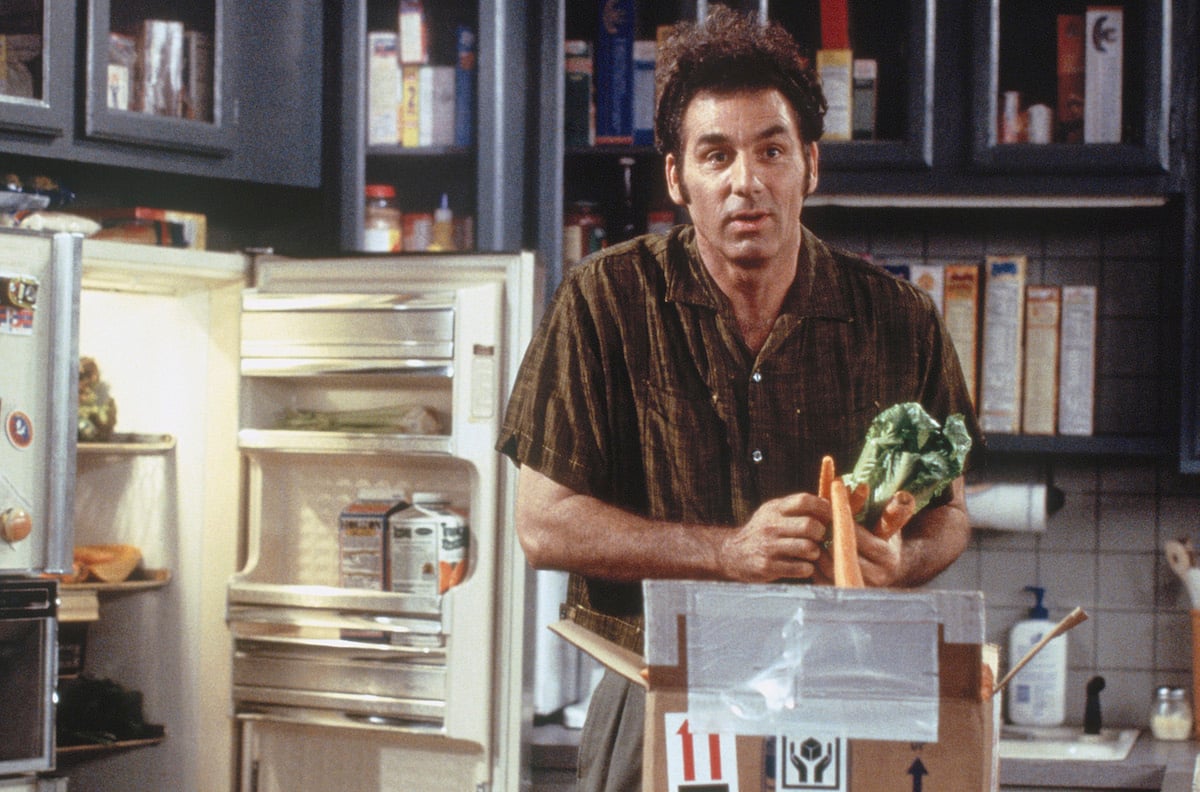 A modern look at Michael Richards' Kramer character might be tainted by the infamous, racist video that brought him down in 2007. But at the time of Seinfeld's run, he was one of the most recognizable stars in Hollywood.
Like many other characters on the show, Kramer was based on somebody that Seinfeld knew in real life. Seinfeld's Kramer was an eccentric neighbor who was always getting himself into a new, bizarre situation. For a show about nothing in which all the characters were strange in their way, Kramer found a way to stand out among the crowd. 
With his tall hair to match his large frame, Kramer was a far cry from Jerry, Elaine, George, and the rest of the main cast. He lived in his own universe and continuously got the biggest laughs because of it.
Kramer didn't just become a beloved character; however, he became a national phenomenon. His face appeared on shirts, posters, and other memorabilia from across the spectrum. 
In a show filled with bizarre yet believable characters, Richards took the cake as the strangest member of the main cast. Although his life after Seinfeld left the air has made him something of a black sheep in the entertainment industry, Kramer is still the role that most defines Richards 20 years after he last slid into Jerry's New York apartment. 
As a result, the rest of the cast began to feel a little bit of jealousy about the level of attention that Kramer got instead of them. 
The Kramer conundrum
As much as audiences loved Kramer as a character, his popularity became a nuisance on set. It wasn't a case of the cast not getting along with Richards, although his immersion into the character reportedly made it hard for him to forge relationships. Instead, the problems stemmed from the way the live studio audience reacted to him. 
Kramer's slide-in entrances became his signature move, and as such, the audience often went wild. However, when actors began to deliver their lines, the audience's loud response caused problems for the actors and the people behind the camera alike. Sitcoms have the added benefit and hindrance of being stage productions that happen to be filmed. 
Audiences had to be asked to tone down the uproarious clapping and cheering any time Kramer did anything. After all, there were more lines to be delivered. It's hard for even the most professional actor to get them out with so many distractions. It was part of what made the show great, but it also made it frustrating for those involved.
Years after Seinfeld's finale, Richards is still defined by that role. 
Where is Michael Richards now?
Richards's career prospects were already taking a hit leading up to his infamous comedy set, but the years since have not been kind to his career. Save for a self-deferential turn as himself on Curb your Enthusiasm.
The star has mostly stayed out of the limelight. However, he appears to be close to at least one crucial aspect of the show that made him famous. 
A bearded Richards was seen out and about with Jerry Seinfeld in July. He's primarily stayed out of the public limelight but created an Instagram in May to wish his good friend Jerry Stiller goodbye after his passing.
Richards's status as an actor may be controversial, but the love for his character remains strong. As big as Seinfeld was for its time, it might not have been as big without such an iconic character.