How Did Selena Gomez and Amy Schumer Become Friends? The Singer Tells the Comedian 'I'm Obsessed With You'
When picturing the friends of Selena Gomez, fan's minds might go to the obvious, like Taylor Swift, or her complicated past with Demi Lovato. But there's another popular celebrity who she is close with: Comedian Amy Schumer. Here's a look at how they first became acquainted and what Gomez is saying about her pal in 2020.
Amy Schumer and Selena Gomez met in 2015
Gomez has been a fan of Schumer's since before they even met. In July 2015, she went on Zach Sang's radio show, where she spoke about what it was like to befriend other famous people. "I feel like I know Amy Schumer," she said explaining that they had been tweeting at one another. "She knows I like her…I'm sure we'll meet."
It wasn't long before this was put into motion. Gomez presented Schumer with the Hollywood Comedy Award at the Hollywood Film Awards later that same year, saying that she was "inspired" by the comedian. Schumer, in turn, called Gomez "amazing." A few days later, they hung out at the Glamour Women of the Year Awards, which Schumer hosted.
Gomez went on 'Inside Amy Schumer'
In the interview with Sang, Gomez gushed about Schumer's Comedy Central sketch series, Inside Amy Schumer. "I want to be on her show! I [should] try to slip her my resume." Clearly, once the two became acquainted, Schumer got on board with this idea.
Gomez appeared in Season 4 Episode 6, appropriately titled "Fame." In the sketch, Schumer mocks her recent rise to prominence, hosting a talk show "Down to Earth," in which she is anything but. Gomez plays herself, the singer for the show's band, who is constantly insulted by Schumer.
The singer was there for her friend in 2020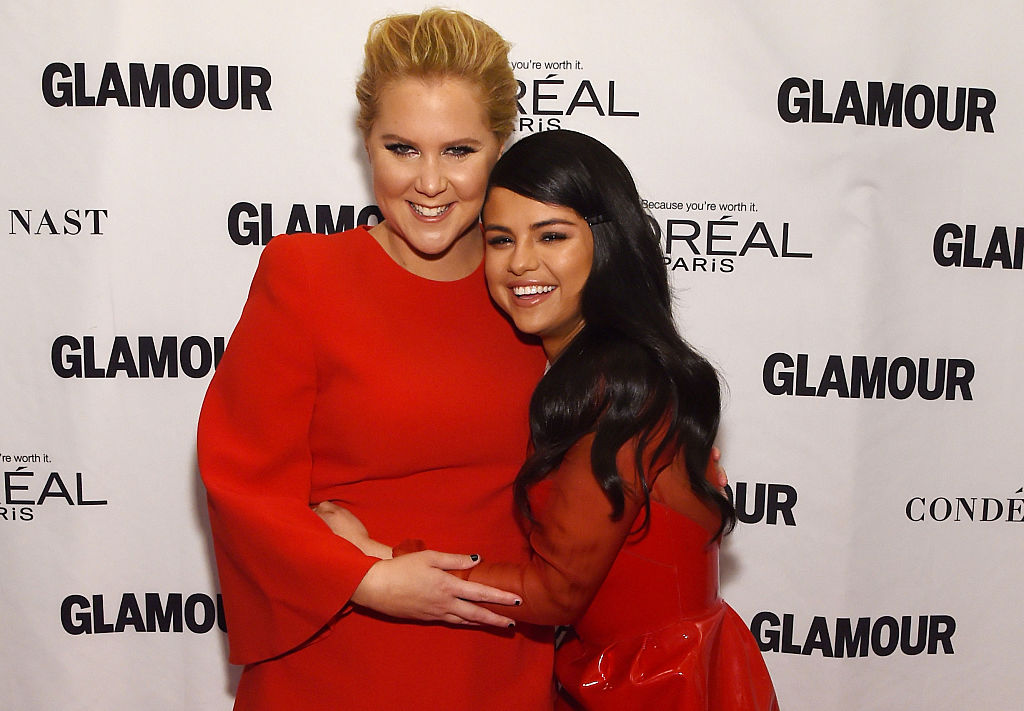 To the public, it sometimes looks as though celebrity friendships come and go. But both Gomez and Schumer have had a lot to deal with in their personal lives over the past few of years. While Gomez, who has lupus, received a kidney transplant, Schumer married Chris Fischer and gave birth to their son, Gene.
In January 2020, Schumer revealed that she was getting IVF treatments in order to have another child. She said she was feeling "run down and emotional." Gomez commented on her Instagram post, "I'm praying for you and Chris."
Schumer spoke to Gomez for Interview Magazine
Just a few months later, Gomez and Schumer reconnected for another conversation. In a profile for Interview Magazine, Schumer asked Gomez questions about how it feels to deal with her level of fame, her health initiatives, and a few much lighter topics.
Schumer joked with Gomez about how she thinks she's "too old to wear a scrunchie" in her hair. "If you saw a picture of me in a scrunchie, would you be like, 'Oh that's sad'?" she asked. Gomez replied, "First, I'm obsessed with you. Second, I would never think that." Their friendship looks to be as strong as ever.