Selena Gomez and Julia Michaels Kiss on the Lips & Get Matching Tattoos
You might not know it, but Selena Gomez and Julia Michaels go way back. Though their hit song "Anxiety" was their first duet together, it's certainly not the first time they've collaborated. In fact, Michaels has songwriting credits on Gomez's latest singles "Lose You To Love Me" and "Look At Her Now." As if that wasn't enough, Michaels also sings backup for Gomez on both her new hits, the former of which secured Gomez her first number one on the Billboard Hot 100.
Selena Gomez songs that the pair have collaborated on
But writing songs for Gomez is hardly a new venture for Michaels. She has credits on plenty of the 27-year-old singer's hit songs including, "Good For You" and "Bad Liar" and she helped co-write her first Gomez song, "Slow Down" at just 19 years old. "I used to do demos around the city, I would just sing all the time because I needed to pay my rent. But I also wanted to write, and I thought that was a really good way to do it. And I met this woman Lindy Robbins when I was 19, and had success right off the bat. She and I wrote 'Slow Down' for Selena when I was 19, which was my first single ever." Michaels once revealed in an interview with Harper's Bazaar.
Anxiety
With the release of "Anxiety", Gomez and Michaels marked seven years of collaboration. Taking to her Instagram page on January 24, 2019, the "Come And Get It" singer penned an emotional message to announce the song she was featured on. "My sweet soul sister. Julia, you have been a huge part of my life. You have taught me how to have courage when I have self-doubt. This song is extremely close to my heart as I've experienced anxiety and know a lot of my friends do too. You're never alone if you feel this way. The message is much needed and I really hope you guys like it!" Gomez wrote.
Over the years, Gomez and Michaels have developed a relationship that extends beyond songwriting. They consider each other super close friends and hang out whenever they can. Gomez recently helped Michaels celebrate her 26th birthday by attending her 90s-themed prom party. Gomez shared a series of photos on her Instagram page from the celebration. "My love, my heart and my soul," she captioned the photo. Michaels immediately commented back with her own sweet message. "The amount I love you is unreal," the songwriter wrote.
Selena Gomez and Julia Michaels kiss after performing together
The two singers kept the lovefest going this week when Gomez surprised fans on November 11, 2019, during the Los Angeles leg of Michaels' current tour, and joined Michaels on stage for a song. Performing their song "Anxiety" together, they wowed the crowd before Michaels further surprised fans by giving Gomez a quick peck on the lips.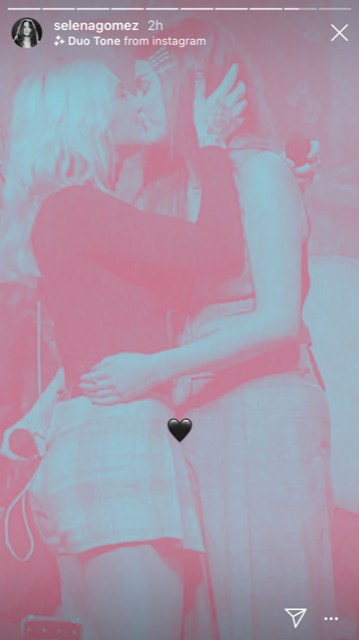 Michaels gets emotion on Instagram
Reflecting on the show, Michaels spoke about how much Gomez and the opportunity to perform together meant to her. "I'm kind of convinced these last few days aren't real. Thank you @selenagomez for the most epic headline show I've ever played. I love you beyond words and I'm so happy we finally got to sing our baby together :) Watch the full video on my YouTube. Link in bio," Michaels shared with her 1.8 million Instagram followers.
The friends get matching arrow tattoos
With a great show for Michaels and a number one hit for Gomez, the friends have a lot to be proud of and celebrate. Perhaps that contributed to their decision to get matching tattoos together. The famous duo went to Brad Reis Tattoo and got mirroring arrows on the outside of their thumbs. They both shared their tats with their fans in their respective Instagram stories. "It's tatted…my arrow points to you forever," Gomez captioned her photo. What a sweet tribute to their long-standing friendship. We can't wait to see what they collaborate on next.