These Selena Gomez-Demi Lovato Throwbacks Will Make '00s Disney Fans Miss Their Friendship
July 2020 proved that, for younger millennials who grew up watching the Disney Channel, their former teen idols are all grown up. Joe Jonas welcomed his first child, Demi Lovato got engaged, and Selena Gomez turned 28. The latter two events even happened on the same day, though neither publicly congratulated the other.
That's because Lovato and Gomez, once self-proclaimed best friends, are no longer close the way they once were. But the internet is full of nostalgic images and videos of the former pals. Here are just a few of them.
'Barney & Friends'
Lovato and Gomez first met as children in 1999. They starred on the PBS kid's series Barney & Friends, where Lovato was known as Angela and Gomez as Gianna. The actors remained on the show through 2004. Years later, Lovato told People that Gomez was her "favorite" right away, calling her her "best friend."
On Gomez's 28th birthday, Texas radio host DJ Billy the Kidd shared a photo of Lovato and Gomez when they were "about 11" and met singer Ashlee Simpson. He wrote, "Selena and Demi WERE SO HAPPY and fangirling so hard. It was the cutest. Little did they know in a matter of a few years THEY would be the ones selling out arenas and millions of people would be fangirling over THEM!"
Disney Channel days
After Barney & Friends, Gomez left for Los Angeles, where she began working on the Disney Channel. Lovato soon followed, and also became a fixture on the network. Though they mostly starred in their separate shows, there was some overlap, with Gomez appearing in an episode of Lovato's series Sonny with a Chance as herself.
They also starred in a Disney Channel Original Movie, Princess Protection Program, together. During this time, Lovato and Gomez appeared closer than ever before. In addition to doing press (in which they gushed about their friendship) and acting together on screen, they made their own YouTube videos, depicting their lives off set.
Ongoing friendship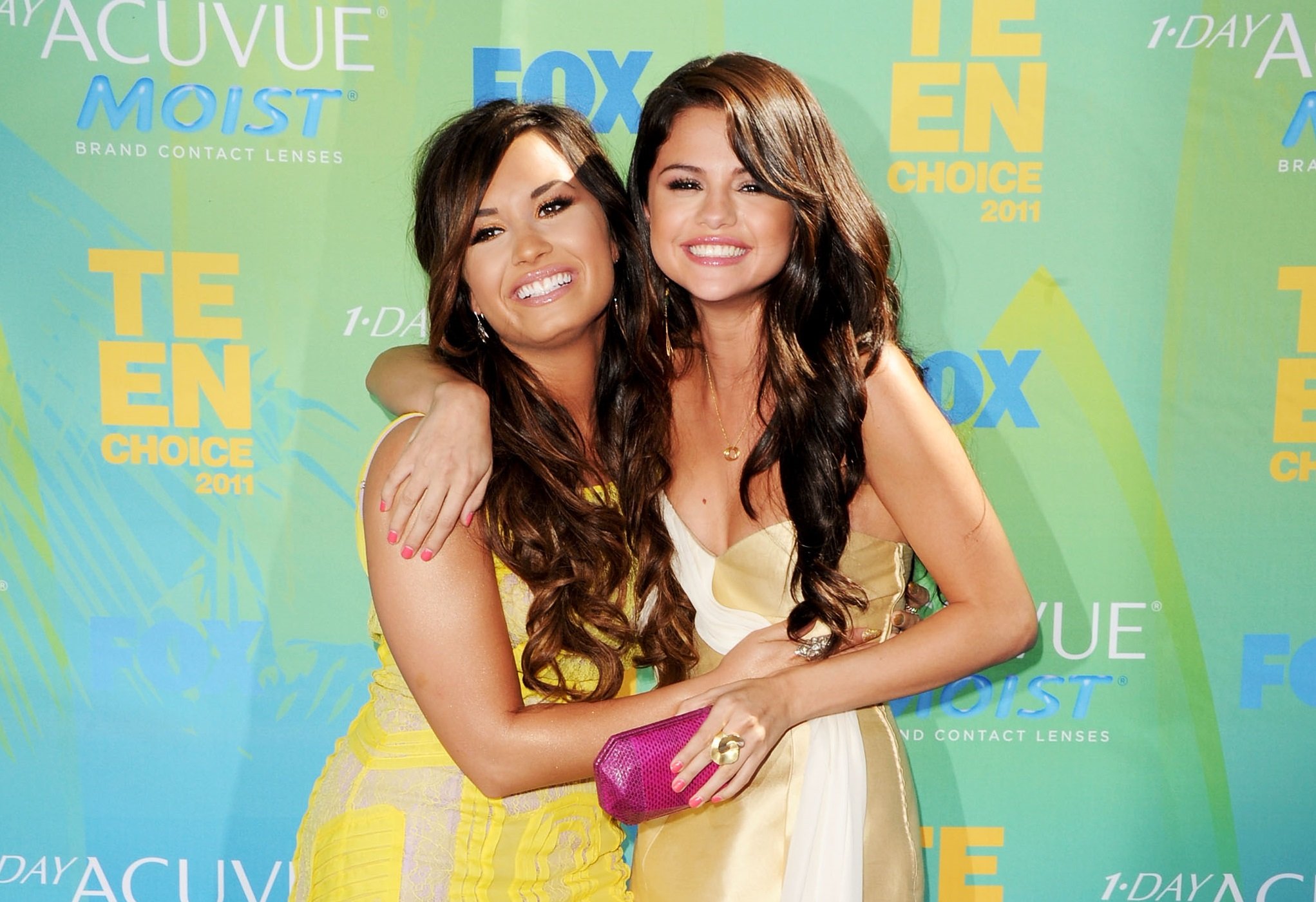 The initial fall out from their friendship came shortly before Lovato left the Disney Channel when rumors spread that Gomez had grown closer to Taylor Swift. They were seen together in 2011, and Lovato tweeted about them going out to dinner together. This has continued on and off throughout the years.
While both have been asked about their friendship, they tend to let their social media interactions do the talking. In 2013, Gomez shared Instagram posts with Lovato: One of a FaceTime (Swift was also involved here) and one which she captioned, "It's just the evidence of forever. No matter what."
But that hasn't exactly been the case. In 2017, they reunited at the InStyle Awards, but that's the last time they were seen in the same place. In 2020, Lovato told Harper's Bazaar that they are "no longer friends." Unless a significant shift comes around again, fans may only have these old photos and clips to remind them of what once was.