Selena Gomez Just Proved That She & Kidney Donor, Francia Raisa, Are Still Super Close
It's been a great couple of months for Selena Gomez. The 27-year-old celebrated her first number one hit with "Lose You To Love Me", performed live for the first time in two years, and announced her upcoming studio album, Rare. Gomez has been extremely candid about how transformative the last year has been for her and has stated that she's now happier and healthier than ever before. A large part of her health is seeking therapy for her mental health issues. However, another reason for the shift is that her autoimmune disease, Lupus, seems to be more controlled than ever. With the help of a new kidney, generously donated by her friend, Francia Raisa, Gomez is doing great.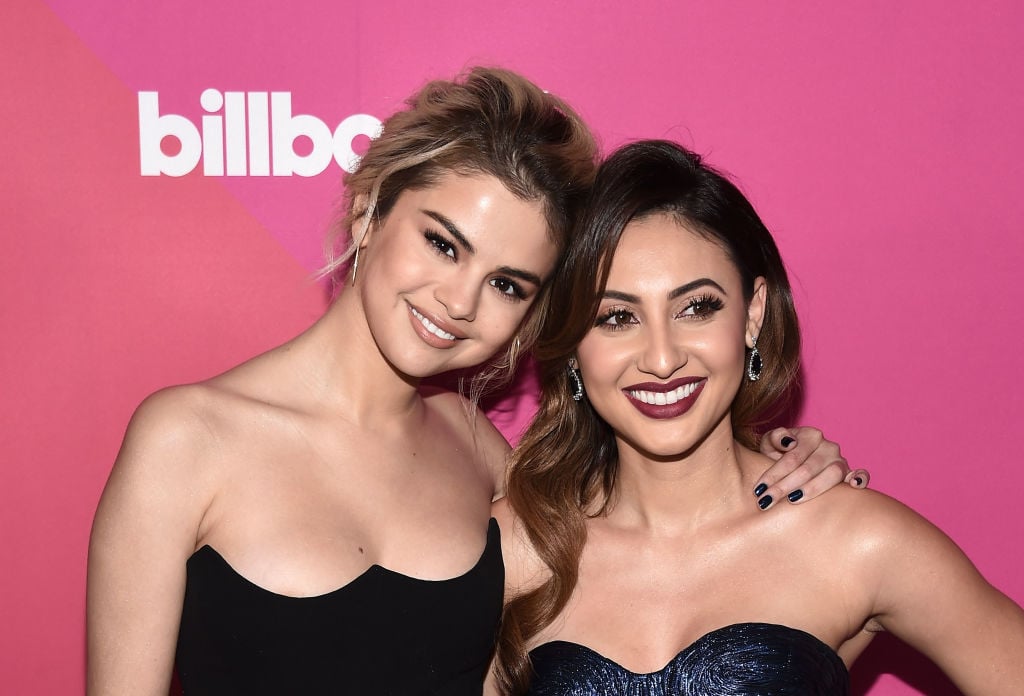 Longtime fans of Gomez have known about her struggles with Lupus for years. However, what many people didn't know is how bad things had gotten for Gomez. The "Look At Her Now" singer shared that she had to go to rehab after undergoing chemotherapy for the disease. Back in September of 2017, after several months of her being uncharacteristically quiet, Gomez revealed to her millions of fans that she had undergone a kidney transplant, courtesy of her friend and fellow actress, Raisa.
Selena Gomez announced Francia Raisa gave her a kidney on Instagram
"There aren't words to describe how I can possibly thank my beautiful friend Francia Raisa. She gave me the ultimate gift and sacrifice by donating her kidney to me. I am incredibly blessed. I love you so much sis," Gomez gushed in part of the message that she shared on her Instagram page, informing her followers about the kidney transplant. Raisa echoed the sentiments stating, "I am beyond grateful that God would trust me with something that not only saved a life, but changed mine in the process," in a post of her own.
Fans speculate that the two are no longer friends
Following the social media announcement, the two did several interviews together and appeared to be as thick as thieves. Gomez was adamant that Raisa had saved her life and that they were bonded forever. However, rift rumors began swirling last year when Raisa unfollowed Gomez on social media. Though neither of the women confirmed the rift, they were reportedly not on speaking terms. Allegedly, Raisa was upset over the intense amount of partying Gomez was doing, which could do serious damage to the kidney she gave her.
The Lose You To Love Me singer sets the record straight
Despite the rumors all being based in speculation, many fans still believe that the pair aren't on good terms. But, Gomez recently put those rumors to bed in a recent interview with Captial FM. When asked about her new thigh tattoo (which she unveiled to the public at the 2019 AMA's) the 27-year-old confessed that the prayer hands artwork wasn't her only new ink. She also mentioned that she'd gotten an arrow tattoo with her friend and fellow songwriter, Julia Michaels.
Gomez and her kidney donor, Raisa, are still close in 2019
Additionally, Gomez revealed that she and Raisa had gotten matching tattoos as well. "I actually got the date of when I got my kidney transplant, and uh did that with the girl who gave me her kidney," the Wizards of Waverly Place alum confessed to the radio co-hosts. What a sweet way for Gomez and Raisa to commemorate such a life-changing experience. We're glad to see that despite rumors, the pair are still close.