Selena Gomez on Why She Decided to Join Miley Cyrus' Talk Show
On April 3, 2020, Selena Gomez and Miley Cyrus shocked fans when they reconnected on Instagram live. As the pair had faced feud rumors for well over a decade, fans couldn't believe they were coming together in a public forum. Though Cyrus and Gomez had both denied the feud in the past, stating that rumors stemmed from the fact that they dated the same guy, Nick Jonas, it took years for people to believe them.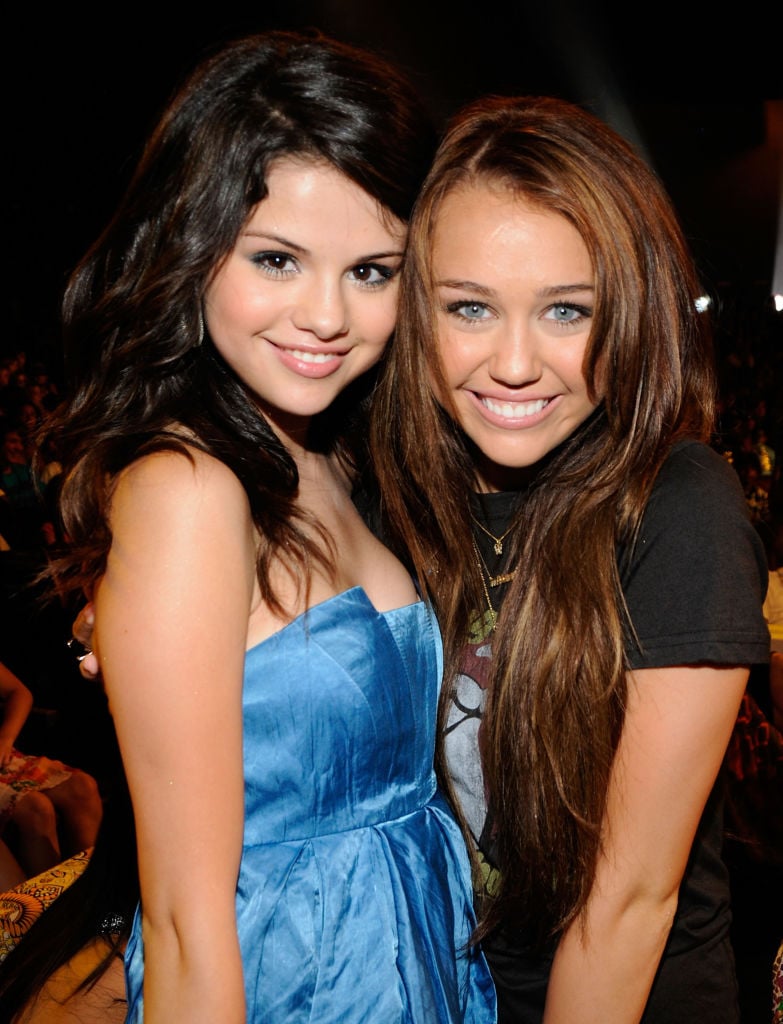 The reunion happened on Cyrus' live Instagram show, Bright Minded. The talk show was created in quarantine and was focused on creating light in dark times. Throughout the show, Cyrus spoke with therapists, actors, musicians, producers, celebrities, and more. During the show's season finale, Gomez was one of four chosen guests.
How Selena Gomez appeared on Miley Cyrus' Instagram talk show
But just how did Gomez get invited to be on the show? After seeing a few episodes, the "Souvenir" singer sent her old friend a butterfly emoji to show her support for what Cyrus was doing. The Hannah Montana alum then extended an invitation to Gomez to join her for an episode. In a recent interview with WSJ Magazine, Gomez went into detail about how it all came about. "I happened to catch it one day and loved what she was doing and knew I wanted to be a guest," the 27-year-old shared before stating that she "liked the rawness of the show."
Fans were over the moon to see the old friends reconnect. The pair managed to draw over 181,000 people into their joint live. Furthermore, Gomez's episode has had over 1 million views on it since Cyrus uploaded it to IGTV. During the show, Cyrus and Gomez discussed the power of connection and having the courage to reach out to old friends. Gomez also shocked fans when she revealed her bipolar diagnosis to the public for the very first time.
Gomez shares her bipolar diagnosis with the world
Gomez has been candid about the fact that she has suffered from depression and anxiety. However, she chose Cyrus' show as a platform to share her new diagnosis before encouraging people to get the help that they needed. By doing so, she was able to help eliminate some of the stigma that often comes alongside mental health.
"Recently, I went to one of the best mental hospitals in the world, but definitely in America, McLean's Hospital. I discussed that, after years of going through a lot of different things, I realized that I was bipolar. So when I go to know more information, it actually helps me. It doesn't scare me once I know it. I think people get scared of that," Gomez admitted to Cyrus during the show.
Why the 'Boyfriend' singer thinks people connect with the show
Gomez seemed to really enjoy her time on Cyrus' show and reflected on how it's something that we need during this time period of uncertainty. "I feel like people are yearning for that type of realism right now. Not something overly produced," she shared. She then added that Cyrus was the perfect choice of a host. "Miley has never been afraid to take risks or put herself out there. This new role really seems to suit her, and you can tell she's really enjoying herself," the Wizards of Waverly Place alum admitted. Cyrus' show is on hiatus right now. But, perhaps in time, it'll make a comeback.