Selena Gomez's Most Popular Songs About The Weeknd
Popstar Selena Gomez is known for two public relationships with fellow musicians. Her on-again, off-again one with Justin Bieber, which lasted several years, is her most cited. However, she also dated Abel Tesfaye, aka singer The Weeknd.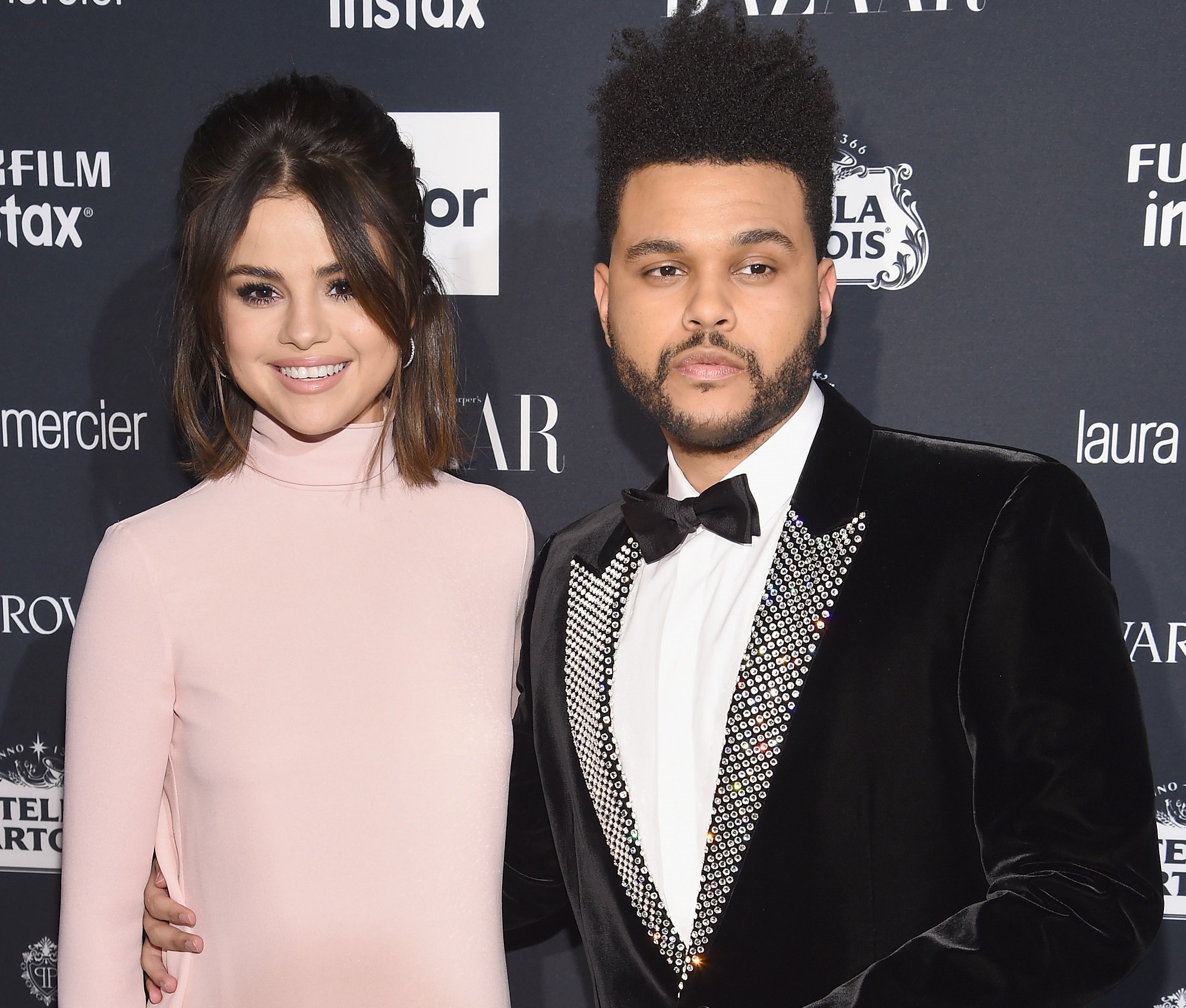 Though Gomez and Tesfaye were not together very long, they made something of a splash with their romance, attending industry events as a couple. And like any songwriter, they penned tracks about one another. Here are the three most-popular songs Gomez wrote about Tesfaye, based on time on the Billboard Hot 100 and iTunes sales.
'Wolves' 
"Wolves" was an independent single that was released by Gomez's Interscope Records in October 2017. Gomez is cited as a co-writer and performs the vocals for the track, which she collaborated with EDM producer and DJ Marshmello on. The song peaked at No. 20 on the Billboard Hot 100, spending 23 weeks on the chart. It also made it to No. 1 on iTunes.
The song came about in the summer of 2017 when Gomez and Tesfaye were dating. The lyrics depict trying to recapture a feeling that you had with someone, and how she'll keep yearning for this person. In an interview with Zane Lowe for Beats1 (as shared on Twitter), she said that when she was working on the song, she "was going through stuff, too, so it's mirrored everything."
Gomez and Tesfaye broke up right around the time the song was released. The reports that came out speculated that though they had been seen together recently, their busy schedules made the nature of their relationship on and off.
'Bad Liar'
"Bad Liar" was another 2017 single of Gomez's that was released independently of an album. The singer provided lead vocals and is credited as a songwriter on the track. "Bad Liar" peaked at No. 20 on the Billboard Hot 100, spending 14 weeks on the chart. It made it to No. 2 on iTunes.
In the song, Gomez sings about trying to cover up falling for someone, singing, in the post-chorus, "With my feelings on fire/Guess I'm a bad liar." When the song was released, Gomez and Tesfaye had just gone public with their relationship officially at the Met Gala.
Speaking to Power 96.5 FM, Gomez said the song "kind of tells a story of that feeling when you're obsessed with someone, when you are in the 'honeymoon phase', I like to say." She also indicates that she's explicitly speaking about Tesfaye, saying, "This is what I'm feeling in this exact moment."
'Souvenir'
"Souvenir" is one of three bonus tracks from Gomez off the deluxe edition of her 2020 album Rare. Because she didn't release it as a single, it was not eligible for the Billboard Hot 100 chart. However, she did release a lyric video for it (above). It made it to No. 5 on iTunes.
On the track, Gomez sings about a lover and specific moments from their relationship. She drops names of places she and Tesfaye were spotted during their time together, like the Sunset Tower hotel in Hollywood and Greenwich Village in New York City. While Gomez hasn't said anything specific about the song, fans are pretty convinced by these details.