Selena Gomez Once Shared How She Helped Taylor Swift Through Her Breakup With Joe Jonas
Selena Gomez and Taylor Swift have been best friends for well over a decade. The pair actually met when they were both dating The Jonas Brothers (Gomez was dating Nick while Swift was dating Joe) and became fast friends. Even after they both parted ways with the "Sucker" singers, they maintained a very close bond. Today, they consider themselves best friends and, in many ways, sisters.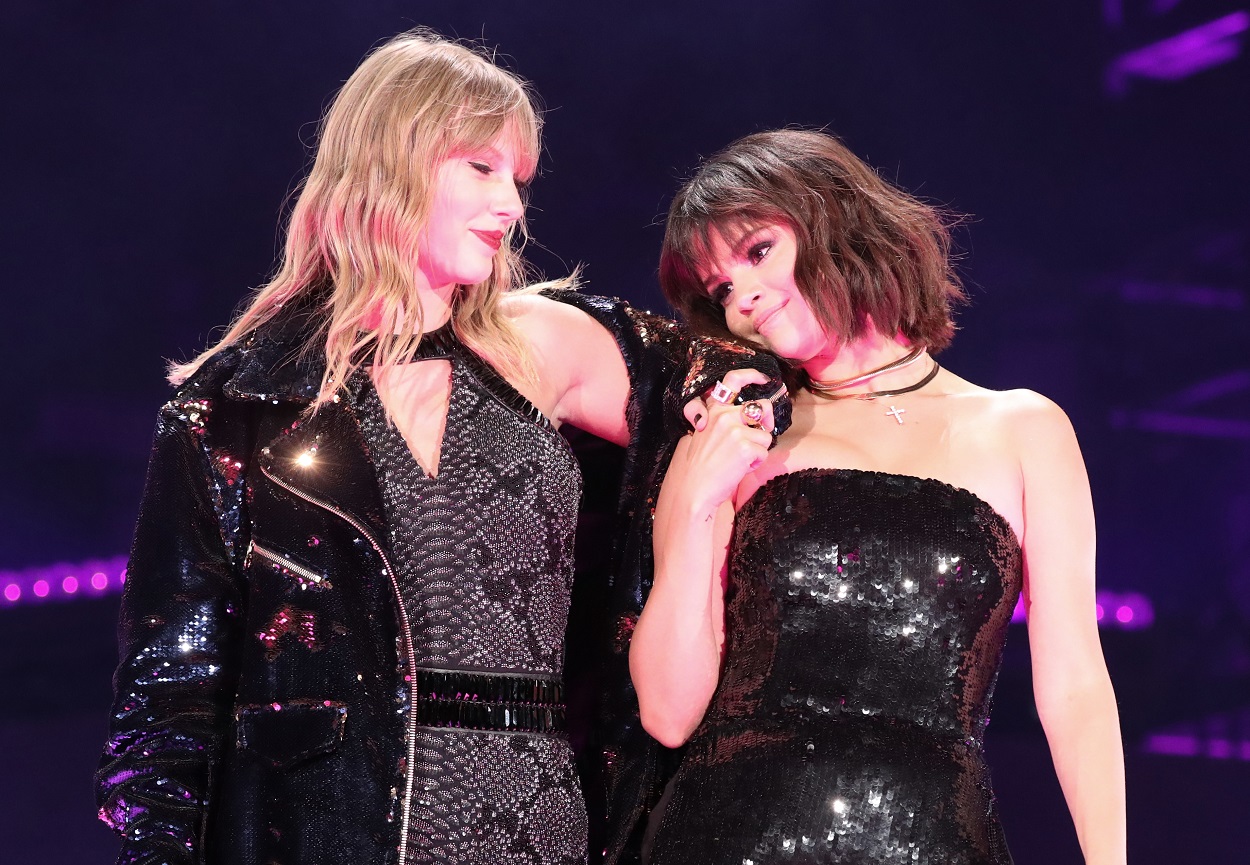 While Gomez and Swift have made it clear that most of their friendship will remain private, they occasionally let their fans in on the lovefest. Whenever one of the singers releases a new album, the other is quick to show their love and support on social media. The pair have also developed a tradition of performing a song together for fans on one night of Swift's tour. Most recently, Swift even made an appearance on Gomez's new cooking show, Selena + Chef via Facetime.
Selena Gomez and Taylor Swift have been gushing about their friendship for years
Both women have gushed over one another throughout the years. Back in 2009, Gomez told Seventeen just how much she leaned on Swift for emotional support. "Every single problem I ever have is healable by Taylor Swift!" the Rare artist stated. "If I ever I have an issue, Taylor has gone through it, because she's older than me, and she gives the most thought-out answers. And what I love about Taylor is that she does believe in the whole love story and Prince Charming and soul mates. Because of her, I haven't lost faith. We literally talk every day."
RELATED: Selena Gomez and Taylor Swift Are Even Closer Than Anyone Realized
But just because Swift is 2.5 years older than Gomez doesn't mean the folklore artist didn't lean on Gomez also. The Wizards of Waverly Place alum admitted that Swift came to her for advice when she went through her very public breakup with Joe Jonas. According to Gomez, it was playlists that were partly to thank for Swift getting over her heartache.
How the 'Rare' singer helped the 'folklore' artist get over Joe Jonas
"When she was going through a hard time, we would make each other playlists," Gomez shared about Swift. "And I would send her some girl-empowering music, and she would send some back. We had "Since U Been Gone" by Kelly Clarkson, of course; we had to have that as number one. We had "Battle" by Colbie Caillat, "Walk Away" by Kelly Clarkson — Kelly has good breakup songs! "Hot N Cold" by Katy Perry. We just sat there and made so many. And every time we would be together, we'd sit there and jam out to it too."
It's sweet that Gomez and Swift have been able to be there for each other throughout the years. After all, they both are in a unique position to truly understand what it's like to grow up in the spotlight. Clearly, music and time can help to heal all wounds. After all, these days, Swift is head over heels in love with another songwriting Joe and, meanwhile, she's sending Joe Jonas's baby presents.