Selena Gomez Quotes Maya Angelou in a Super Emotional Letter
Selena Gomez is back and kicking things into high gear. Just last week on January 10, 2020, she released her new album, Rare. The album is the third solo album that Gomez has released and her first album in four years. Gomez's most loyal fans (who have dubbed themselves Selenators) have been waiting on bated breath for the album, and now it finally belongs to them. Gomez has admitted that this album has undergone a lot of changes and growth. She actually planned to release it two years ago, but life events continuously changed the course of the album.
But, the payoff for waiting for the right moment to release Rare certainly seems to have worked for Gomez. Thus far, critics have had plenty of favorable things to say about the pop album. Furthermore, album sales have been extremely healthy, putting Gomez on track to have the number one selling album. However, both of those factors have paled in comparison to the way the fans have received this album. The feedback from Selenators have been overwhelmingly positive and they have endlessly praised Gomez, calling Rare her best album to date.
Fans love Selena Gomez's new album, Rare
Gomez has always been cognizant and appreciative of her incredibly supportive fan base. She has stated candidly that she feels particularly connected to them because plenty of fans grew up with her. As the "Kinda Crazy" singer became a household name while starring as Alex Russo in the hit Disney Channel show, Wizards of Waverly Place, many of her fans have been supporting her for the better part of a decade. To show her appreciation for her fans, Gomez recently penned an open letter to them following the release of Rare.
Gomez shares a heartfelt letter on Instagram
On January 10, 2020, Gomez took to her Instagram story to share a letter she wrote especially for her fans. "To my fans: You're so loved. I value who each and every one of you are. You've played a huge part in my life I'll never get to explain. You saw me, you walked with me during the hardships. You mean the world to me. I have worked to make this something that I am proud to share and I really hope you enjoy all of it. I hope these songs remind you that you are free, strong, and capable. You have all that you need to rise again and again. I want you to take this record and turn it into yours. You are all RARE and special. Don't ever forget that," Gomez began.
The Lose You To Love Me singer shows her appreciation
The "Look At Her Now" singer continued on to share that her success and the success of Rare would be impossible without those who had supported her on her journey. "Thank you for every single person who is with me. Yesterday and today. On this entire journey. There are so many names to mention but if I haven't given you a shout out specifically, I strongly believe you know who you are and how much I love and appreciate you. I would not be here if it wasn't for all of you," the 27-year-old confessed.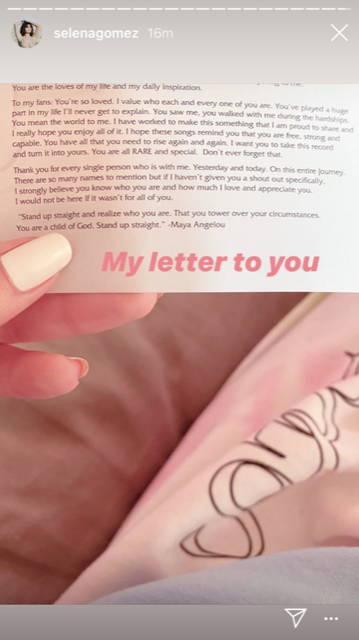 Finally, Gomez ended the letter with a quote from the late and great poet Maya Angelou."Stand up straight and realize who you are. That you tower over your circumstances. You are a child of God. Stand up straight."- Maya Angelou, Gomez wrote. She then captioned the heartfelt message, "My letter to you." Gomez truly does seem to have a rare connection with her fans. Perhaps that is a part of her appeal. Even though she has millions of fans, she takes the time to make them feel seen and appreciated. We're sure that given Gomez's attitude towards her Selenators, they'll continue to support any and all of her projects in the future.