Selena Gomez Lives by This Epic Advice Given to Her by Taylor Swift
Selena Gomez and Taylor Swift may not have been photographed together since the beginning of the year, but the pair are still close friends. Recently, Gomez took to her Instagram story to praise Swift's latest and quirkiest album, Lover calling her long-time friend "unreal". Swift reposted the praise shortly after with the caption "I love you, Selena." As the pair aren't seen together publicly much anymore, fans are always speculating about the nature of their friendship, but Gomez just proved that Swift is still a part of her life.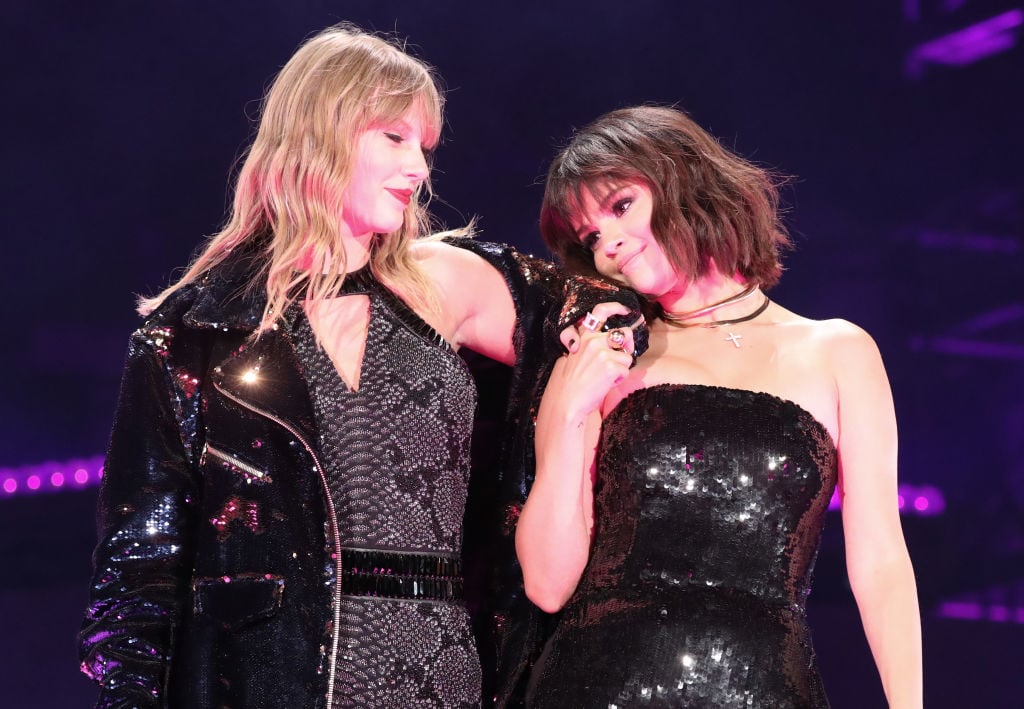 Recently, Gomez sat down for an interview with her three best friends, Courtney Lopez, Raquel Stevens, and Ashley Cook in honor of Stevens' new series, Giving Back Generation. Throughout the one-hour long discussion, the women got candid about the ups and downs of their special friendship. Gomez shared about the power of friendship and what she has learned from each of these women who have supported her through her most difficult times. But, what fans may have missed is that the Wizards of Wavery Place alum quietly referenced T. Swift in the interview as well.
Gomez gets candid about friendship
While speaking about the importance of choosing friends wisely, Gomez managed to throw in some advice that Swift shared with her. Clearly, the message resonated with Gomez as the advice was given over five years ago. "A call to action based on friendship is to know that no matter where you are in life, the people that you surround yourself with, is crucial. You are who you surround yourself with. I know that's sad, but you really have to think about those words," Gomez began.
The "Stars Dance" singer then went on to share a glimpse of what life might look like if she'd chosen different friends before launching into the advice Swift shared with her. "I could have found other friends in my industry or town that wouldn't have been healthy for me or took me in a different direction. So I do feel it is important to surround yourself with people who can lift you up and—you know, my friend always says if you're the smartest person in the room, you're in the wrong room, and I believe all of you are obviously intelligent, beautiful, and kind, and share and have so much to offer in the world," the 27-year-old gushed.
Taylor Swift gives advice to Selena Gomez
Of course, the friend Gomez was referring to was none other than Swift. Back in 2014, Gomez appeared on The Talk and opened up about her close friendship with the "False God" singer. "She was actually at my house the other day and we were sitting by the fire and I was talking about relationships and business in my life and she just kind of looked at me and was like, 'Selena, if you're the smartest person in the room, I think you're going to be in the wrong room," Gomez shared.
The Dead Don't Die actress went on to share more of Swift's advice. "She thinks I should constantly surround myself with people who are going to make me better, that are going to challenge and motivate me. It kind of stuck to me. I want to surround myself with those people," Gomez admitted.
Will Gomez join Swift for part of the Lover tour
It's great to see that five years later, Gomez is still taking that advice into consideration when making important decisions. Furthermore, we're sure that Swifties and Selenators are overjoyed that there's more viable proof that these pop stars are still close. Hopefully, the two friends will continue their tradition of Gomez joining Swift for one of her L.A. concerts and we'll see them do yet another duet during Swift's Lover Fest Tour.