Selena Gomez and Taylor Swift Met on a Double Date and Left Holding Hands
When it comes to famous besties, Selena Gomez and Taylor Swift are pretty much the ultimate. The pair have been friends for over a decade and have created tons of memories together. Gomez was famously in Swift's music video for "Bad Blood" and the pair have teased a musical collaboration for years. But how did these famous singers first meet?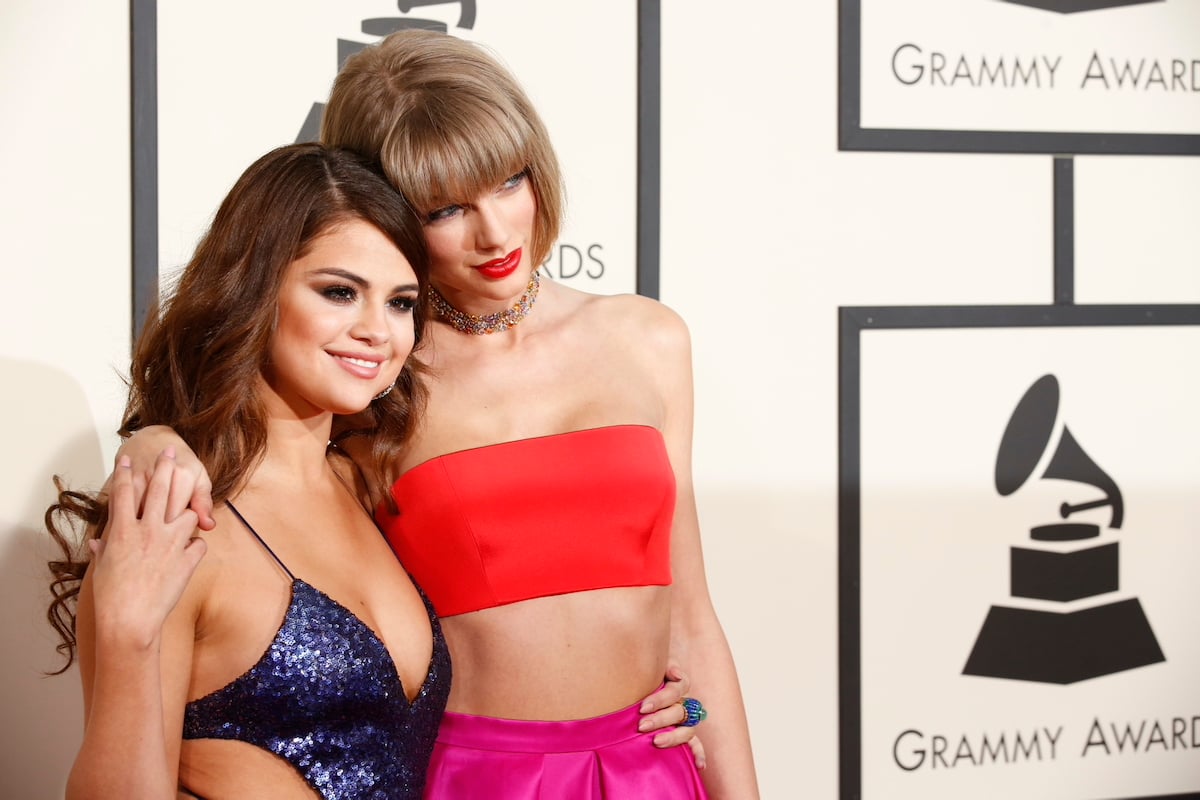 Gomez and Swift actually have the Jonas Brothers to thank for their first meeting. Back in 2008, they were both romantically involved with two of the "Sucker" singers. Swift was famously dating Joe Jonas, for whom she wrote "Last Kiss" and "Forever & Always". Meanwhile, Gomez was romantically linked to Nick Jonas. Similarly, the actor's song "I Won't Apologize" is rumored to be written about Nick.
Taylor Swift and Selena Gomez met on a double date with the Jonas Brothers
On August 28, 2008, Nick and Gomez went to a restaurant for a double date with Joe and Swift. This would mark the first time that the future besties met. Gomez and Swift felt an instant connection to one another. In fact, they actually left the restaurant holding hands with each other instead of their then-boyfriends. Because all four of them were well-known at the time, there are actually pictures that document the sweet moment.
"We actually dated the Jonas brothers together!" Gomez shared with KISS FM UK about her first meeting with Swift. "It was hysterical. It was amazing because she was the girl with the big curly hair and all the bracelets and the cowboy boots. And I was definitely up-and-coming, and we just clicked. It was the best thing we got out of those relationships."
The besties felt an instant connection to one another
Swift also has been candid about the fact that she felt a connection to Gomez right away. Over the years, the "All Too Well" singer has shared that she views Gomez like a little sister. "There has always been this quality of sisterhood, and I don't say that in a basic way," Swift revealed to WSJ Magazine. "I knew from when I met her I would always have her back. In my life, I have the ability to forgive people who have hurt me. But I don't know if I can forgive someone who hurts her."
Of course, both Swift and Gomez were able to forgive the Jonas Brothers. Despite their failed romantic relationships, there are no hard feelings today. Back in 2020, Swift actually sent Joe and his wife, Sophie Turner, a present for their then newborn baby. And Gomez played her 2015 album, Revival, for Nick six months before it was released to the public.
Gomez and Swift have teased a musical collaboration for years
It's pretty cool that Gomez and Swift have been able to maintain their friendship for so long. As they've both found immense success in the entertainment industry, they've been able to help each other through the highs and lows of their careers. We know their fans are waiting on bated breath for them to finally collaborate on a song.