'Selling Sunset': 5 Rules the Netflix Cast Must Follow
Discover what the rules are like for the cast of the Netflix docu-soap 'Selling Sunset.'
Selling Sunset is one of Netflix's hottest docu-soaps to date. The show might make selling million-dollar homes seem easy, but there are several rules that keep the production running smoothly. From keeping loved ones out of the spotlight to having a valid real estate license, these are five rules imposed upon the Selling Sunset cast.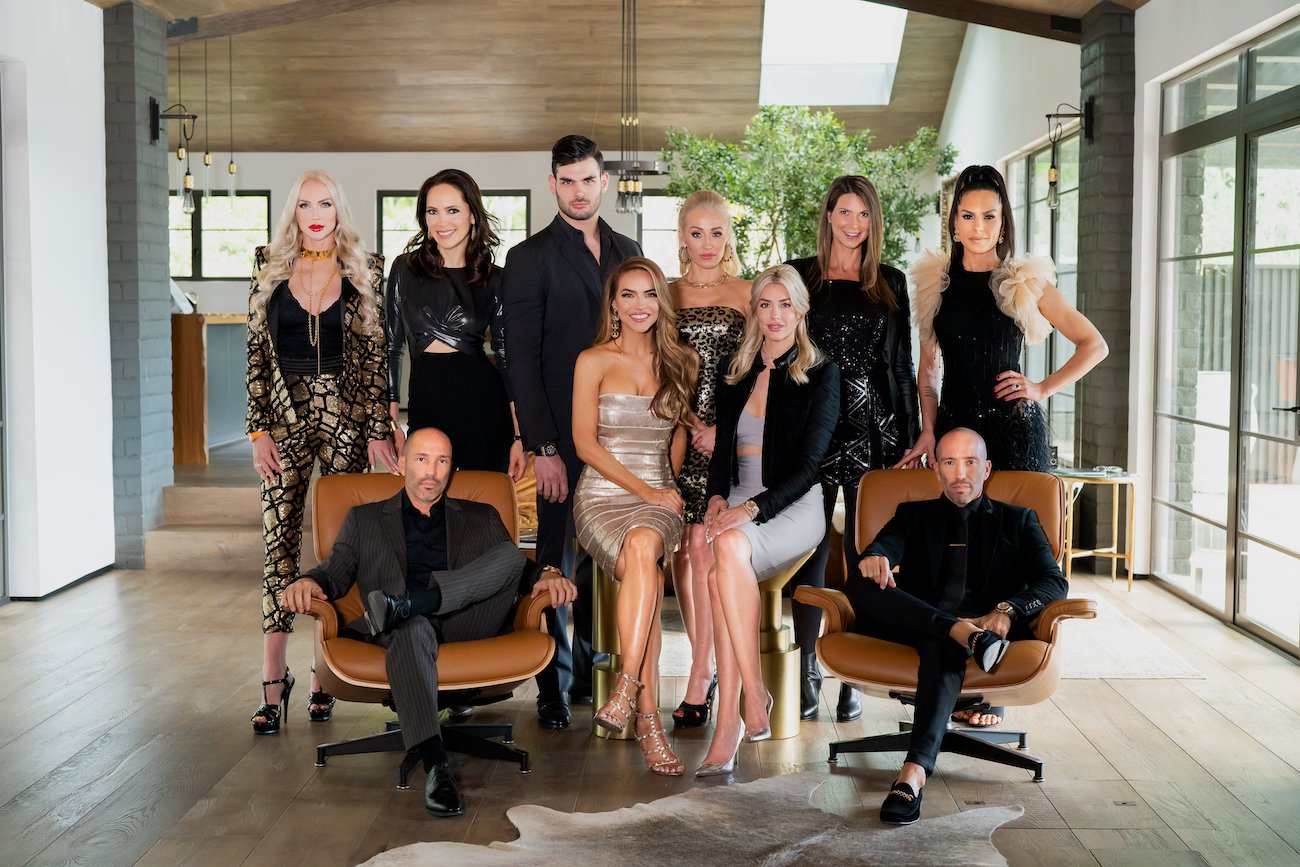 'Selling Sunset' agents need a valid real estate license to be on the show
After Chrissy Teigen sparked rumors about never seeing Selling Sunset agents in the Los Angeles market, Jason Oppenheim spoke out. "Mary [Fitzgerald], Heather [Rae Young], Maya [Vander], and Christine [Quinn] were licensed and successful real estate agents at The Oppenheim Group many years prior to filming our show," he told Reality Blurb in 2020. He also backed the other women of Oppenheim, including Chrishell Stause, Amanza Smith, and Davina Portratz, who are valid agents.
"Any insinuation that the agents on our show are not experienced, successful, or licensed evidences a complete disregard for the facts," Oppenheim added. "Even a superficial investigation would identify previous team photos, hundreds of millions in transacted sales, and more than 50 years of combined licensed real estate experience."
The cast is responsible for their own hair and makeup
Netflix doesn't pay for the cast of Selling Sunset to have their hair and makeup done, nor do they have a wardrobe department. Instead, the cast handles those aspects of stardom on their own. 
In Quinn's case, she's doing her styling on her own most of the time. "I do all of my own makeup unless it's an interview look, and I pride myself on that," Quinn told Page Six.
She also mentions her colleagues, who she says "outsource" for hair, makeup, and styling. "I'm just so great at it and I love doing it myself because I'm kind of a control freak." 
'Selling Sunset' can't feature Tarek El Moussa or Justin Hartley for contractual reasons 
Stause's highly-publicized divorce from This Is Us star Justin Hartley was talked about on the show. However, Hartley never made an appearance — even when their marriage was still intact. According to Adam DiVello, the creator of Selling Sunset, Hartley was asked to appear on the show many times, but he couldn't contractually because of NBC (via Variety).  
Rae Young's now-husband Tarek El Moussa hasn't been featured on Selling Sunset either. Many fans assume his situation is similar to Hartley's because of HGTV. But DiVello teased the possibility of El Moussa appearing on the show in the future. "You have to wait and see [if he makes an appearance]," he told Variety. 
Sometimes the cast has to do more than one take
In that same interview with Variety, DiVello talks about how they gather footage for Selling Sunset. "If we have to do a walk-up or a walk-away, we'll do those a couple of times if something gets in the way," he explained. "We typically just get everything as it happens. If there's a technical glitch and we need somebody to repeat something, certainly we'll have them repeat it." 
Netflix reserves the right to edit the cast of 'Selling Sunset' in any way they see fit
Like any other reality TV show, the cast of Selling Sunset is subject to a bad edit. Quinn told Nylon about how her show experience changed when she realized it wasn't all about selling houses. 
"I went into the first season thinking the show was about real estate," she told the outlet, adding:
"Now I realize it wasn't. It's about how you can entertain the people. I didn't really worry about real estate in season two, I was just like 'I'm going to be myself, dress fabulous, and be funny.'" 
Despite putting her most entertaining foot forward, Quinn says she and Potratz got a bad edit in season 1. "I was really, really surprised going back watching things because they really did me dirty," she adds. "Davina and I both really got read to filth in the editing room."
Netflix has yet to confirm the release date for Selling Sunset Season 4, but sources tell us the series will return on Nov. 24. Catch up on Selling Sunset Seasons 1 through 3 on Netflix now.