'Selling Sunset': Chrishell and Jason Had a Baby Name Before Their Breakup
Chrishell Stause revealed the baby name she had for her fictitious child with Jason Oppenheim on 'Selling Sunset' Season 5.
Selling Sunset fans finally see an unexpected relationship play out in season 5. Chrishell Stause revealed she had a baby name with Jason Oppenheim. This is what it is and how he felt about becoming a father.
[Spoiler alert: This article contains spoilers from Selling Sunset episode "It's Getting Personal."]
The realtors of 'Selling Sunset' said Jason Oppenheim talked about becoming a father
Season 5 started with everyone in The Oppenheim business talking about Chrishell and Jason's relationship in the first episode. The realtors said they had already noticed a change in him.
"But also, you know when we went to his dinner party, and we start talking about kids," Maya Vander told everyone. "All of a sudden, he was like, 'I really want to have a kid. I think I'm ready.' I'm like 'Wow.' I'm like 'Who is this?'"
Davina Potratz also said she heard he said that and was shocked. "The Jason that I know was just more casually dating and not really in long-term relationships," she said. "I don't think he ever saw that for himself." Some had the theory that Chrishell was changing Jason.
Chrishell and Jason picked out a name for their potential baby
"It's Getting Personal" shows Chrishell and Jason eating a meal with his mom. "You're the first girlfriend that I've met that has been serious," his mother, Deborah, told Chrishell. "I wouldn't be surprised if you got married."
Jason said they're doing well and taking it slow. Deborah asked where they stand on having children. "We don't know yet. But we've talked about it a lot," Chrishell answered. 
"Let's put it this way, ever since I was an adult, 18 'til now, not something that I seriously considered," he said. "And part of that is finding someone who you'd think would be–that you trust as a mother too. But I'd say I'm considering it more seriously than I ever have before."
"I know I wanna be a mom," Chrishell said. "We even came up with a name for our…fictitious child. Her name is Maverick. Like still unique." Jason went on to say he can see himself as a father, but it is a huge commitment. 
Jason didn't seem ready for a kid after all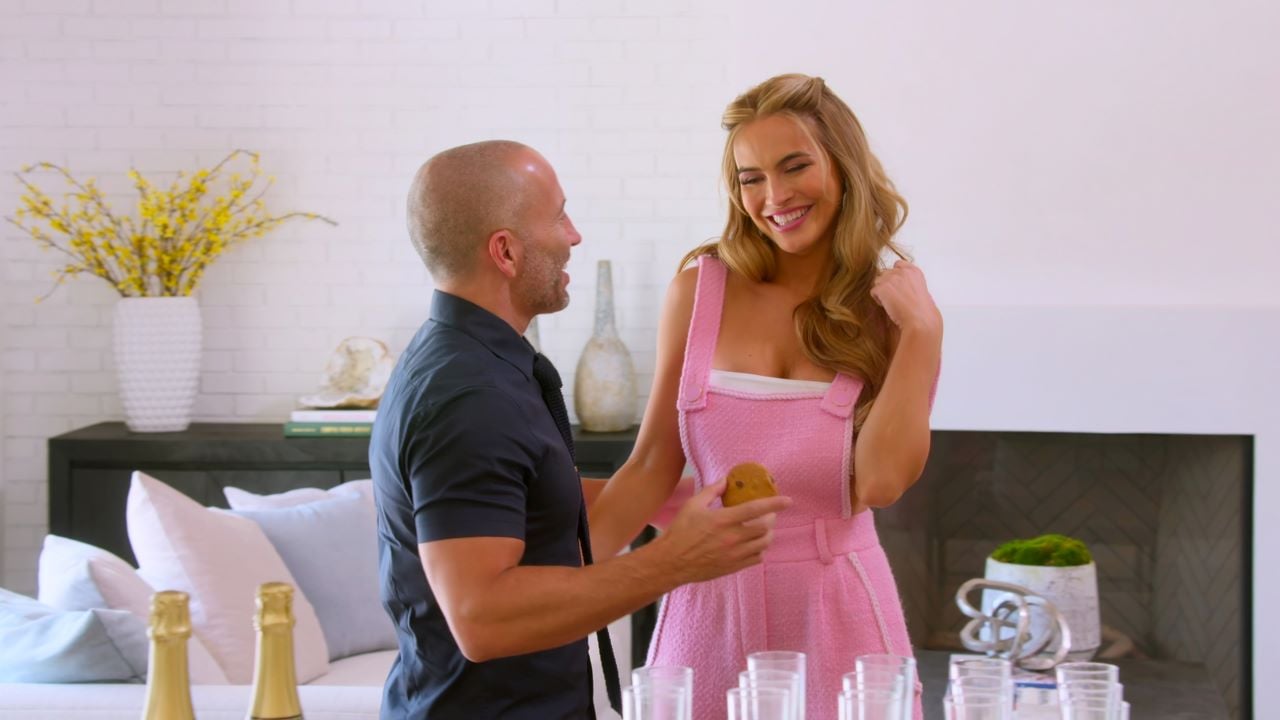 There is a lot of talk about Jason changing in season 5. But the couple had already broken up before the season aired. Their announcement of the breakup revealed their differences over having children was the reason.
Jason said while they "have different wants regarding a family," they "continue to have the utmost respect for one another," according to Style Caster. He ended the statement with, "Chrishell is an exceptional human being and loving her and having her in my life is one of the best things that has ever happened to me."