'Selling Sunset': Chrishell Stause Says Heather Rae Young Helped Start Her Relationship With Jason Oppenheim
Heather Rae Young learns how she's part of Chrishell Stause and Jason Oppenheim's love story on 'Selling Sunset.'
Selling Sunset cast members were surprised by Chrishell Stause and Jason Oppenheim's relationship. But she revealed how it started, and Heather Rae Young was unknowingly involved!
[Spoiler alert: This article contains spoilers from Selling Sunset episode "New Blood."]
Heather Rae Young tried to help Chrishell Stause find love on 'Selling Sunset'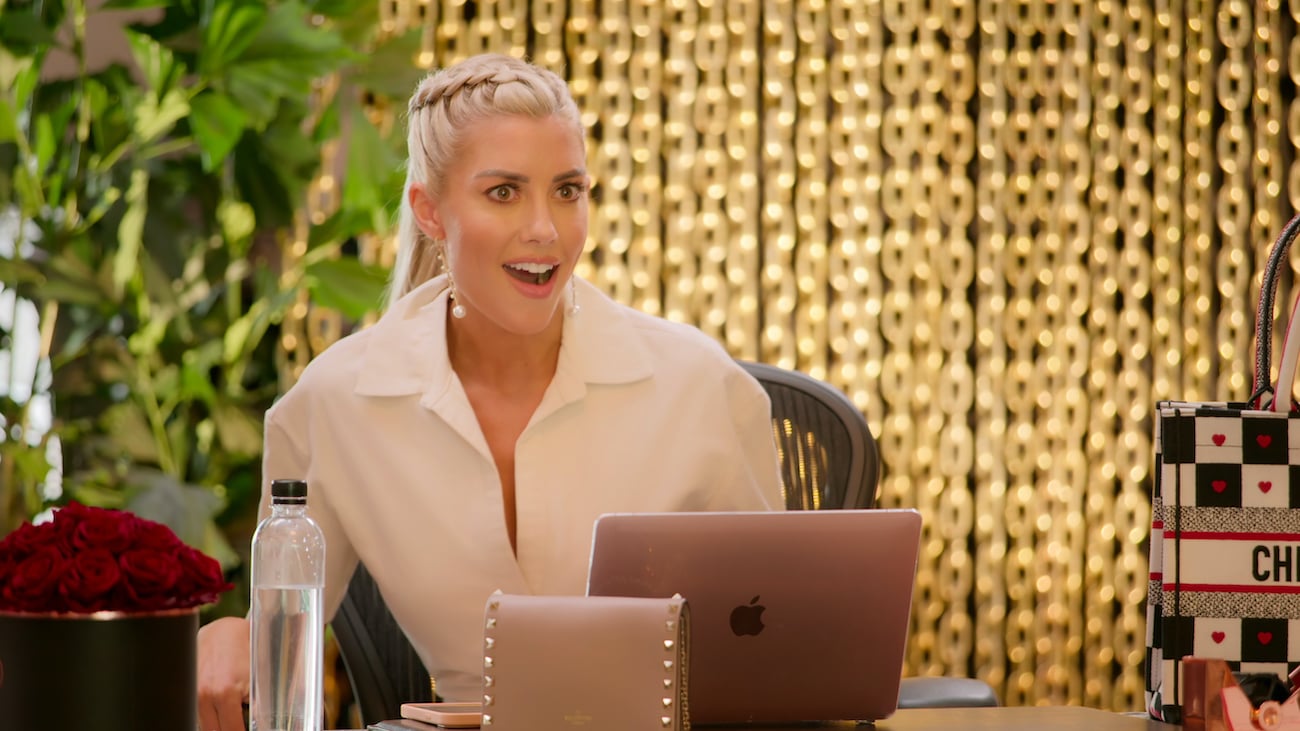 Chrishell was ready to meet new people after her shocking divorce, and Heather helped her with that. In season 4, she set her up with Tarek El Moussa's friend, Robert Drenk. They met at a yacht party, but it wasn't a love connection.
Chrishell wanted to dance with the other cast members, and he wanted her to sit by him so he picked her up and moved her. By the time the episode aired, the news of her dating Jason was released, and Robert had something to say about it.
"In your defense, would you say the real reason the date went sideways from the second I showed up was because your boyfriend Jason was right there? I guess hiding your man from the man that came to a blind date makes for lots of cringe," he tweeted, according to Us Weekly.
"Oh hi Robert!" she replied. "Jason was not my boyfriend here. In fact that step came much later. But if thinking that makes you feel better about your behavior, I get it."
Jason Oppenheim revealed his feelings after Heather Rae Young and Tarek El Moussa's party
"New Blood" showed everyone in the office talking to Chrishell about her new relationship with Jason. Heather asked her how it all started.
"Actually, you play a part in it," Chrishell told her. "You don't even know it yet." She later added, "So the day that he sat me down and got nervous and told me that he had real feelings. It was the night of your engagement party."
Heather was surprised by this. "He's like, 'Can I talk to you?' 'Yeah,'" Chrishell said. She said the thought hadn't crossed her mind that he might be into her because he talks about being a lifelong bachelor. However, he started to change his tune.
"But I feel like I didn't think about it until he actually kissed me," she said. "And then I was like, 'Oh.'" Maya Vander asked how the kiss was and Chrishell didn't answer.
Heather Rae Young and Tarek El Moussa's wedding is in season 5
Heather and Tarek have been preparing for their wedding for some time. But fans will finally get to see their big day this season.
The trailer shows Chelsea Lazkani talking to Christine Quinn about how she's not invited to the bridal shower. Christine sends a huge flower arrangement to the shower anyway. There is a good chance it could lead to more drama or the reconciliation between the former friends.