'Selling Sunset': Christine Quinn Doesn't Care About Wearing Animal Skin; 'PETA Come Kill Me'
Selling Sunset star Christine Quinn shows off her collection of designer clothing, bags, and accessories on the Netflix series. Much to the dismay of People for the Ethical Treatment of Animals (PETA), the celebrity covets her furs and leathers. Find out why Quinn doesn't care about wearing animal products.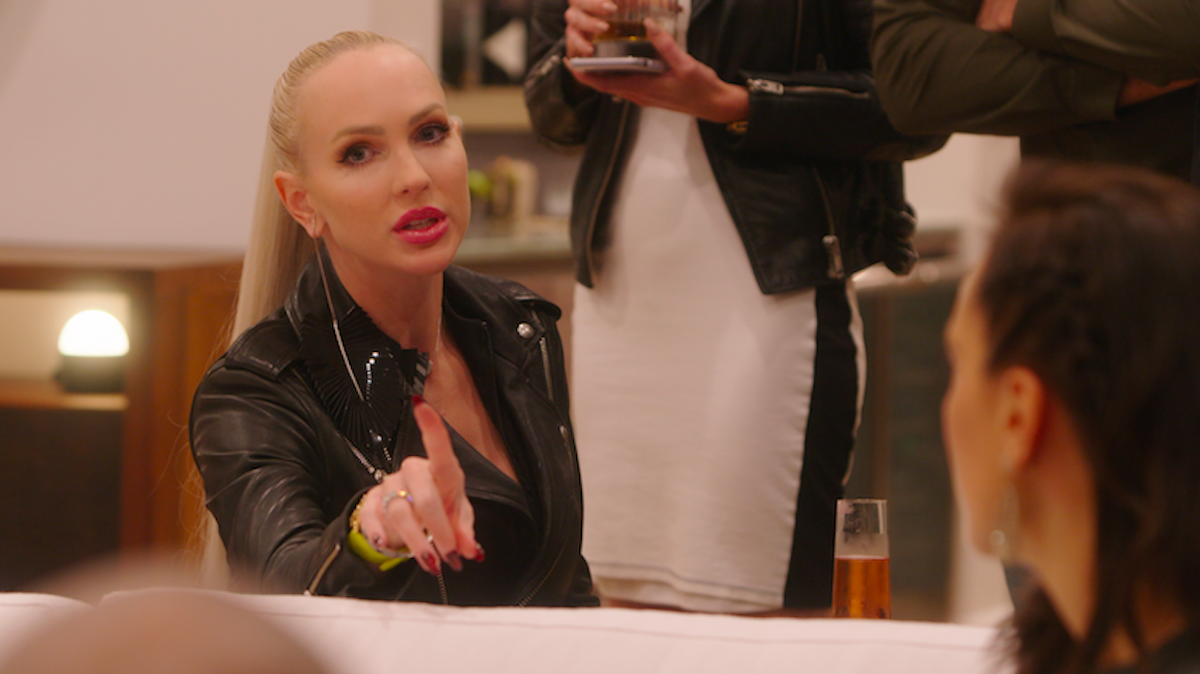 'Selling Sunset' is back with 2 more seasons
Netflix announced Selling Sunset is coming back with two more seasons. Considered the streaming platforms first "docusoap" — a show that follows a group of people going about their lives — Selling Sunset shows some of the most successful realtors in Los Angeles. Many fans of the series have grown attached to the cast, including Chrishell Stause, Mary Fitzgerald, and Quinn, among others. 
"It's official!" Quinn wrote on Instagram. "Seasons 4 and 5 of Selling Sunset on Netflix is officially renewed and confirmed!" A release date for Selling Sunset season 4 has yet to be announced.
Christine Quinn is expecting a baby
At the end of Selling Sunset Season 3, Quinn married Christian Richard at an extravagant gothic wedding ceremony. During the reception, the drama surrounding Stause's divorce from This Is Us star Justin Hartley came to a head. Stause ended up leaving Quinn's reception after Davina Portratz berated her with comments regarding the shocking separation. 
Regardless of the drama that unfolded at her wedding, Quinn is happily married to Richard. Now, the couple is expecting a child. "I'm going to be a mommy!" Quinn shared on Instagram on Mar. 3, 2021.
"My heart is already bursting with love and gratitude for this little life inside me," the Selling Sunset star continued. "I'm humbled, awestruck, and inspired. It's already a feeling like no other that I've ever experienced, and all I can think about is how we can be the best parents possible. We can't wait to start our family!"
Christine Quinn loves wearing furs and leather and she has no plans to stop
As one of the most outspoken personalities on the show, many weren't surprised to learn about Quinn's passion for buying products made with animal skin. "I love the exotic," Quinn told Nylon in May 2020.
Despite today's hyperconscious way of living, Quinn still wears all the leathers and furs she wants. "PETA come kill me, I don't really care," she continued. 
RELATED: 'Selling Sunset': Christine Quinn Wants to Be Like This 1 Popular Movie Mom
Travel is what inspires Quinn's passion for exotic prints. "I love to get something really cool that's unique to that country," she explained to the fashion magazine. "I was in Germany and I got the most amazing crocodile bag. For me it's the pieces that are so out there that I get to keep for the rest of my life." 
Quinn's most extensive collection of exotics has to be her purses. "I love purses; they're my thing," she admitted. "Collecting exotic purses is so fun for me. I want to keep those and pass them down to my little girls when they're older. For me, it's just purses!" 
Quinn hasn't yet shared if they're expecting a boy or a girl, but if it's a "little Christine," fans can bet the reality star will pass down her collection of exotic prints. 
The 'Selling Sunset' star is used to being villainized
While Quinn's love of animal furs and skins is upsetting to some, she's used to being the villain. After season 1 of Selling Sunset, Quinn felt like the show portrayed her in a bad light. "There were certain things the editors promised they wouldn't put in, like the dementia comment," Quinn added, reflecting on what she said about Stause.
Now, Quinn is more careful and aware of what she says when cameras are around. Quinn knows the show should entertain. With that in mind, she strives to "be [herself], dress fabulous, and be funny" because that's all viewers are going to remember.
Fans can expect that trend to continue in seasons 4 and 5. Should Quinn decide to include her child in the show, fans can also expect to see some of her personality rub off on the little one.