'Selling Sunset': Christine Quinn Says Cast Is 'Intentionally Leaving Her out' of Photos but Will Be in Seasons 4 and 5
Christine Quinn from Selling Sunset said she appears in "every single episode of the show" but rumors started that she wasn't on the upcoming season because the cast is purposefully leaving her out of photos. Quinn received a few inquiries about her cast status over the past few weeks when the Selling Sunset cast started sharing photos on social media. She finally had to address fans on Twitter and throw some shade.
Christine Quinn said she's being iced out of 'Selling Sunset' photos
Quinn tweeted, "Got cut off and I'm SOOOOO tired of addressing this. I am in every single episode of season 4 and 5 of selling sunset. The girls intentionally leave me out of photos. I have real work to do besides sit on my phone and prove 24/7 that I'm filming a TV show. Yall going to see me." She added a short video clip walking away from a group of cast members convening around a desk at the office.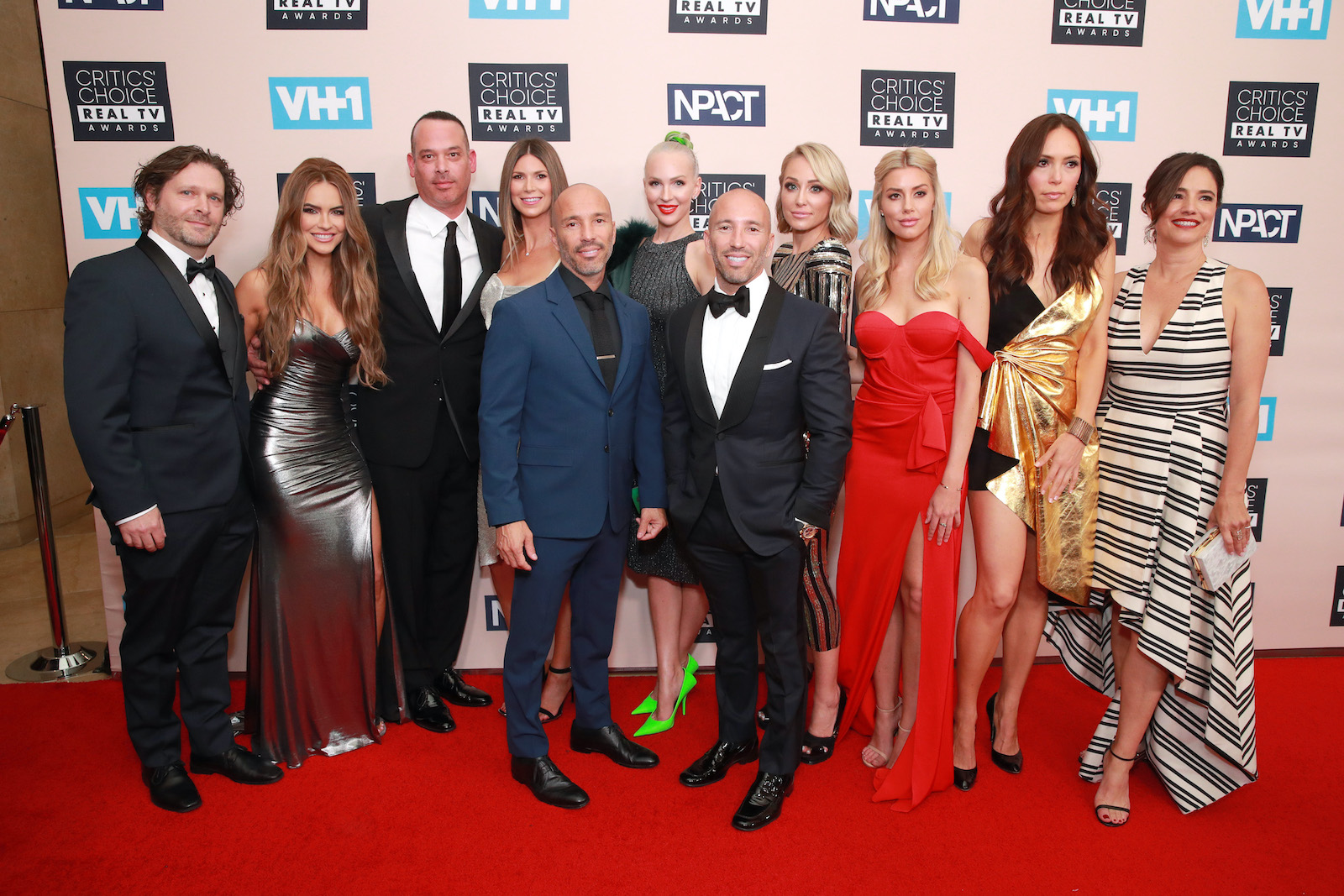 Quinn's short video cuts off but she added in another tweet, "I'm surrounded by a bunch of Benedict Arnold's."
Of course, all Quinn's tweets did was generate hype for the show and fans took sides. "It sounds like the upcoming seasons of the show are gonna be spicy," one person replied to Quinn's tweet. Another person added to Quinn's first tweet, "You're literally the star of the show and all of their hang outs scream PR and forced relevance. Zero authenticity and also just not…interesting. I can't wait to have YOU back on my screen Queen."
Chrishell Stause confirmed Christine Quinn would return
Chrishell Stause confirmed that Quinn would return for season 4 and teased that viewers would see massive drama on the show. "I'm the kind of person that [the drama] gives me such anxiety, and I really want to enjoy coming to work," Stause said on the Not Skinny But Not Fat podcast. Adding, "There's so much stuff that goes on behind the scenes, you know. It's just one of those things that just so much has happened."
Quinn also dished about the budding romance between Stause and Jason Oppenheim. "I think that the second she walked into the office, it was love at first sight… I mean, we all saw it—the way he looked at her when she walked into the office. We were like, 'Okay, okay!'" she told TMZ.
RELATED: 'Selling Sunset' Season 4: Chrishell Stause Reveals Fall Premiere Date, Says New Episodes Will Be Better Than Ever (Exclusive)
And while Stause said Quinn would return, Quinn was also missing from a big cast trip Stause went on to Italy over the summer.
Her relationships with other brokers are still a little icy
Stause isn't the only cast member who had a conflict with Quinn. This may explain why Quinn got iced out of recent photos. Quinn and Mary Fitzgerald, who is close to Stause also have also had an icy relationship. But Fitzgerald told Showbiz Cheat Sheet they have tried to resolve their differences.
"We did we did have a conversation about six months ago where we tried to hash things out and figure out where everything went wrong and talk about what has offended each other to try to get back to a better place and a very civil place," Fitzgerald shared. Adding, at the time she didn't even realize that Quinn was expecting a baby.
RELATED: Million Dollar Listing's Josh Flagg Thinks 'Half' of the 'Selling Sunset' Cast Members Aren't Agents
"I just had no idea," she remarked. "But I'm very, very happy for her. I'm curious to hear more about the whole situation, but I'm not really one to keep pressing an issue or ask a bunch of questions. If she wants to tell me, she'll tell me. If not, I send all my best."
Selling Sunset Season 4 will stream on Netflix on Wed. Nov. 24.