'Selling Sunset': Everything We Know About Peter Cornell, Christine Quinn and Emma Hernan's Ex-Boyfriend
Christine Quinn and Emma Hernan's narrative in Selling Sunset Season 4 revolves around a mystery man they previously dated. Now, we finally know who the unnamed man from Selling Sunset Season 4 is. Meet the ex-boyfriend of Quinn and Hernan — Peter Cornell.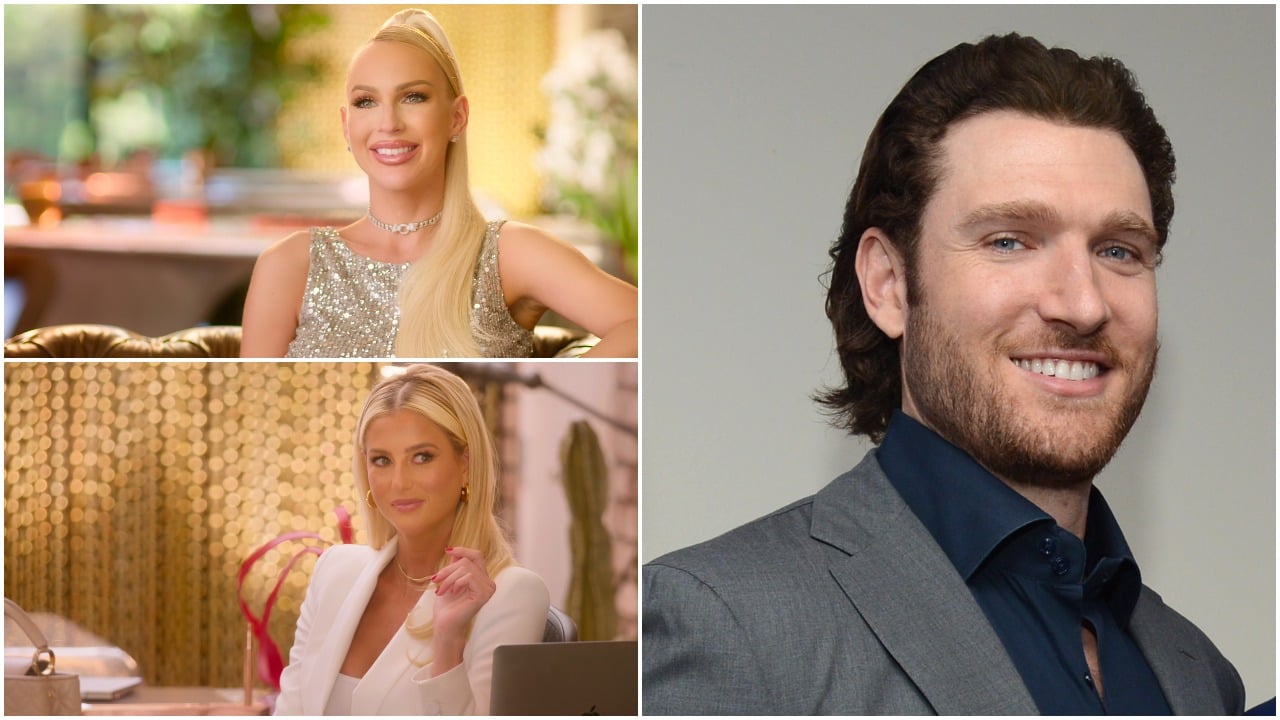 Christine Quinn shares an ex-boyfriend with the Oppenheim Group's new agent 
Emma Hernan joins the cast of Selling Sunset in season 4. As Mary Fitzgerald revealed to us during a November 2021 Zoom call, Hernan has been part of the Oppenheim Group for a few years. But her history with Quinn goes way back. 
As Quinn explains in season 2, episode 6, she and Hernan were dating Cornell simultaneously, unbeknownst to either of them. According to Quinn, she and Cornell were engaged when he was allegedly cheating on her with Hernan. 
Who is Peter Cornell?
A source close to the cast told Us Weekly Quinn and Hernan's shared ex-boyfriend is Cornell. According to the source, he's also a realtor at the Oppenheim Group. Cornell also serves as the director of sports and entertainment at the brokerage. 
As Us Weekly reports, Cornell is a graduate of Loyola Marymount University and a third-generation real estate agent. Before selling property, he played basketball professionally with the Lakers and several overseas teams. He retired from sports in 2009.
'Selling Sunset' stars recall their breakups with Peter Cornell 
When it comes to finding out about Cornell's infidelity, Quinn and Hernan's versions of the story differ. "I dropped my friend off for lunch; my friend was the one who saw you guys walking down the street," Quinn tells Hernan during their one on one in episode 6. "I pulled my car next to your car and said, 'Hey, I don't know what's going on. You can contact me. I'll send you screenshots.'" At the time, Quinn and Cornell were allegedly engaged. 
Hernan's story is different. "I found out about [Quinn] the day that I met her. It was not pleasant," Hernan said. "I was leaving the gym with who I thought was my boyfriend and she pulled up with her friend and was like 'Who the f***' is this?' and started screaming 'This is my boyfriend.'" According to the Emma Leigh & Co. owner, Cornell proposed to her after he and Quinn broke up. 
RELATED: 'Selling Sunset': Mary Fitzgerald Shares the Biggest Changes the Netflix Show Made on Her Life [Exclusive]
"Everything that's coming out of her mouth is bulls***," Hernan tells cameras in the. episode. "I would not describe her banging on my windows as calm. She was 100% reinventing the story, creating her own narrative, which is what she's famous for." 
'Selling Sunset' star Heather Rae Young also allegedly dated Peter Cornell 
As revealed in Selling Sunset Season 4, Quinn and Hernan weren't the only women from the Oppenheim Group to date Cornell. Their fellow real estate agent and co-star Heather Rae Young also dated him in the past. 
"It wasn't even a boyfriend, it was so short-lived," she says during the new season. "Why is [Quinn] trying to bring these things up years and years later?" Young asks her now-husband Tarek El Moussa in Selling Sunset Season 4, Episode 10. 
The more Cornell's past relationships are discussed in season 4, the more frustrated Hernan, Quinn, and Young become. Watch all 10 episodes of Selling Sunset Season 4 on Netflix now. 
RELATED: 'Selling Sunset' Season 4: Mary Fitzgerald Says Fans Can Expect a 'More Positive' Davina Potratz