'Selling Sunset' Season 4: Davina Potratz Addresses Fans Who Say Christine Quinn Faked Her Pregnancy [Exclusive]
Davina Potratz says the rumors surrounding 'Selling Sunset' star Christine Quinn faking her pregnancy are 'absolutely ridiculous.'
Davina Potratz addressed the rumor surrounding Christine Quinn's pregnancy in Selling Sunset Season 4. In an e-mail interview with Showbiz Cheat Sheet, Potratz detailed the Selling Sunset episode where she meets Quinn at a yoga studio. She also denounced the rumors her Netflix co-star used a surrogate. Here's what the Selling Sunset realtor had to say.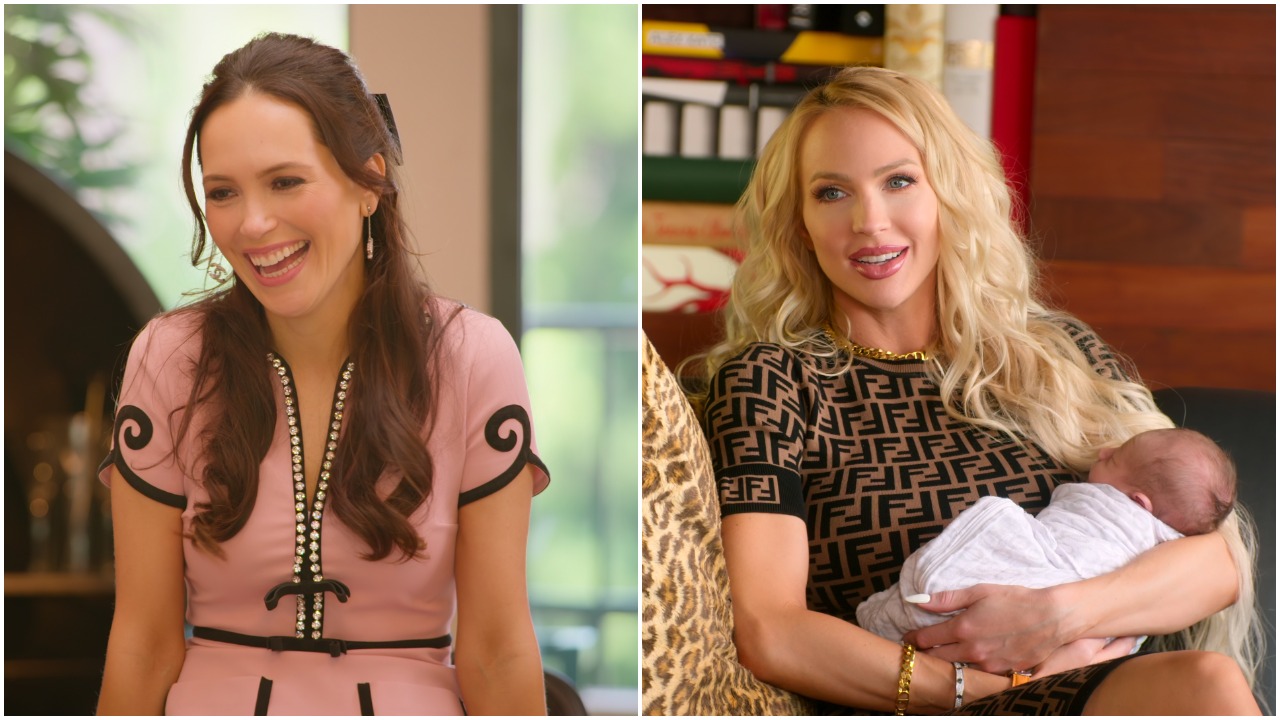 Christine Quinn addresses 'Selling Sunset' fans who say she 'faked' her pregnancy 
Selling Sunset Season 4 debuted on Netflix on Nov. 24, just in time for the 2021 Thanksgiving holiday. But that weekend, Quinn took to social media to address fans who claim she "faked" her pregnancy and used a surrogate. Many viewers couldn't believe the way Quinn looked in the weeks after giving birth. 
Fans took to Reddit to share their conspiracy theories about Quinn's pregnancy, claiming she used prosthetics to fake her baby bump and questioning her birthing story. In season 4 of Selling Sunset, Quinn details the traumatic story of how she and her son could have died during her Cesarean childbirth. A few Reddit users who had the same procedure claim there would have been no way they could have started exercising days after giving birth.
"For all y'all still mad on pregnancy gate please go look at my ig stories," Quinn tweeted on Nov. 27. "And apologize. This is seriously so hurtful." Quinn's Instagram post included videos of her working out post-baby.
Davina Potratz says the rumors surrounding Christine Quinn's pregnancy are 'absolutely ridiculous' and 'offensive'
In December 2021, Showbiz connected with Potratz to talk about the latest season of Selling Sunset. We had to ask about her thoughts regarding fans' reactions to Quinn's pregnancy. 
"I think it's absolutely ridiculous that anyone would suggest that Christine faked her pregnancy and think that's quite offensive," Potratz told us. "Our yoga studio scene was filmed while she [was] pregnant, not after, but I don't think that was clear to the audience." The way the show was edited, Quinn's baby bump is not visible in this moment from Selling Sunset Season 4. 
"I assure you that Christine was absolutely pregnant herself and gave birth to her son," Potratz added. She also had a justification for Quinn's post-pregnancy body. "She is also naturally lean and simply has a very slender body type," Potratz said. "I agree that she recovered fast and looks unusually amazing, but she definitely carried her own child and gave birth to him."
'Selling Sunset' star Maya Vander saw Christine Quinn's C-section scar 
Selling Sunset's Maya Vander addressed Quinn's pregnancy in a separate interview with Showbiz. "Christine was always so skinny, and I've seen her pregnant, by the way," Vander told us, adding: 
"I do feel bad because if you saw the social media speculation about her pregnancy and, you know, faking and all that. So I saw her pregnant; I saw her belly. I saw a C-section scar. So I can tell you for a fact, she had the baby."
Like many fans, Vander knows women who have had vastly different experiences with their C-sections, and some of them may not have been able to move their bodies the way Quinn does in the show. But as Vander pointed out: "Everybody is different."