'Selling Sunset' Season 4: Davina Potratz Speaks to Her Edit, Christine Quinn and Emma Hernan's Shared Ex [Exclusive]
Find out what Davina Potratz thinks of her edit in 'Selling Sunset' Season 4, plus where she stands with Chrishell Stause and Mary Fitzgerald.
Selling Sunset star Davina Potratz connected with Showbiz Cheat Sheet to talk about all things season 4. We asked her about her edit in the latest season of the Netflix series. Plus, Christine Quinn's former engagement Potratz allegedly knew about. Potratz also opened up about her relationship with some of the other Selling Sunset women.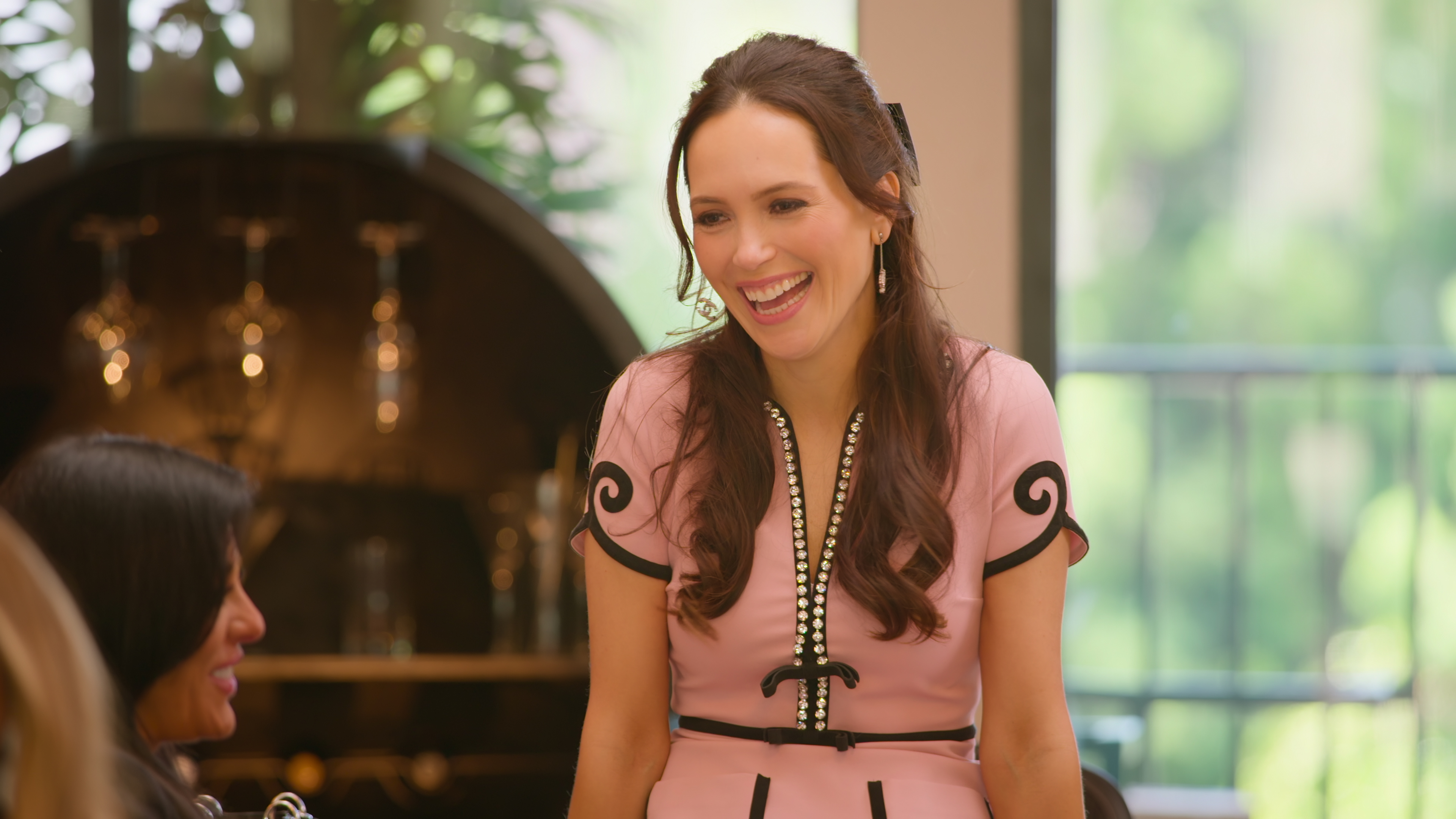 Davina Potratz on Christine Quinn's engagement to Peter Cornell 
One of the major storylines in Selling Sunset Season 4 revolves around an ex-boyfriend Quinn, Emma Hernan, and Heather Rae Young allegedly share. According to Quinn's recount of her relationship with Peter Cornell, a fellow Oppenheim Group employee, the two were engaged when she found out he was cheating on her with Hernan. Allegedly Potratz was the only person Quinn told about the engagement. 
Naturally, we asked Potratz if Quinn's statement in the Netflix series was true. "I don't know any more than what you saw on the show," the Selling Sunset star told us via e-mail.
'Selling Sunset' Season 4 reflects a more accurate portrayal of Davina Potratz 
Selling Sunset Season 3 ended with a heated conversation between Potratz and Mary Fitzgerald regarding Chrishell Stause's divorce from Justin Hartley. While the conversation was edited for a Netflix reality series, what Potratz said wasn't well received by many fans. 
As Fitzgerald teased to Showbiz earlier in November 2021, season 4 of Selling Sunset would show a different side to Potratz. When we asked Potratz about Fitzgerald's comments, she said she appreciated her "kind words."
"Early on during filming, I didn't feel like many people made an effort to get to know me, so they never actually knew who I was," Potratz admitted. She feels like the Netflix series didn't give her a proper introduction. But that changed in season 4.
Davina Potratz says she's always been 'warm, sweet, kind, and authentic' 
The Selling Sunset star is experiencing what some fans are calling her "redemption arc" in season 4. But as Potratz told us, she has always been this way. 
"I have always been warm, sweet, kind, and authentic," she explained. "What you see on season 4 is not a 'new version' of myself. There isn't someone I 'no longer wanted to be.'" 
Potratz wants Selling Sunset fans to understand what they see on the show are edited moments. "Good or bad, [those moments] don't define anyone — they are just entertainment," she wrote. "That being said, I did learn what the show focuses on and understand more of what I'm doing now." 
For Potratz, the new season of Selling Sunset captures her warm nature, which she's grateful for. "I am compassionate and loyal to my friends but I also ultimately stand by my beliefs, which I think became clear," said Potratz. "Filming a reality TV show requires a certain amount of trust and vulnerability which can be complicated. I was able to let my guard down more but also appreciate the editing, so it was a combined effort." 
'Selling Sunset's Davina Potratz says she's friends with Chrishell Stause
Fitzgerald and Stause didn't have high opinions of Potratz at the beginning of Selling Sunset Season 4. But after Potratz pulls Stause aside to apologize for the conversation at Quinn's wedding, things started to get better. 
"It was hurtful to see the comments that Chrishell and Mary made early on in the season," Potratz admitted to Showbiz, adding: 
"But I am impressed with how their attitudes changed as well. Mary in particular went out of her way to be more supportive, inclusive, and kind so I appreciated that. Chrishell was a bit more guarded, but over time she also opened up more. Chrishell and I are friends now and I'm glad we have reached that point in our relationship." 
Throughout season 4, Potratz says she also became close to Hernan, a realtor who has been with the Oppenheim Group for a few years but just joined the cast of the Netflix series. "I do think that inspired her to trust me more as well," Potratz told us. 
Most of all, Potratz reminded us she's the same person she's always been. "But I do feel that both my castmates and the audience are finally getting to know me instead of assuming things about who I might be," the reality star concluded. "I think this evolution is great to see and experience for everyone."