'Selling Sunset' Season 5 Episode 1 Recap: Jason and Chrishell Go Public, Christine Recruits Chelsea
Selling Sunset Season 5 is back with an exciting episode 1. In the season 5 debut, fans of the Netflix series get a closer look at Chrishell Stause and Jason Oppenheim's former relationship. Plus, meet the newcomer to The Oppenheim Group, Chelsea Lazkani. Here's what unfolded in the season 5 premiere of Selling Sunset. 
[SPOILER ALERT: Spoilers ahead for Selling Sunset Season 5 Episode 1.]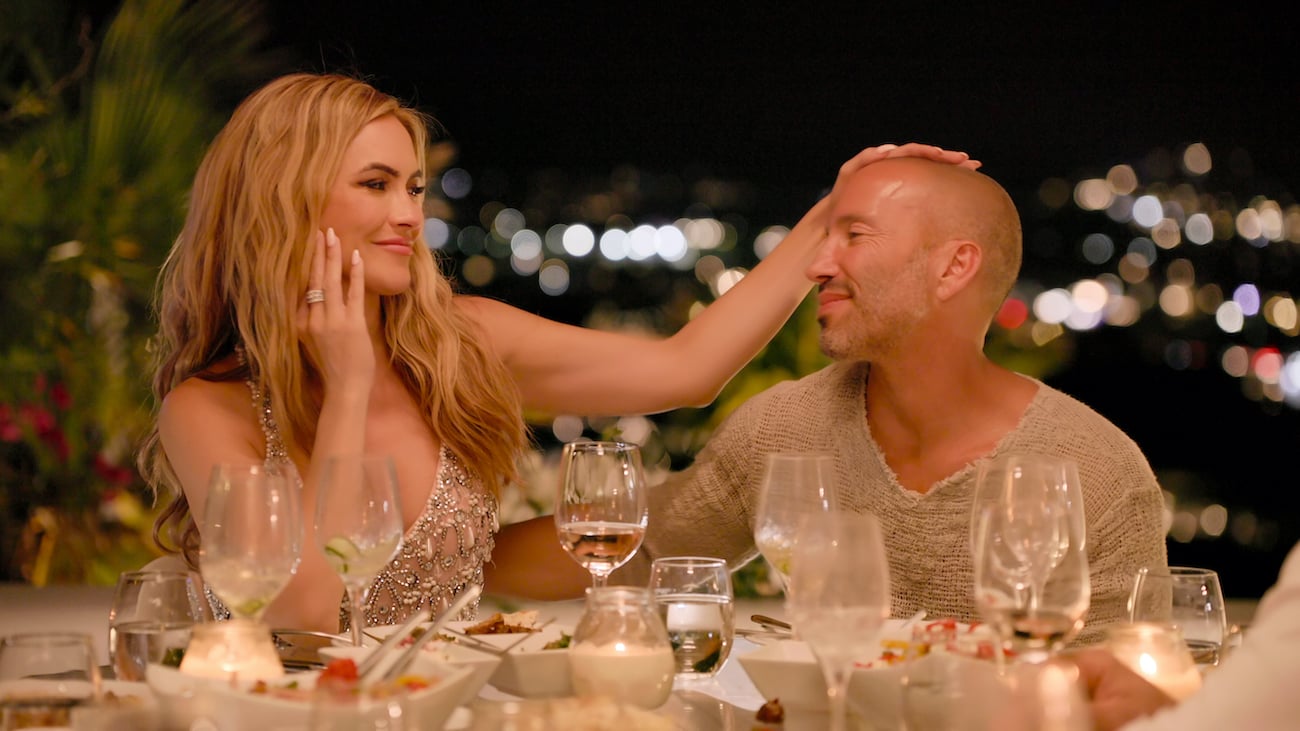 'Selling Sunset' cast celebrates Jason Oppenheim and Chrishell Stause's relationship in Mykonos
In the season 5 premiere of Selling Sunset, Jason, Chrishell, Mary Fitzgerald, and Romain Bonnet take a couples trip to Mykonos, Greece. Brett Oppenheim and his former girlfriend Tina Louise are also present.
Together, the group celebrates Jason and Chrishell's making their relationship public. They're also there to celebrate Chrishell and Mary's birthdays; July 21 and July 29.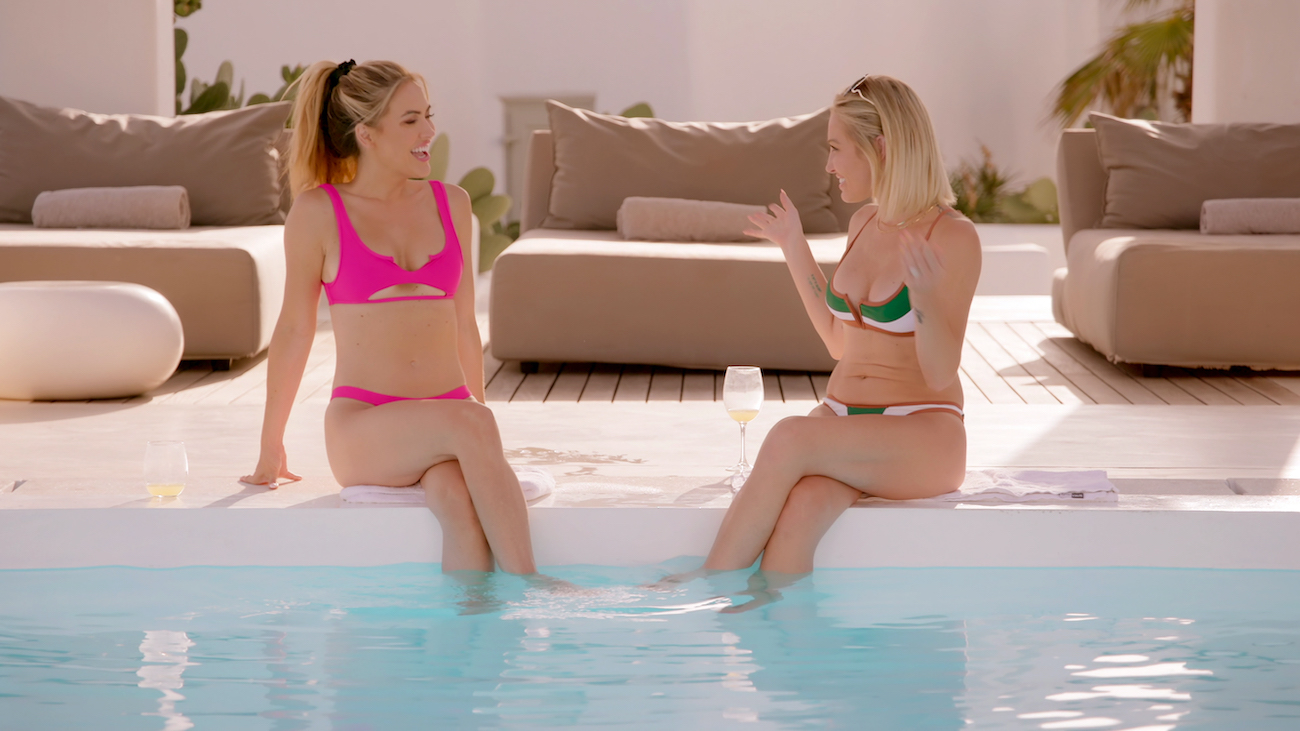 As Chrishell explains, she and Jason wanted to figure out their relationship before making the world aware. "Jason and I became best friends, then we became more than friends," Chrishell tells cameras. "Sometimes what you're looking for can be right in front of you."
Unlike her relationship with Justin Hartley, Chrishell claims she is her most authentic with Jason. As she reveals to Mary, she once hired a professional chef to cook dinner and pretended she prepared the food when she was married to the This Is Us star. As documented in episode one, Chrishell never felt like she had to do that with Jason.
The Oppenheim Group finds out about Jason and Chrishell in season 5 episode 1
Back in the Los Angeles office, Maya Vander, Davina Potratz, Emma Hernan, and Heather Rae El Moussa talk about Jason and Chrishell's relationship. They're all shocked Jason finally committed to someone.
"The Jason I know was casually dating — I don't think he ever saw [a long-term relationship] for himself," Davina tells cameras. Heather says Chrishell is a "game-changer" for Jason, not a "place holder."
Christine Quinn connects with Chelsea Lazkani
During a broker's open at the Mulholland Drive property in Selling Sunset Season 5 Episode 1, Christine Quinn connects with Chelsea, a newcomer to the cast of the Netflix series. The two bond over having children — Christine welcomed Christian "Baby C" Georges Dumontet on May 15, 2021; Chelsea has two children, Maddox Ali Lavon, born in January 2019, and daughter Melia Man, born in November 2020.
"I love her clothes [and] her energy," Christine says of Chelsea. "I feel like she's my real estate soul mate." Since Chelsea isn't working with a brokerage, it becomes Christine's goal to get her a desk at The Oppenheim Group.
"I've been so tired of these b****** … living in their cult vibe world," Christine tells the cameras. Since the end of season 4, Christine has been on the outs with the other women of The Oppenheim Group. She previously found an ally in Vanessa Villela, but she has a new friend in Chelsea in the season 5 premiere.
'Selling Sunset' Season 5 Episode 1 introduces fans to another iconic purse
Christine introduced Selling Sunset fans to her chair purse in season 4 episode 1. Now she's back with another purse that's going to leave fans talking — a diamond-encrusted french fry purse that mimics one Kim Kardashian had at the What Goes Around Comes Around 25th Anniversary Auction in 2018 (via Entertainment Tonight).
Vanessa's Villela boyfriend is photographer Tom Fraud
In the season 5 premiere of Selling Sunset, fans meet Vanessa Villela's boyfriend Nick Hardy. "Nick and I have been together for 10 months now," she explains. "He lives in the U.K. — we met online."
Nick is better known by his photography moniker Tom Fraud. According to his website, Tom Fraud "represents the dreamers and believers who follow their heart, instincts, and desires." The site continues: "Fraud stands for the idea of going against the tide [and] doing your own thing."
Vanessa and Nick's relationship is still blossoming in the fifth season of Selling Sunset, but Vanessa became Nick's fiancé on Jan. 29, 2022. "Two souls one heart!" wrote on Instagram. "I SAID YESSSSSS."
Watch season 5 of Selling Sunset on Netflix.
RELATED: