'Selling Tampa': 'Selling Sunset' Cast Supports Allure Realty After Netflix Release
The cast of 'Selling Sunset' showed nothing but support on social media when 'Selling Tampa' debuted on Netflix.
Netflix introduced a new cast of luxury real estate agents on Dec. 15, 2021 with Selling Tampa. After the Selling Sunset spinoff debuted on Netflix, the women of the Oppenheim Group showed their support on social media. Here's what they had to say about their luxury realtor colleagues and the premiere of Selling Tampa.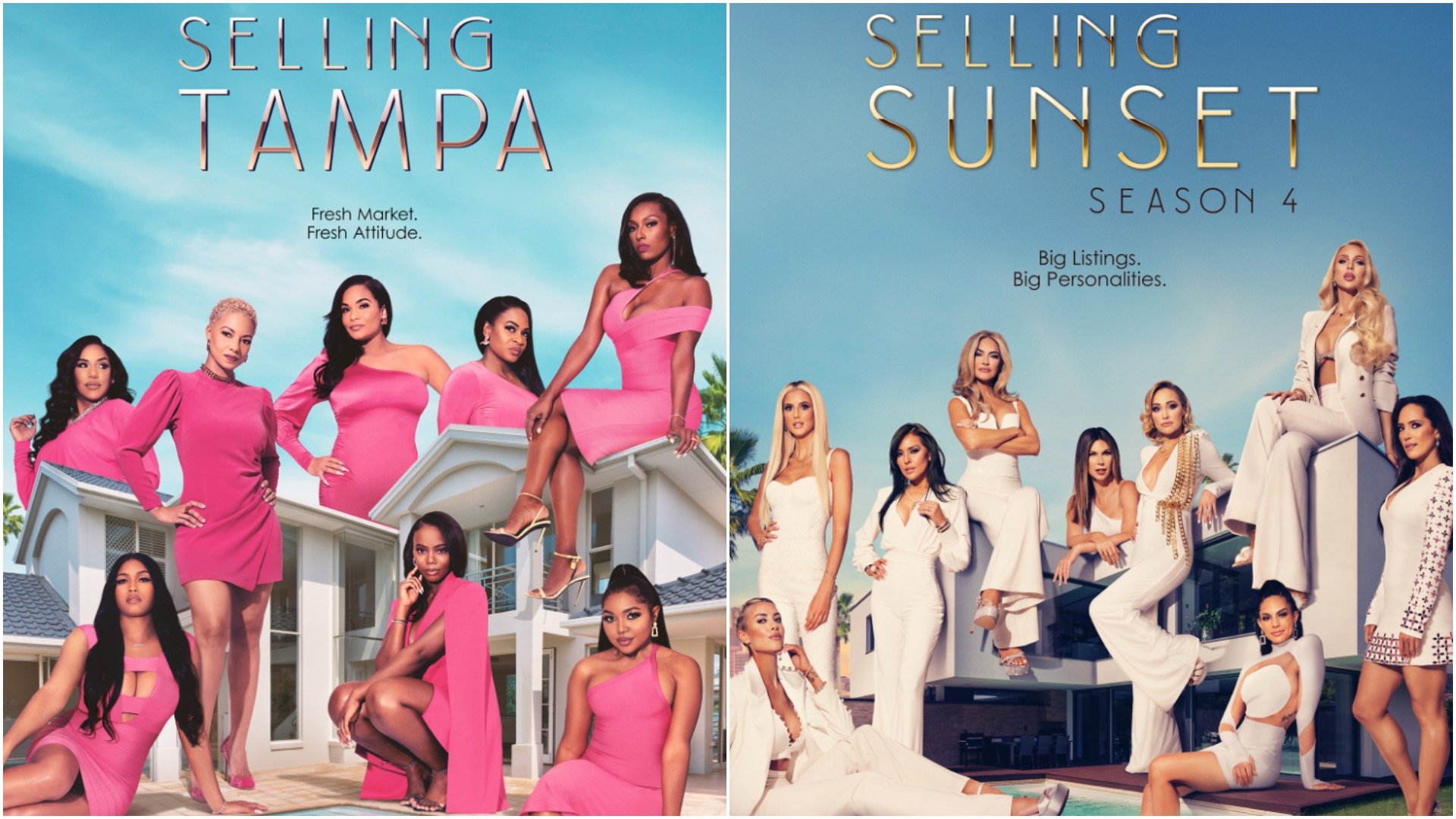 'Selling Tampa' follows Sharelle Rosado and her brokerage Allure Realty 
Like Selling Sunset, Selling Tampa follows a successful real estate brokerage. But instead of selling luxury properties in California, the agents at Selling Tampa's Allure Realty sell in the Tampa, Florida market. Netflix released the eight-episode season 1 on Dec. 15. 
Selling Tampa follows former United States Army paratrooper and owner of Allure Realty Sharelle Rosado, plus her all-female, all-Black team of realtors. Allure Realty's staff includes Juawana Colbert, Rena Frazier, Colony Reeves, Anne-Sophie Petit-Frere, Karla Giorgio, Tennille Moore, and Alexis Williams.
When she's not selling luxury real estate, Rosado is in a long-distance relationship with retired NFL player Chad Ochocinco Johnson. She is also the mother of three children from a previous relationship and is expecting another one with Ochocinco Johnson.
The Oppenheim Group supports the release of 'Selling Tampa' 
After Selling Tampa dropped on Netflix, the Selling Sunset cast supported their colleagues on social media. "Will be watching this later! Congrats to [Sharelle Rosado] and all the ladies!" Selling Sunset's Chrishell Stause posted to her Instagram Stories. 
"Finally sitting down to watch a little bit of Selling Tampa, loving it girls, great job," Heather Rae Young said on her Instagram Stories. "Keep watching Selling Sunset too!"
Selling Sunset newcomer Vanessa Viellela also shared a post to her Instagram Stories. "Best of luck today to these beautiful ladies!" she said. "Go Selling Tampa!" sharing Petit-Frere's post that said "Name a better duo" with a group picture of both casts.
'Selling Tampa' and 'Selling Sunset' have the same executive producer 
Fans of Selling Sunset might think Selling Tampa looks and feels the same, and for a good reason. Adam DiVello is the executive producer of both Netflix shows. 
After Rosado established Allure Realty in Tampa, producers started reaching out to her about doing a show. But after seeing Selling Sunset, Rosado knew she only wanted to work with DiVello. She connected with him on Instagram and the rest is history. 
Netflix is doing another luxury real estate spinoff 
Selling Sunset fans have a lot to look forward to in 2022. Season 5 of the Netflix series recently wrapped filming, so expect news regarding a release date soon. 
Plus, DiVello is working on another Selling Sunset spinoff, Selling the OC. At the end of Selling Sunset Season 4, Jason and Brett Oppenheim shared news of their leasing office space in Newport Beach. They're looking to expand the Oppenheim Group into another market, and Selling the OC will follow that journey. 
At this time, Alexandra Hall, Austin Victoria, and Brandi Marshall are confirmed cast members of Selling the OC. However, Young is listed as an agent on the Oppenheim Group's Newport Beach website, so she could pop up in the Selling Sunset spinoff.
Stream episodes of Selling Sunset and Selling Tampa on Netflix. Stay tuned to Showbiz Cheat Sheet for an update on the release of Selling the OC.