Serena Williams Admits to Struggling With Motherhood: 'I Felt Like I Was Not a Good Mom'
Like other parents, Serena Williams confesses she doesn't always feel like she's doing the best job.
Serena Williams has stood atop the tennis world for years. However, she doesn't place much importance on her legacy and tries to focus on life outside the sport. A significant aspect of her life is her family. Fans enjoy seeing Williams and her daughter together, and the athlete has said she loves being a mother. But like other parents, the tennis legend admits to facing challenges.
Serena Williams and her husband, Alexis Ohanian, enjoy a loving relationship
Williams and Reddit co-founder Alexis Ohanian's relationship began in 2015 when they met in Rome. According to Brides, both stayed at the Cavalieri Hotel, and their encounter occurred at breakfast. At first, she wanted him to leave but changed her mind before inviting him to her table. The two soon hit it off. 
Even though Ohanian knew little about tennis, he and Williams discovered they loved art and travel. On top of having shared interests, they're also in sync. Williams' and Ohanians' compatible zodiac signs might be why they connect deeply. 
In 2016, Ohanian proposed to Williams at the hotel where they met, and they married a year later. The couple booked a location in New Orleans for the ceremony. Williams wore a stunning princess gown for the nuptials, and several celebrities attended.
Williams and Ohanian have one child together. During the couple's engagement, Williams discovered she was pregnant. In early September 2017, she gave birth to a daughter, Alexis Olympia Ohanian. Although Olympia is only 4, she already has a popular Instagram account because of her famous parents.
Serena Williams adores her daughter but doesn't always feel like a 'good mom'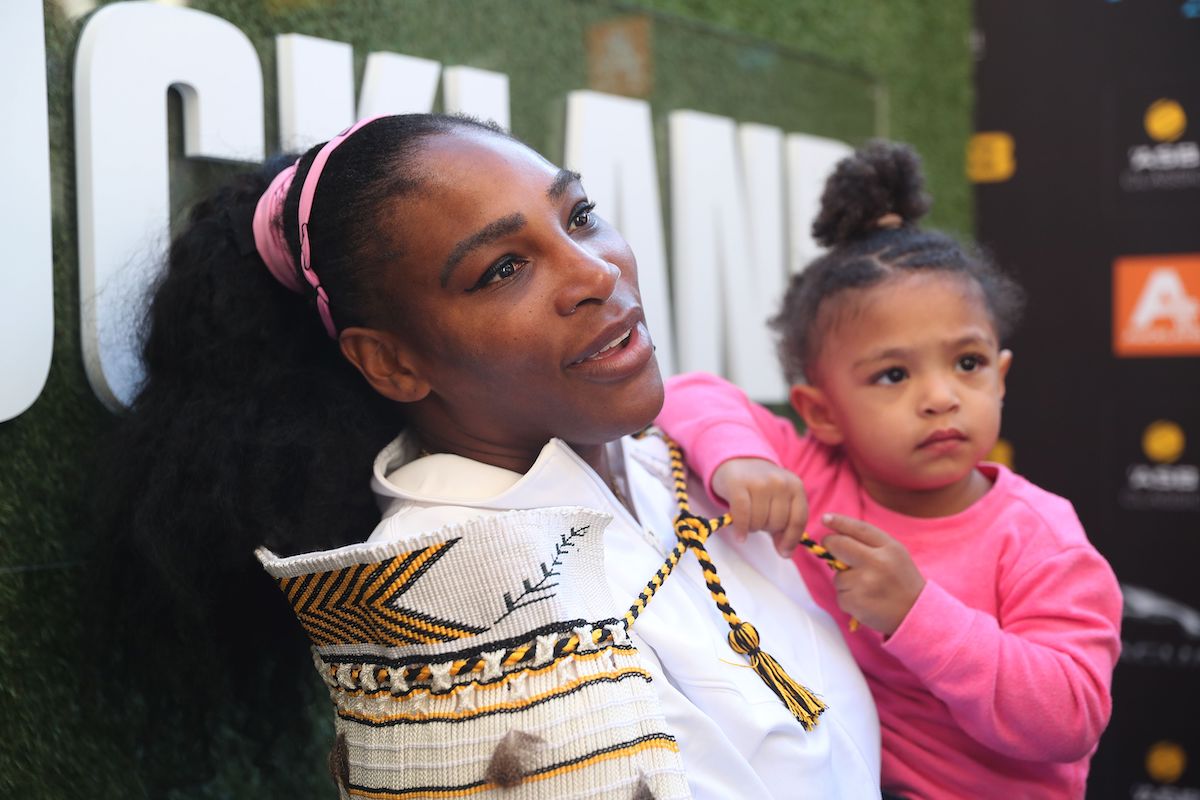 Giving birth to her daughter wasn't easy for Williams, and it forced her to delay her return to tennis training. Williams needed an unscheduled C-section due to the baby's significantly low heart rate, Vogue reported. After the delivery, Williams experienced a life-threatening pulmonary embolism.
Despite the traumatic start, Williams is spending loving moments with Olympia. She has found that her child is a lot like her. The tennis star turns to her mother for advice, and fans believe Williams will raise her daughter to be as fierce.
Many parents can relate to the challenges of raising a child and might feel unsure about their abilities. In a 2018 Instagram post, Williams confessed she had doubts about being a decent parent to her child.
"Last week was not easy for me," Williams wrote. "Not only was I accepting some tough personal stuff, but I just was in a funk. Mostly, I felt like I was not a good mom."
She attributed her challenges primarily to "postpartum emotions" and sent an encouraging message to other parents:
"It's totally normal to feel like I'm not doing enough for my baby. We have all been there. I work a lot, I train, and I'm trying to be the best athlete I can be. However, that means although I have been with her every day of her life, I'm not around as much as I would like to be. Most of you moms deal with the same thing. Whether stay-at-home or working, finding that balance with kids is a true art. You are the true heroes.
"I'm here to say: if you are having a rough day or week — it's ok — I am, too!!!"
Ohanian is there to support his wife
Ohanian is also on social media, where he has hundreds of thousands of followers. He posts various videos and images, and some are of his family. This past Mother's Day, the proud husband and father shared a photo of Williams and Olympia on Instagram.
His reflection can be seen in a mirror as he snaps the picture of his wife and daughter sitting at a table at a quaint restaurant. He captioned the photo, "Greatest Mama of All Time." 
Ohanian likes to show how wonderful a mother Williams is, and he also encourages her in other aspects of her life. Before meeting his wife, he wasn't a huge tennis fan. Now he cheers for Williams' victory in the crowd alongside Olympia. 
Last year on Twitter, he posted a photo of himself at the Australian Open, where Williams was competing. Ohanian wore a shirt bearing an image of his wife and the phrase "greatest female athlete" — with "female" crossed out.