How Did Serena Williams and Alexis Ohanian Meet?
Had Alexis Ohanian not done one thing on a visit to Rome, he wouldn't have met his future wife, Serena Williams.
A lot has changed in the past few years for Serena Williams and Alexis Ohanian. They met in 2016 and since then have had a baby and gotten married. The couple had major things happening in their personal lives all the while maintaining their professional ones as a tennis champion (Williams is often referred to as the G.O.A.T., or Greatest Of All Time, in tennis) and investor/founder of Reddit. Learn how the couple met ahead.

How did Serena Williams and Alexis Ohanian meet?

Ohanian and Williams have both explained how they first met on multiple occasions. From talk shows and magazine interviews to Williams' HBO documentary, Being Serena, the couple's love story has been well-documented. But each time the story gets cuter.

At the Rome Cavalieri hotel is where the two first met in May 2015. They were both staying at the same hotel when Ohanian sat down at a table next to Williams. Ohanian woke up late that morning (thanks to a hangover) and didn't realize his seating choice annoyed Williams.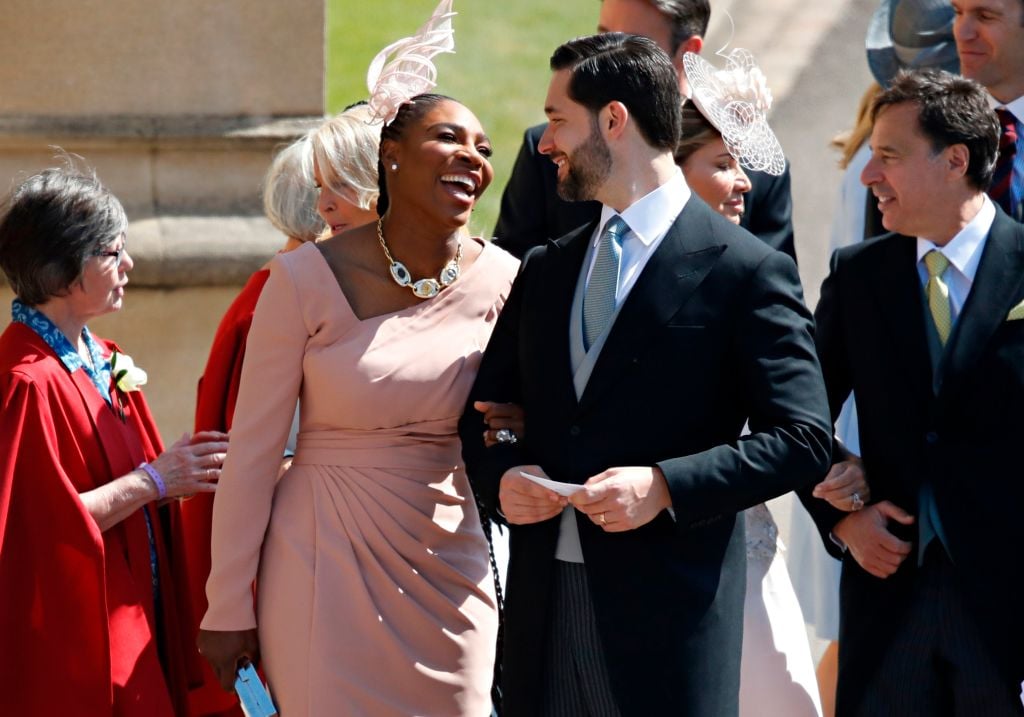 "This big guy comes and he just plops down at the table next to us, and I'm like, 'Huh! All these tables and he's sitting here?'" Williams explained to Vanity Fair in 2017. She and her friends tried to annoy Ohanian into sitting somewhere else, telling him they saw a rat near his table.

He simply replied, "I'm from Brooklyn. I see rats all the time," Williams recalled. When he refused to move to another table, Williams said the first words she spoke to her now-husband were: "We just don't want you sitting there. We're going to use that table."

Ohanian eventually got an invitation to sit with Williams and her friends. It was then that he realized who he had sat next to by the hotel's pool.

Ohanian and Williams' first date

Williams invited Ohanian to watch her play at the French Open not thinking he'd actually show up. He did and they spent their first official date walking around Paris for six hours before the tournament started, according to Business Insider.

Ohanian explained to Stephen Colbert on his talk show, The Late Night with Stephen Colbert, all about his first date with Williams.

"We ended up wandering Paris together, and the moment I knew [we had a connection was when] we found this little zoo, and I saw it out of the corner of my eye and I said we're going to walk through the zoo," he told Colbert. "There was this big cat, like a leopard, a majestic creature, and then it was feeding time. They threw out a bunny."
"It was a dead bunny, but it was a show. And this leopard just went in and blood is going everywhere. She's very romantic and she's standing in front of me and I can tell she's very unsettled by it," he added.
Ohanian continued, explaining how he knew they had something together.
"I said, It's cool, we're going to keep going. But in that moment, I said, there's a connection. And in that moment, thanks to that poor rabbit, I found love, in spite of everything else."
In May 2018, the couple along with their daughter returned to the Paris zoo. Ohanian shared a sweet snapshot on his Instagram captioning the post, "Went back to the zoo from our first date (yes that's the infamous leopard pen from my Colbert interview). Brought a third wheel this time. We didn't mind."
The couple continues to show support for one another on social media and share adorable photos of their daughter, Alexis Olympia Ohanian Jr. (she's got her own Instagram account). Ohanian continues to work in the business world while Williams continues to dominate tennis.