Seth Rogen Changed Kelly Clarkson's Life in the Funniest Way: 'I'm Terribly Sorry'
As a comedian, Seth Rogen has many funny stories, including his encounters with other celebrities. But there's one moment from early in his career he likely didn't predict: Coming face-to-face with Kelly Clarkson and having to explain his part in the joke that changed her life.
Kelly Clarkson became famous in the early '00s with 'American Idol'
Clarkson first broke out as a contestant on the first season of American Idol back in 2002. Though not an early favorite in the competition, she won, cementing her place in TV and music history. Her breakout single "A Moment Like This" topped the Billboard Hot 100 chart.
Today, Clarkson is a Grammy-winning singer-songwriter with hits like "Since U Been Gone" and "Behind These Hazel Eyes" under her belt. In addition to her eight studio albums and her stint judging on The Voice, she has her own daytime talk show, The Kelly Clarkson Show.
Seth Rogen is a writer in addition to an actor
Rogen, somewhat coincidentally, got his start around the same time as Clarkson. He first appeared in the short-lived NBC dramedy series Freaks and Geeks, which introduced him to Judd Apatow. The two began collaborating, with Rogen acting in and writing on multiple projects with the famed producer.
More than 20 years later, and Rogen has established himself as a writer, director, producer, and actor. He has multiple projects in the works at any time, from Amazon superhero series like The Boys and Invincible to his foray into publishing with his 2021 autobiography Yearbook.
Clarkson's name was used in 'The 40-Year-Old Virgin'
One of Rogen's first times working behind the scenes on a film arrived with The 40-Year-Old Virgin. He co-produced the 2005 romantic comedy, which marked Apatow's directorial debut. Rogen also appeared in the film as Cal, one of Steve Carell's titular character's co-workers.
The movie struck a chord with many fans, earning attention for a few notable scenes in particular. Among them is when Cal and a few of Andy's co-workers take him to get his chest waxed in preparation for a date. During the scene — in which Carell was actually being waxed– he screams various things, including, "Ahh, Kelly Clarkson!"
Rogen apologized for writing her into the movie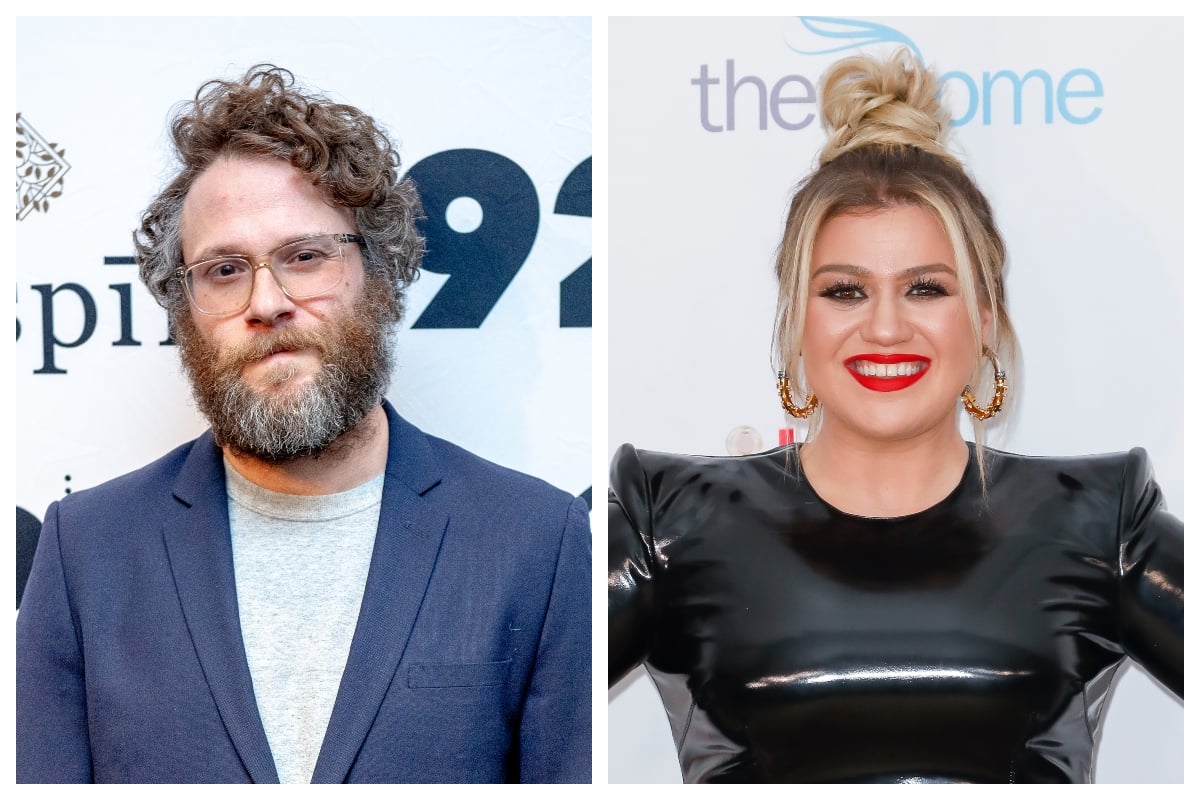 More than 15 years later, Rogen and Clarkson discussed the scene on her talk show. "Judd Apatow told me…it's your fault people scream my name everywhere I go," Clarkson said. "I'm terribly sorry," Rogen began. "I owe you an apology." Clarkson laughed, "No, it's awesome!"
"I was hired to write jokes," Rogen continued. "We call them alt jokes, alternate jokes. We knew Carell was going to be waxed, and he wouldn't be able to think clearly, probably. So we wanted to be able to feed him things to say [during the waxing scene]."
Rogen explained that he had a list of dirty jokes and one of "clean jokes," the latter of which was "harder to write." "I honestly think I was sitting on my couch, writing the jokes, and you came on television, and I saw you." As for why her name specifically, he said, "A 'K' sound is known for being funny in the comedy world."