Seth Rogen Is Doing Exactly What You'd Expect In Quarantine
As the coronavirus pandemic continues, more and more people have been practicing social distancing and quarantining from others. It has been a dismal and overwhelming experience for many, but Seth Rogen has been trying to make the best of it. In a recent interview, he shared some of his quarantine activities and one of them isn't much of a surprise.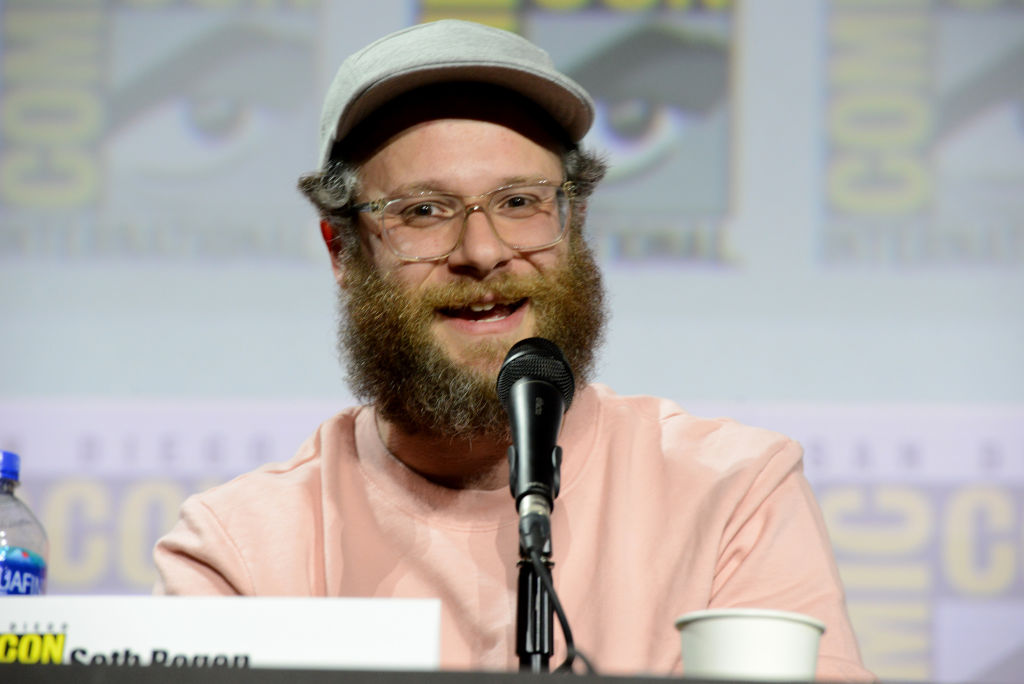 Seth Rogen in quarantine
Appearing on Jimmy Kimmel Live! on April 16, Rogen opened up to host Jimmy Kimmel about the coronavirus quarantine. When Kimmel remarked that Rogen seems like the kind of person who is "cut out for this stay-at-home thing," Rogen agreed.
"Yeah, we are not all in this together because this has not been that bad for me," he shared. "I'll be totally honest. This has been fine. I am built for this. I have kind of been self-isolating since 2009." 
While he's cooped up at home, he's been smoking "a truly ungodly amount of weed," which should come as no surprise to fans who have followed him throughout his career. But what might shock them is his new pottery hobby. He's made at least three soap dispensers so far and intends on making more items in the future.
"So many of our friends wanted to do pottery, we got a literal third wheel, me and my wife," Rogen continued. "We have a kiln, we found a place that will deliver clay in this time of quarantine." 
Elsewhere in the interview, Rogen repeated how "built" he is for the quarantine. "The fact that I have no kids is making this truly not that bad," he noted. "I will be lying alone on my death bed having not talked to anyone in 15 years and I'll be like, 'It was worth it for the coronavirus sh*t.'" 
He has also used his time to draw attention to a big issue
Rogen has also been bringing attention to the death of Minnesota resident George Floyd, who died on May 25 after being detained and pinned by police officers. As protests against police brutality started raging around the United States, Rogen donated to a bail fund raising money for jailed protesters.
"Always be more critical of the people upholding the racist system than the ones who are fighting against it," he tweeted at the time.
He also shared posts about racial injustice on Instagram, where he recently sounded off on critics of a message supporting the Black Lives Matter movement. He posted the message on June 1, leading one fan to comment "I like 'All Lives' Matter."
"I like f*ck you," Rogen shot back.
When someone else shared a message that said in part that "they don't show wtf these people were doing to get in trouble in the first place," Rogen told them, "F*ck off. You don't deserve my movies anymore. Stop watching my sh*t."
As fans continued to push back on the post, Rogen clapped back with various replies such as "Shut the f*ck up," "F*ck off," and "Get the f*ck out with that sh*t."
Fans took to Twitter to praise the Superbad creator, sending his name to the top of its trending topics list.
What's next for Seth Rogen?
Rogen has a new movie coming to HBO Max. Titled An American Pickle, it is a comedy based on an immigrant worker who is brined in a pickle vat for an entire century and wakes up in modern-day Brooklyn. It's set to arrive on the platform on Aug. 6.
Read more: HBO Max: Here's Why the Streaming Service Is a Must-Have for Parents