'Severance' Memory Procedure and Elevator Barrier Explained
'Severance' creator Dan Erickson explained the rules of the show's company which controls its employees memories with a complicated procedure.
Apple TV+'s new series Severance is disorienting at first. That's intentional. The show, starring Adam Scott and Patricia Arquette, is about a company that severs its employees memories of the outside world. In Severance, memory of home is disabled while at the office, and memory of the office disabled at home. Creator Dan Erickson has more details.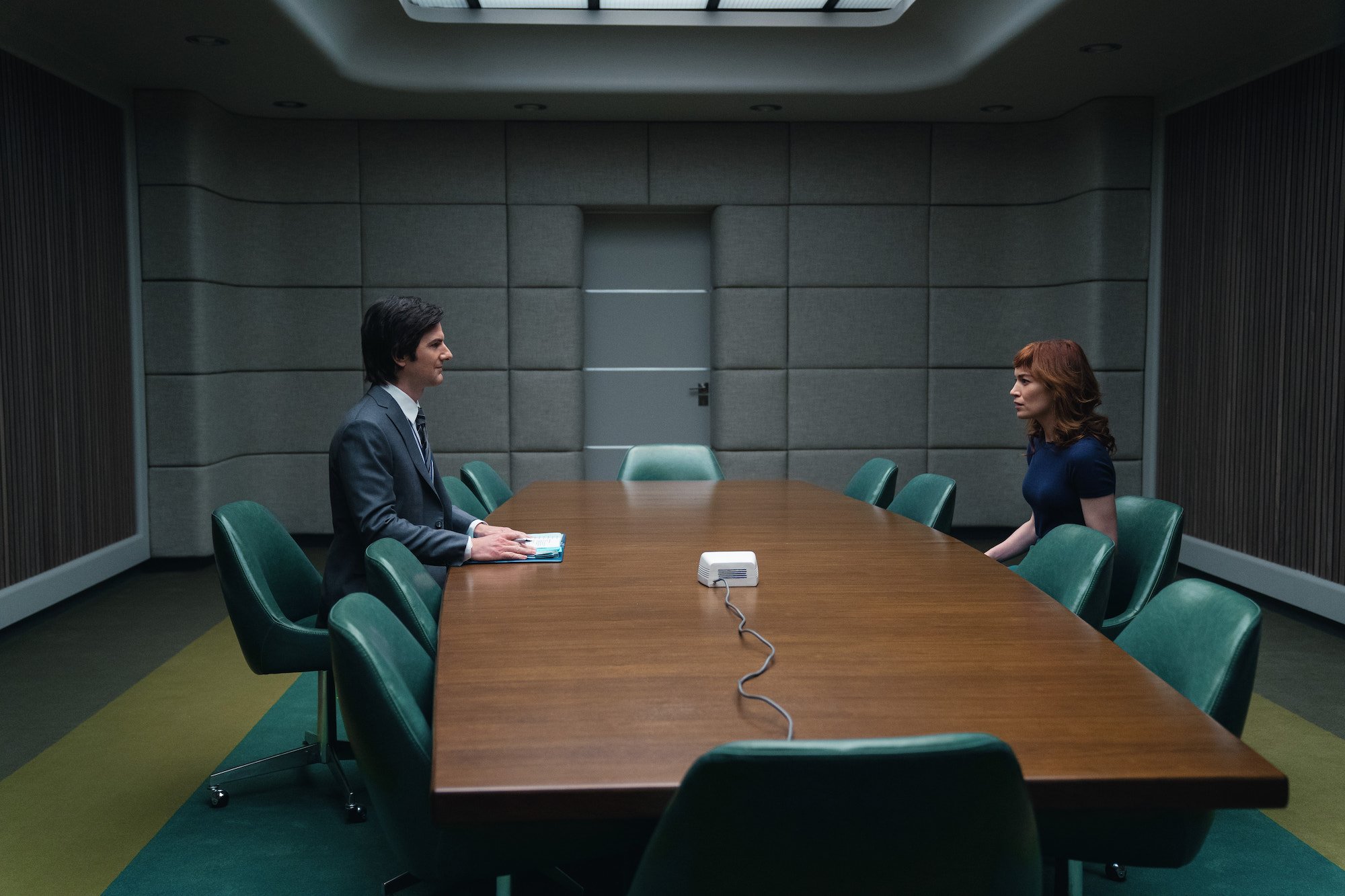 Erickson was on a Television Critics Association Zoom panel for Severance on Feb. 4 where he explained the process depicted on the show. New episodes of Severance premiere Fridays on Apple TV+.
'Severance' memory and the elevators
Memory control has been the subject of sci-fi movies like Total Recall and the recent Reminiscence. Severance posits that memories can be split at a designated location. The barrier at which the employee's memories revert is the elevator. Helly (Britt Lower) discovers this when she tries to leave. 
"I have like just whole, file upon file on my laptop of sort of walking through in my head how this scientifically makes sense," Erickson said. "Suffice it to say there's some sort of a barrier that if you're basically halfway down the elevator, you pass it. We talked about it as just some sort of a threshold. You pass that and it sends a frequency in the chip in your head that causes you to switch to your innie mode and then it just comes back up when you're going home."
Helly tries to take the stairs out of the Lumon building and has a similar disorienting experience. 
"For the stairwell, it's similar," Erickson said. "Whatever that thing is. And, again, we sort of intentionally never fully decided even for ourselves like what is the exact technology, but that threshold is in the doorway. So when Helly is running through, that's the moment that she's switching is the moment that she passes through the doorway."
Does 'Severance' take place in the future?
The memory technology of Severance qualifies it as science-fiction. But, is it Blade Runner/2001 future sci-fi? Erickson says no. 
"I would just say it is around now," Erickson said. "It's like vaguely now-ish. We're not going for something where, like, this is ten years in the future where severance has existed or has been invented and already exists. It's sort of an alternate, vaguely now-ish timeline."
Where is Lumon located?
The memory wipe also begs the question of where exactly the Lumon office building is. Where do these employees go home to? Erickson has pinned down the city.
"We're clearly in the well-known U.S. city of Kier, you know, the beloved city of Kier," Erickson said. "We sort of intentionally kept a lot of ambiguity to the time and place. You know, we obviously shot mostly in New York, in New Jersey. So there's sort of a vague New England, East Coast-y feel to the city. But we didn't really want to know exactly where it was or tie it to a specific locale."