'Severance': Security Cameras and a $100,000 Desk Give Lumon's MDR Department Its Signature Vibe
Lumon's Macro-data Refinement department has a stark, prison-like feel — find out how cinematographers achieved this vibe on set.
What the Macro-data Refinement (MDR) team does and Lumon's overall purpose in the world of Apple TV+'s Severance are unclear. What is clear is the discomfort fans feel watching the workplace thriller.
Severance follows a team of employees in a twisted story about a mundane, corporate job, giving it a familiarity to anyone who has ever worked in an office. However, there's something unique about the Macro-data Refinement office. Find out how Severance creators achieved the prison-like environment fans see in the series.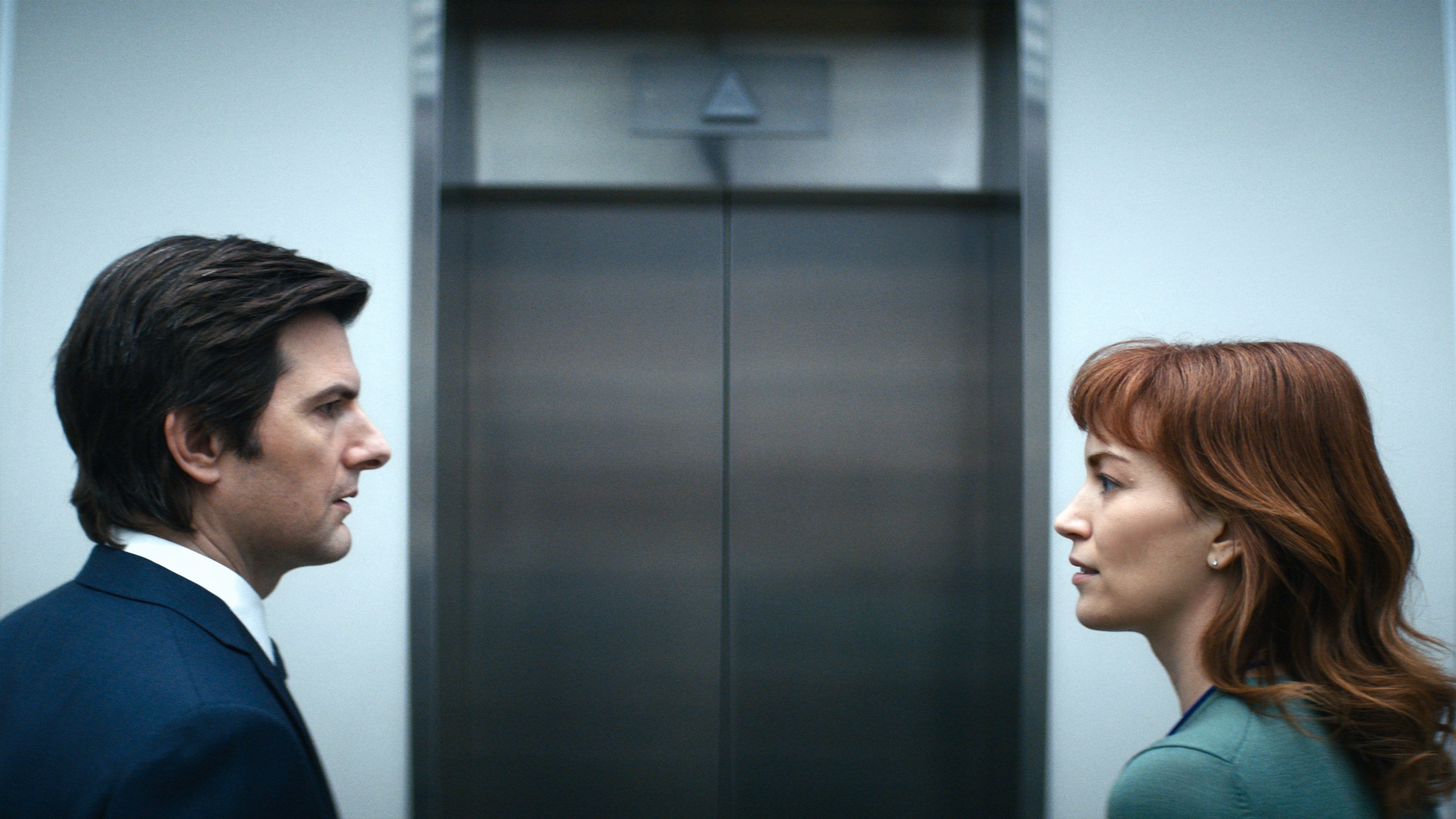 'Severance' is a workplace thriller about the fictional company Lumon
Severance explores the lives of Lumon's "severed employees" who have had their memories split into "innie" and "outie" personalities, separating their work and personal life. The sci-fi thriller examines themes of corporate control, work-life balance, and modern-day slavery. 
In season 1, the mysterious projects Lumon has its employees working on are the focus. The more Mark S. (Adam Scott) and his Macro-data Refinement team uncover in their windowless basement office, the more they wonder what their "outie's" lives are like and what it is they do for Lumon.
Security cameras inspired the 'surveillance vibe' at Lumon in 'Severance'
In an interview with Vulture, Severance cinematographer Jessica Lee Gagné talked about achieving the "super wide-angle-security-camera-driven aesthetic" in the Apple TV+ series. "We wanted them to feel like they were being watched," said Gagné. 
To achieve that, they used remote camera heads "so movements don't feel human." That same vibe comes through even in scenes outside of the Lumon offices. "There's definitely a surveillance vibe on the outside [but] it's much more old-school, like a '70s spy thriller," she added.
Gagné elaborated more on how they achieved this feeling with cinematography:
"When you're using a wide lens inside the office versus a long lens outside the office and you do a close-up, you're changing your human perspective [regarding] this person. When you're wide, the camera's closer. So that's going to emphasize that energy, that proximity, that paranoia because you're physically with them. The longer the lens is, the more of a voyeur you are. The more distance you have, the less physically, emotionally implicated you are with a system, with a situation." 
Lumon's Macro-data Refinement desk cost $100,000 to make for 'Severance'
Severance follows Mark S. and his Macro-data Refinement team: Helly R. (Britt Lower), Irving (John Turturro), and Dylan (Zach Cherry). Their office consists of stark white walls, a vibrant green carpet, and four cubicles with adjustable partitions. Gagné says the set is "so photogenic" because of how easy it is to shoot in. 
"You could drop the camera anywhere and you'd have a shot," said Gagné. "The green on the carpet helped create contrast, which would create shape — the awkwardness of it, the shapes."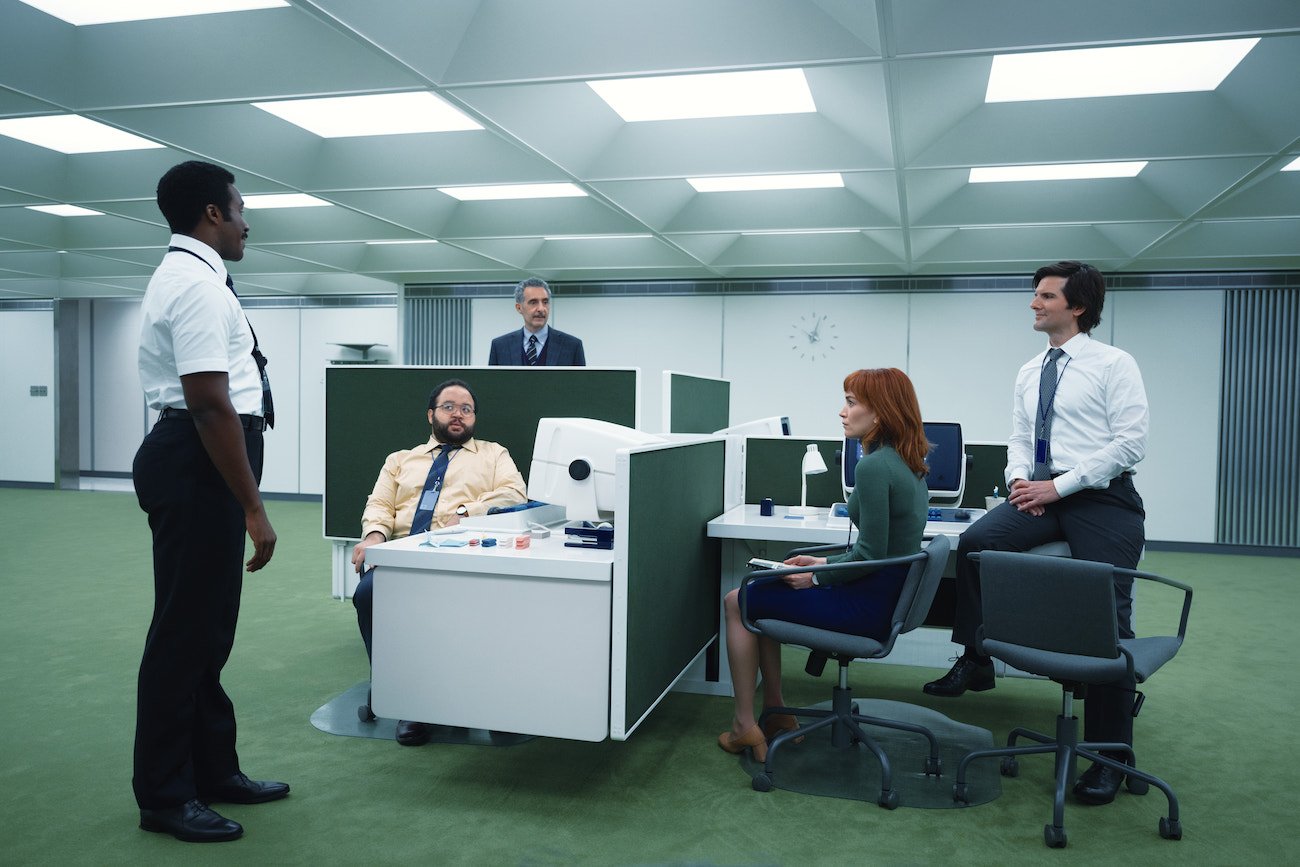 Severance props master Cat Miler made shooting even easier with MDR's desk, a $100,000 creation. "That's how much it cost to build it," Gagné elaborated. "It stands on one foot, just one support in the middle. And all those dividers are on pulleys. Our producer is calling it the diamond desk." 
'Severance' Season 2 confirmed but no release date yet 
Before the season 1 finale of Severance, Apple confirmed a second season. "We're excited to go deeper into this wholly unique world and unpack more layers of Lumon in season 2," said Apple TV+'s head of programming Matt Cherniss. 
The release date for Severance Season 2 has not been announced at publication, but showrunner Ben Stiller told Rolling Stone he hopes to get season 2 into production by the end of 2022. This means fans won't likely see new episodes of Severance until some time in 2023. 
Watch season 1 of Severance on Apple TV+.