'Sex and the City': Chris Noth Hated What Writers Did To His Relationship with Carrie Bradshaw
Chris Noth portrayed Mr. Big for all six seasons of 'Sex and the City', but he hated the way his character ended his time on the series.
Sex and the City may have been about Carrie Bradshaw and her pals, but Carrie's relationship with Mr. Big was just as important as Carrie's relationship with her friends. Mr. Big, portrayed by Chris Noth, and Carrie, played by Sarah Jessica Parker, were considered the It TV couple for years. Noth, however, has admitted that he wasn't crazy about the way his storyline with Carrie played out.
How did the Sex and the City franchise come to an end?
Sex and the City: The Movie was released in 2008, four years after the cameras went dark on the hit HBO series. Fans picked up right where they left off with Carrie, Samantha Jones, Miranda Hobbes, and Charlotte York. Carrie's relationship with Mr. Big was swimming along until the pair decided to marry. After being left at the altar, Carrie tried to pick up the pieces of her life, only to find herself in the arms of Mr. Big, once again. A marriage proposal, complete with a Manolo Blahnik, finished off the movie and gave Carrie and Big the perfect ending.
The second film took Carrie and her pals to Abu Dhabi, where Samantha was doing business. Carrie ran into her married ex-boyfriend and ended up kissing him. The mistake, which came on the heels of some marital discourse with Big, threatened to upend their marriage. In the end, Big slipped a diamond ring on Carrie's hand, and all was right in their world once again.
Chris Noth hated the ending of both Sex and the City movies
Noth has been open about his dislike for the ending of his story. While fans were desperate to see Big and Carrie end up together, apparently, Noth could have done without the overly romantic scenes. In an interview for Origins with James Andrew Miller, a podcast about epic moments in history, Noth said, "I really hate corny stuff and it could be because I'm a little bit of a cynic. Like, the whole thing at the end of the movie in the shoe closet — hated it.'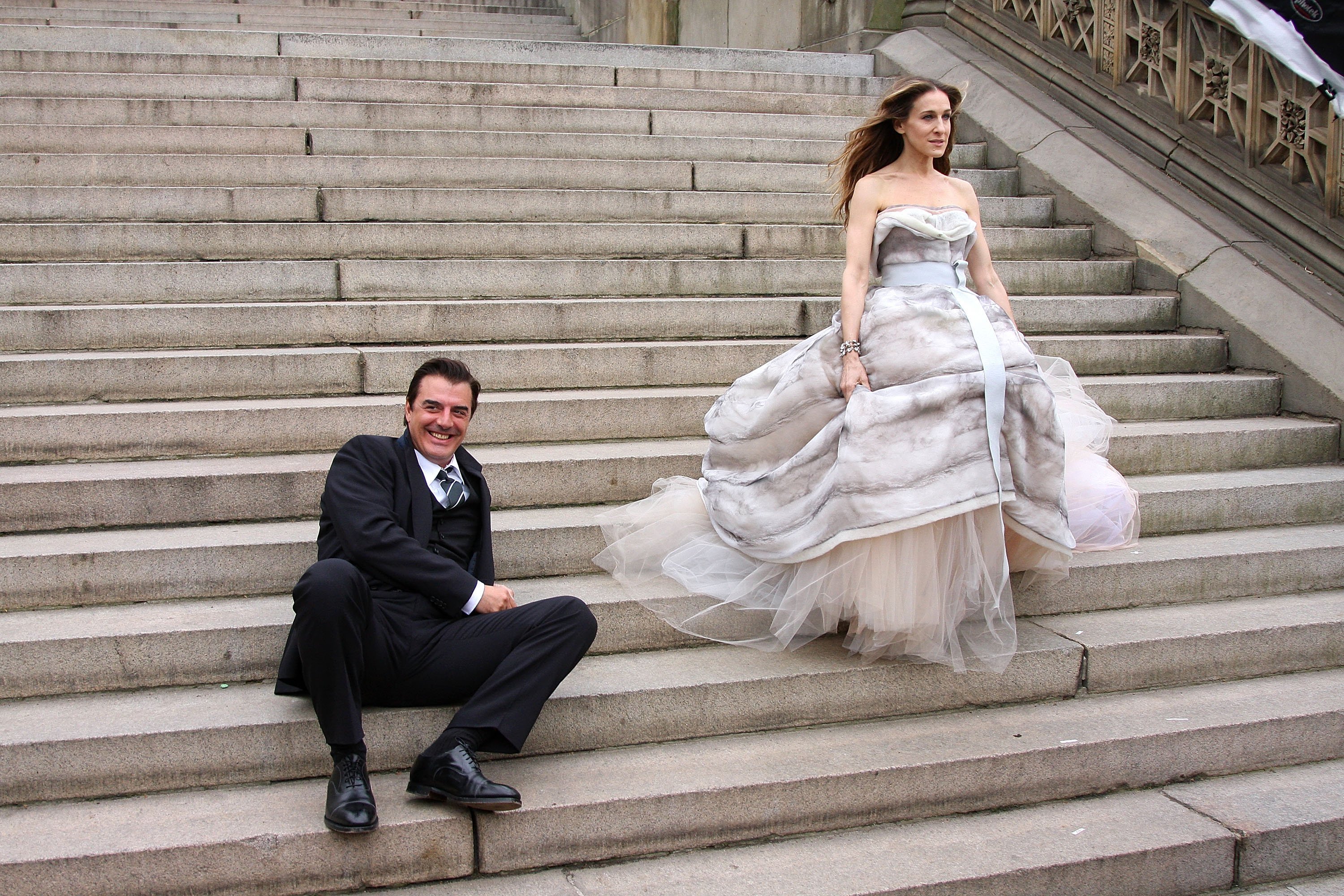 Noth also lambasted the ending of the second flick, where his character decides to deal with Carrie kissing her ex-boyfriend, Aidan Shaw, by purchasing her a diamond ring. He told Miller that he didn't feel like either ending had any foot in realism. Noth has a point, while Mr. Big was great for subtle gestures, he was never big on grand moments until the last season of the series. Not only was his response a bit unrealistic, but it was completely unlike Mr. Big.  
Will Sex and the City 3 ever happen?
For several months, there was intense speculation that Sex and the City 3 would happen, but the likelihood of Parker and her co-stars gracing the silver screen again grows more unlikely by the day. Parker did admit that a script had been written, and everyone, except for Kim Cattrall, was on board with the idea, according to Fox News. Cattrall, who played Samantha Jones, has been open about her less-than-friendly feelings about her co-stars.
What actually happened in the script remains a mystery, but rumors have swirled that a major storyline revolved around the death of Mr. Big, and how Carrie dealt with the fall out of his sudden demise. Noth has never commented on the potential third movie, or how he felt about his character potentially being killed off. One thing is for sure, if the rumors were true, Noth couldn't complain that the script was "overly romantic."