'Sex and the City' Featured a Lot of Nudity But None From Sarah Jessica Parker's Carrie
Find out why Sarah Jessica Parker's Carrie never had nude scenes in 'Sex and the City.'
For decades, Sarah Jessica Parker has been in the TV show business. One of the roles that fans know her for is Carrie Bradshaw from Sex and the City. The character brought the star a great deal of fame and an obsession with fancy footwear. 
When the series debuted, she already had almost 20 years of experience. Perhaps, that was why Parker was able to secure a no-nudity clause on the show. Despite HBO being known for its adult content, the actress remained in her clothes. 
Sarah Jessica Parker is a prominent actress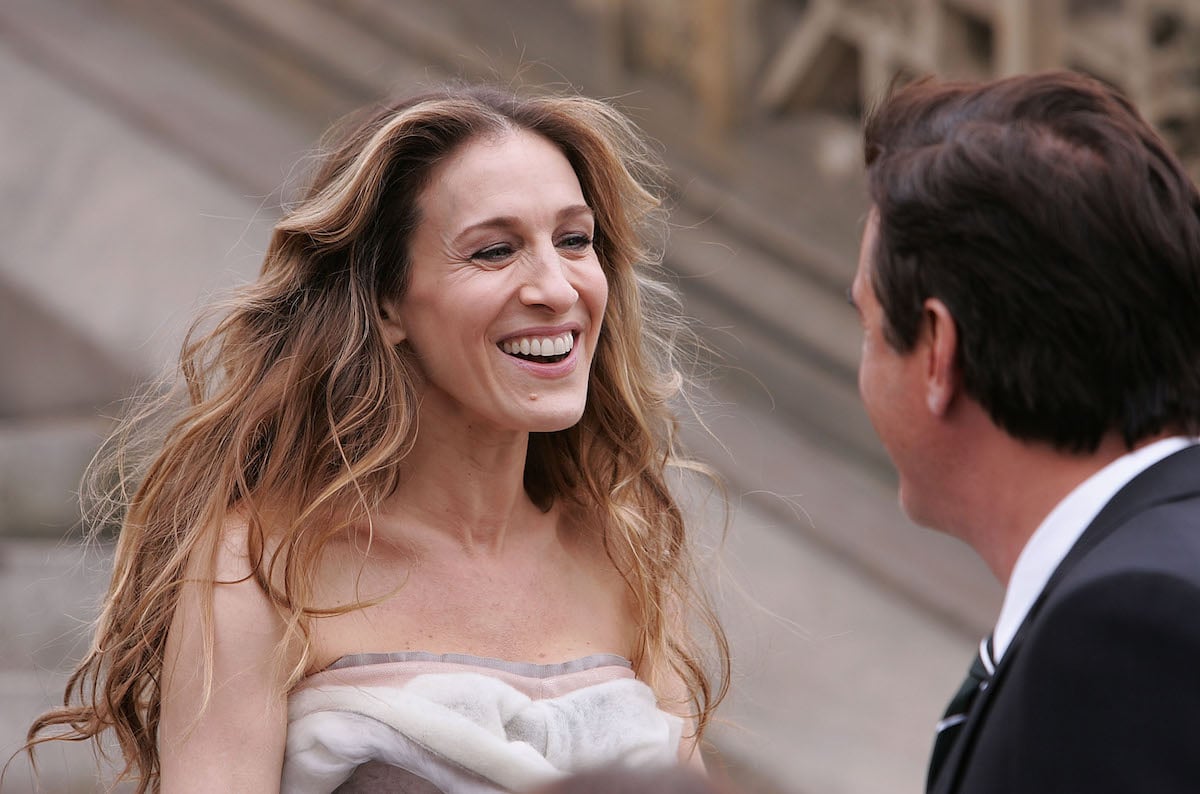 Parker was born on March 25, 1965, and got into singing and dancing at a young age. In 1976, she landed her first role in a Broadway show titled The Innocents. Later, she earned the title role of Annie in Annie. The actress would go on to star in hit television shows. 
Some of the TV shows that she was in include Square Pegs and Hotel. Parker even appeared as a host on Saturday Night Live. In the 1980s, she made her film debut. Fans may remember her from the popular film Footloose. 
For a while, Parker had been in a relationship with renowned actor Robert Downey Jr. After they broke up, the actress started dating actor Matthew Broderick. The two have been married for many years and have had three children together. 
Parker has received several Golden Globe and Primetime Emmy Awards throughout her career. She won multiple awards, and most of them were due to her performance on television. Currently, she is working on Hocus Pocus 2. 
Sarah Jessica Parker stars in 'Sex and the City'
Sex and the City is an HBO series that got based on the book of the same name. It first aired in 1998 and ran for six seasons. The story follows four women in New York City, and explores their close friendship and ever-changing sex lives. 
Starring alongside Kristin Davis and Kim Cattrall, Parker played the main protagonist, Carrie Bradshaw. The character is a talented writer who authors a weekly column for the fictitious New York Star. She faces the challenges of dating and becomes entangled with a prominent businessman named Mr. Big. 
Despite the show having ended over a decade ago, Parker often mentions how important the show is to her. The series explored relevant topics like female sexuality. Many fans still feel the influence that the characters had on them, and the actress gets reminded a lot about her role. 
The show spawned two films of the same name. They were successful among audiences, and Parker stated that she wished they made a third movie. 
Sarah Jessica Parker was not nude on the show
Working on a television series can be stressful at times. However, Parker once mentioned that she truly enjoys working in the industry. The actress likes character development as well as the urgency of filming. She stated that she loves the discipline that the industry demands from the workers. 
Despite her love of creating TV shows, Parker does have boundaries of what she will do. According to The Hollywood Reporter, the star had a no-nudity contract clause while on the set of Sex and the City. That is why viewers saw plenty of nudity, but none of it featured her. 
"Some people have a perks list and they are legendary. They have to have white candles in their room. I don't have a crazy list like that. I've just always had [a no-nudity clause]," Parker said in an interview.  
The star made clear that she had no problem with her co-stars undressing. Parker does not judge those who feel comfortable with nudity.