'Sex and the City': Kristin Davis Answers if Samantha Is Mentioned in the Revival
The beloved characters of Sex and the City are back except for Samantha Jones. Kim Cattrall decided to put the character behind her. Kristin Davis, who plays Charlotte York, answered, if And Just Like That… will explain what happened to Samantha.
'And Just Like That…' trailer doesn't mention Samantha Jones
RELATED: The 'Sex and the City' Reboot: Nicole Ari Parker Confirms That 1 Element of the Original Series Won't Be Missing
The trailer for the revival is here. It starts with Carrie Bradshaw (Sarah Jessica Parker), Miranda Hobbes (Cynthia Nixon), and Charlotte hanging out in the park and going out to eat.
Charlotte is later hanging out with one of her daughters. She later tells Harry (Evan Handler) to bring his "A-game" before entering Lisa Todd Wexley's home (Nicole Ari Parker).  
Carrie talks to a woman at a bar and asks her how many dating apps she's on. She's later recording a radio show or podcast with Che Diaz (Sara Ramirez) to talk about masturbation. Carrie also goes home to Big (Chris Noth) in their beautiful apartment. 
Miranda then talks to a woman about how hard it is to "have it all." There is then a montage of more scenes. But Samantha isn't seen or mentioned in the trailer. 
Kristin Davis answers if Samantha is mentioned in the revival
RELATED: The 'Sex and the City' Reboot: Michael Patrick King Teases a Second Season of 'And Just Like That…'
Cattrall won't be back. But fans are wondering if they'll learn about what she's up to today. Davis appeared on Today and was asked if the show would explain what happened to Samantha.
"We love Samantha. Samantha is never not going to be a part in some way, so there is respect for Samantha," she answered. "It's part of the story. We'd never disrespect Samantha."
There weren't many details she could reveal. But Davis said Charlotte is still married to Harry and has been busy raising two daughters. "And with parenthood comes surprises," Davis teased. 
'Sex and the City' boss didn't want to replace Samantha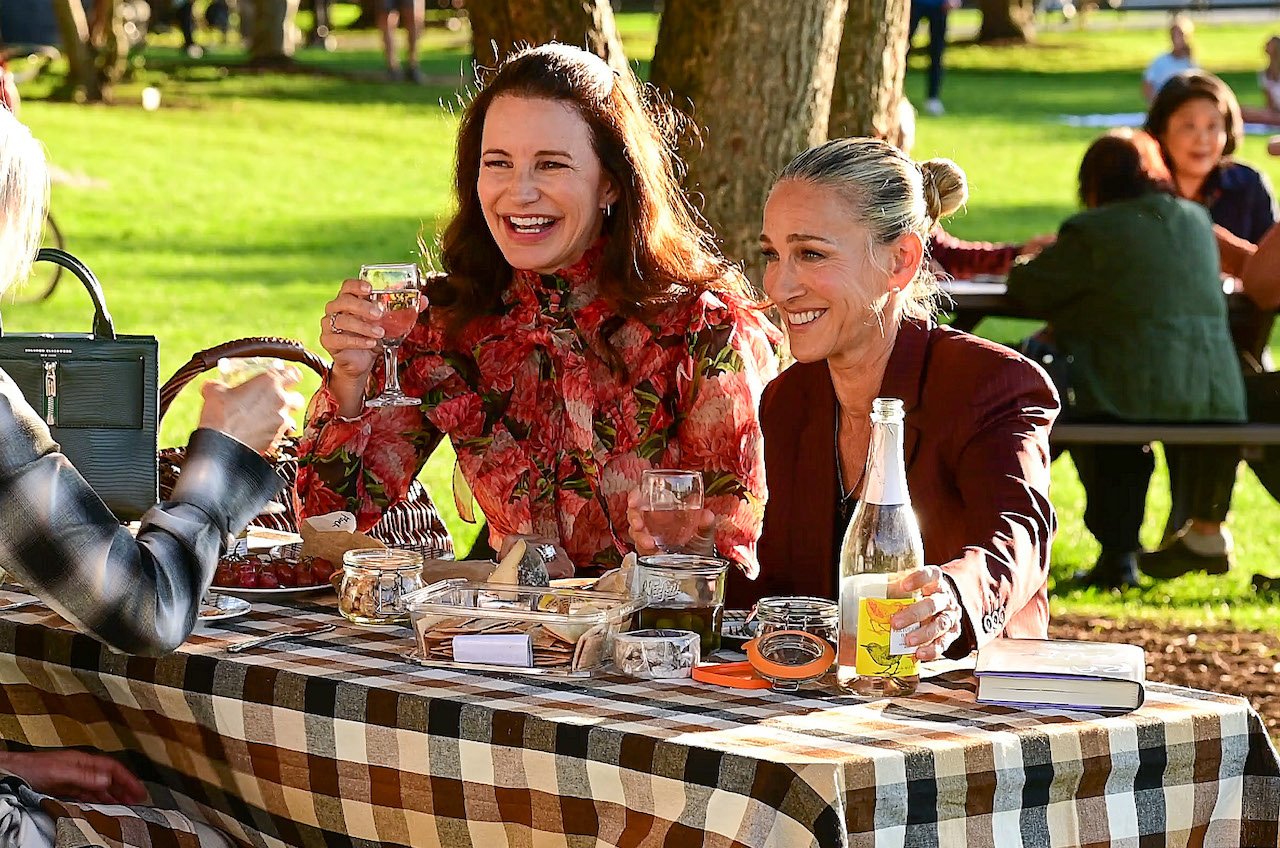 RELATED: 'And Just Like That…': Every Rumor About What Happens to Samantha Jones in the 'Sex and the City' Reboot
Showrunner Michael Patrick King talked to The Hollywood Reporter about the show returning. He revealed why he didn't feel like the revival needed a new woman.
"And Just Like That was never four. It never was on the radar as four because Kim Cattrall, for whatever reason, didn't want to play Samantha anymore while we were doing the [third] movie. I never thought, 'Oh, there's a hole I have to fill.'"
He continued, "Samantha doesn't not exist in their lives. The show was born of these three characters: What's their life, and who can I bring in to inform it? Listen, I wouldn't do this again if I wasn't excited about the idea. And even though people think this is a franchise that they're familiar with, there's something new in this version. This isn't what was; it's what's next."
Fans will soon see how the writers handled Samantha's absence. HBO Max will release And Just Like That on Dec. 9.