Why Carrie Bradshaw Called Chris Noth's 'Sex and the City' Character 'Big' or 'Mr. Big'
Audiences met Mr. Big (Chris Noth) in the pilot episode of Sex and the City in 1998. And throughout the show's six seasons, learning his real name became almost as elusive Carrie Bradshaw (Sarah Jessica Parker) and Big having a steady, solid relationship.
Her on-again, off-again boyfriend, Bradshaw started to call Noth's character by his nickname right from the start. But why? Learn the meaning behind the man known as Mr. Big or Big ahead, plus why executives of the show waited so long to reveal his real name. 
Sex and the City came from the mind of author Candace Bushnell after the success of her column of the same name for the Observer from 1994 to 1996.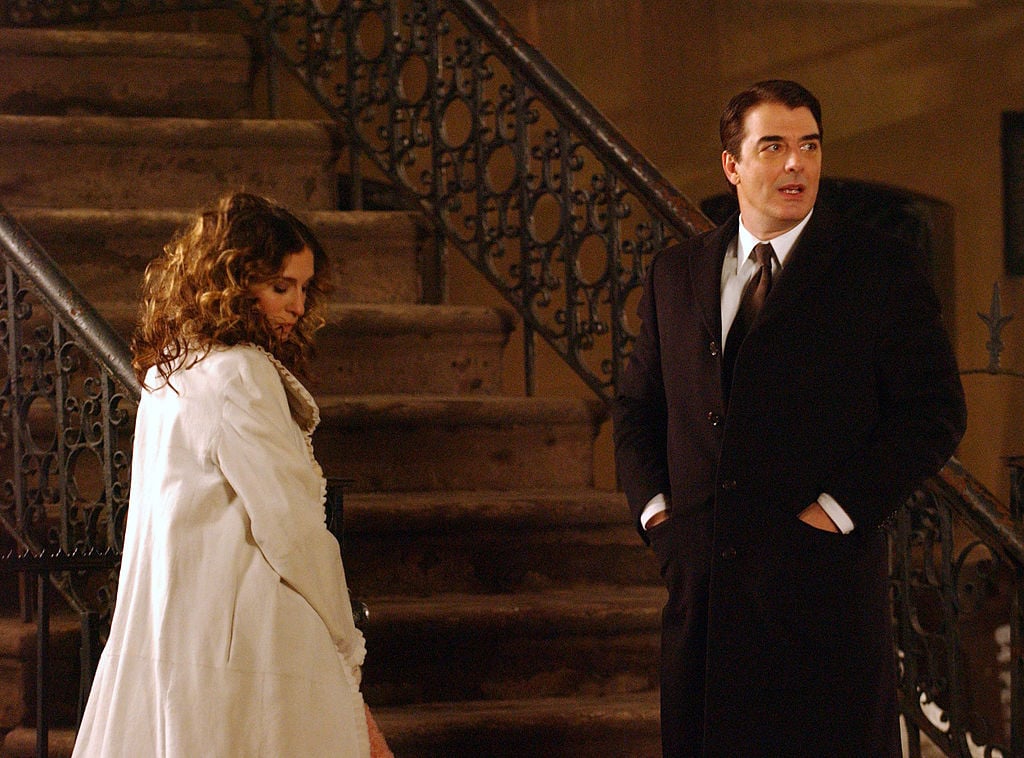 She published a book — also called Sex and the City —  in 1996, about her own experiences in New York City's social scene told through the eyes of Bradshaw, which became a hit. 
Soon after, HBO acquired the TV rights to the show and as they say, the rest is history.
The series went on to become — and still remains — a defining moment because the topic of women's sex lives hadn't been discussed in such a way ever before on TV. 
Candace Bushnell on the nickname Mr. Big 
In 2004 — the same year Sex and the City's sixth and final season aired — Bushnell spoke with New York Magazine about why she gave Noth's character the nickname Mr. Big. 
"He was one of those New York guys with a big personality—you just notice him as soon as he walks in the room," and "I called him Mr. Big because he was like a big man on campus," Bushnell said. 
After reviewing the first meeting of Noth and Parker's characters, we can say Mr. Big appeared to be just as Bushnell described in the interview.
Bradshaw and Mr. Big bumped into each other on the streets of New York City and thus began a series of moments when they saw each other out on the town before eventually agreeing to go on a date. 
His character used words like "absof—inglutely" and came off as a confident, good-looking guy.
What's Mr. Big's real name? 
According to a Sex and the City fansite, Michael Patrick King, an executive producer on the show, explained why Mr. Big's name is never said.
By not giving away Mr. Big's real name, he remained "always slightly out of reach" for Bradshaw, King said in the show's DVD commentary.
This idea plays into the idea that Mr. Big's job is never made clear on the show. 
Mr. Big's didn't get a real name until the series finale
It's only at the end of the series that executives revealed Mr. Big's real name. But he almost didn't get one, King told Entertainment Weekly in 2017. 
"In the last episode, in the last moment, I realized [I had] to say Mr. Big's name and I just [mimes typing on a keyboard] 'John,'" King told the publication. "And then I told all the writers and they were like, 'What the h—ll?' And I was like, 'We have to say his name because now he's real!'"
In the series finale, Bradshaw received a call from Mr. Big, which is when fans finally learned his name, John James Preston, thanks to her caller ID, but King didn't plan on the show to end that way. 
"In my mind? He had no name," King said. "It was just one of those things where it's like, 'Oh, it's happening right now' and you didn't plan it."
This is just another interesting fact to think about when watching reruns of Sex and the City.