Sex and the City's Candace Bushnell Still Laughs About Dorinda Medley's 'Not Well, B–tch' Comment on 'RHONY'
Sex and the City author and creator Candace Bushnell still gets a kick of out being on the receiving end of Dorinda Medley's "not well b–tch" remark on The Real Housewives of New York City. Bushnell posted about the 2017 moment on Instagram in Feb., adding, "#TBT This still cracks me up!" Bushnell appeared at a Hamptons Housewives party and continues to be tight with some of the cast. Medley recently reflected on the iconic moment, admitting that she doesn't even know how it all came to fruition.
Dorinda Medley can't place Candace Bushnell's connection to 'RHONY'
Medley laughed when the moment was brought up on the Hot Takes & Deep Dives podcast. Host Jess Rothschild wondered how the Housewives know Bushnell. "I have no idea," Medley said shaking her head. "I think that she lives in the Hamptons. Yeah, she lives in the Hamptons. I mean, she's been around a long time. We've all been around a long time."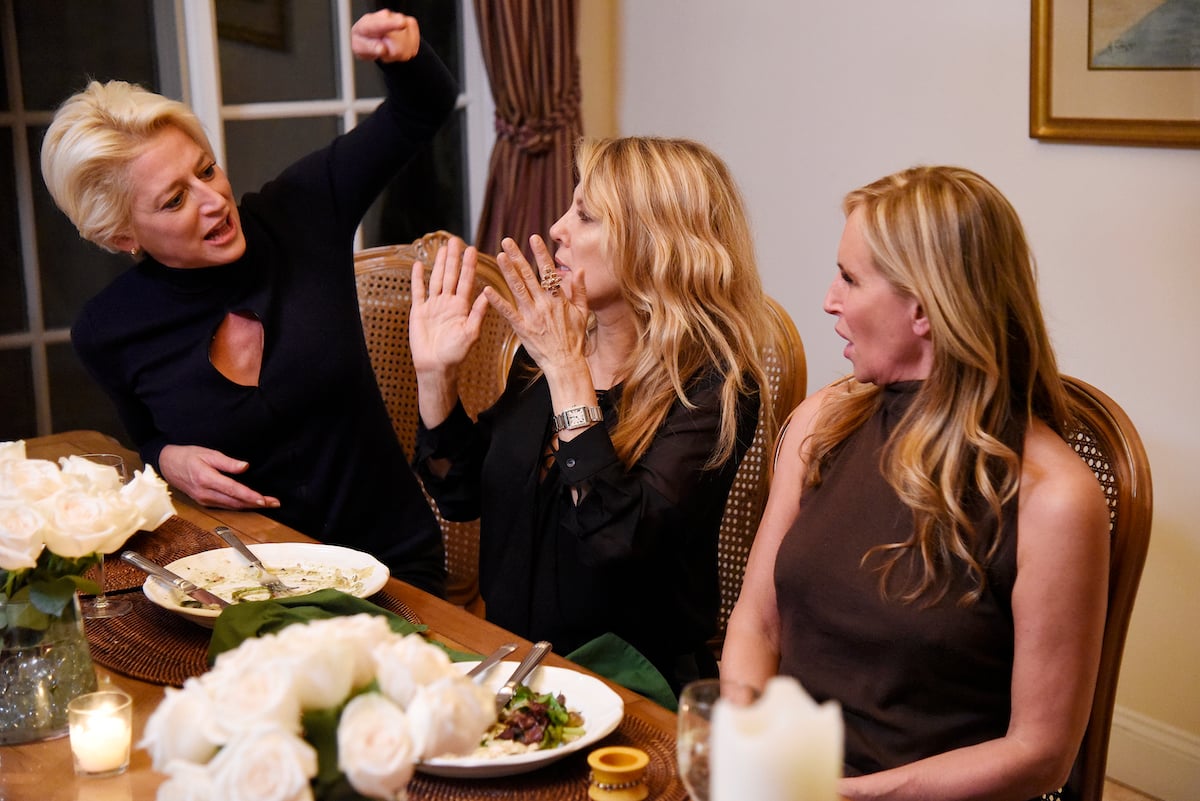 Indeed, Bushnell appears to be especially close with RHONY cast member Luann de Lesseps. She's posted a slew of photos with de Lesseps having lunch or just hanging out together in the Hamptons. "Masked up and one place to go! Bridgehampton girls brunch w/ @countessluann. Grateful," Bushnell posted on Instagram in Jan. She shared another photo with de Lesseps in Sept. 2020. "Learning to Viva La Diva with the Countess. Wishing you all more fun this Labor Day weekend!" she captioned the image.
Why did Dorinda Medley say 'not well b–tch' to Candace Bushnell?
The throwback moment occurred on RHONY Season 9 during a dinner party at Ramona Singer's Hampton's home. Medley and Sonja Morgan seriously butted heads that season. Medley was frustrated when Morgan compared the pain she experienced from her divorce to the anguish Medley endured over her husband's death. But Medley was also angry with the remarks Morgan made to the press about her. The season was filled with digs from both sides, with Medley going hard on Morgan about her sex life.
Years later Medley reflected on the party and encounter with Bushnell. "You want to hear what's so funny? I totally forgot who I said that to," Medley told Bravo's The Daily Dish.
"So up until the episode, they're like, 'Who did you say that to?' I'm like, 'I think Ramona,'" she pondered. "So when I saw that I was so surprised as well. She's like, 'Are you OK?' 'cause she had never really experienced the housewifery at its best and you got to remember it wasn't just a dinner with just us. It was a lot of people and I had promised Ramona I wouldn't say anything until dessert … and then Sonja walks in and she's like, 'You look pretty,' and I'm like, 'That's it.' It was just so built up and I think it was Candace's first dinner with the whole crew. Poor Candace. But Candace is a character. I think she can handle it, don't you?"
Dorinda Medley shares what she's looking forward to most with the new 'Sex and the City' series
During the discussion on Hot Takes & Deep Dives, Medley shared what she is looking forward to most from And Just Like That, Sex and the City HBO Max series.
"I'm so excited for it and I love the fact that Sarah Jessica Parker has kind of gone with her natural self," she said. "I think that's a big, big shout out to women that you can be your most natural, beautiful. I love her look right now. "