'Sex Education' Fans Are Frustrated Otis and Maeve Aren't Together Yet
With 'Sex Education' Season 3 on the horizon, Otis and Maeve shippers are eager to see what happens between the two characters.
Sex Education is a popular British-American TV series on Netflix. The show stars Asa Butterfield as Otis, Emma Mackey as Maeve, Ncuti Gatwa as Eric. Gillian Anderson plays sex therapist Jean Millburn, who also happens to be the mother of Otis. The show attracted fans for its humor and candor on the topic of sex, both in terms of adults and teens.
Yes, the show has many interesting characters, hookups, and breakups. But there is nothing that many fans want to see more than Otis and Maeve exploring a romantic relationship together. So far, the show has been slow at leading these two characters in that direction. And with a shocking second season cliffhanger, fans are wondering if Otis and Maeve will ever get to be together.
Otis and Maeve have some history together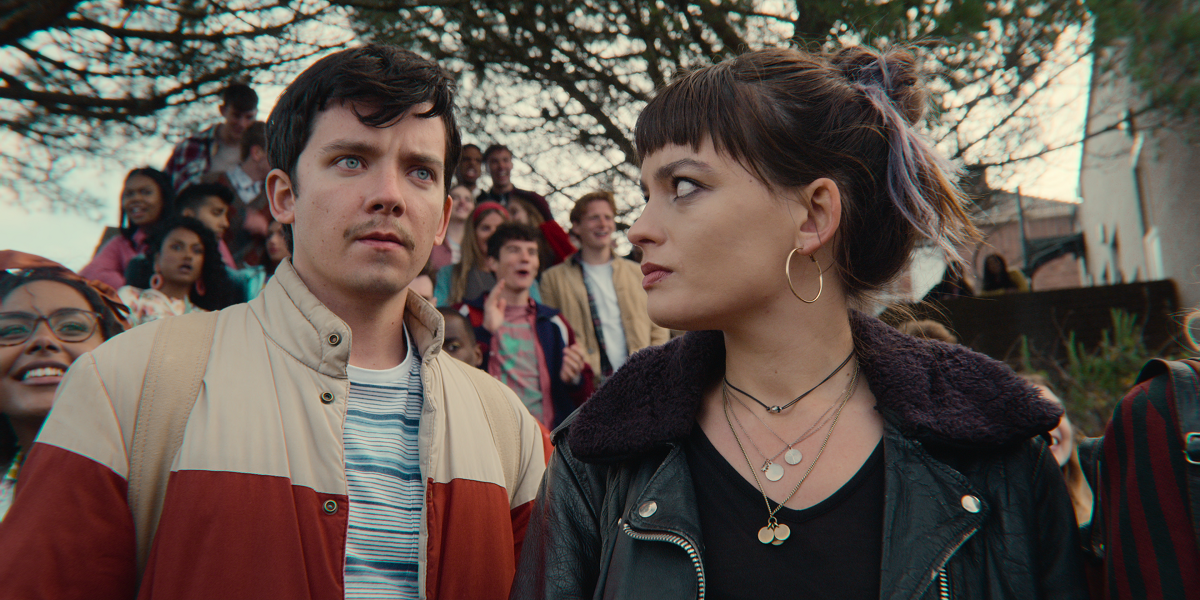 On the surface, the first season of Sex Education didn't appear to want to put Otis and Maeve together, except in a business partnership. It worked out well for the two — doling out sex advice to their peers and getting paid handsomely for it. With Maeve's ability to talk to people and the knowledge that Otis has learned from his mother, they provided a much-needed service at their school.
While they were working together, however, both faced moments where they considered what it would be like to be together. But neither one of them acted on it. It seemed reasonable that the two characters wouldn't get together in the first season because they had so much going on. Otis was dealing with his sexual inhibitions due to his mother and her career as a sex therapist. Maeve was dealing with an unwanted pregnancy with a guy that she didn't want to see anymore.
The relationship has been slowly evolving
It hasn't been all business. Throughout Sex Education Season 2, Otis and Maeve shared more moments where fans thought they were finally going to get that romantic relationship payoff. But as with any show that builds up the sexual tension between two main characters, the writers want to make sure they are getting the most bang for their buck. To keep fans coming back, the show has moved Otis and Maeve two steps forward only to take three steps back in the following episode.
However, fans on Reddit do agree that this common tactic in television could be overplayed if they have to wait too long for Otis and Maeve to get their chance at happiness. Other fans have pointed out Otis and Maeve seem to have a lot going on in their lives outside of their shared moments. So there is still plenty of time to evolve the relationship slowly.
Fans are ready for them to get together
Sex Education Season 2 left fans with a huge cliffhanger, and that doesn't sit well with some viewers who just want Otis and Maeve to get together already. The cliffhanger involves Otis leaving a voicemail for Maeve that finally professes his feelings for her. But, in a twist, Isaac, Maeve's current love interest, intercepts the message.
The reason that many fans are left a bit brokenhearted by the cliffhanger is that these types of will-they-won't-they storylines appear in many traditional television shows. The argument for something different is because most fans think this show is beyond ordinary and needs to make sure that it is seeing the value in Otis and Maeve's relationship. While no one knows whether this will evolve into a full-blown romance or not, fans cannot wait to start watching Sex Education Season 3.