'Sex Education': When Will the Show Return to Netflix for Season 2?
Sex Education is a lovingly awkward coming-of-age story about a teenager named Otis and his struggle to navigate going through puberty in a public high school. Sounds pretty standard, right? Like something we've all seen 100 times before. What makes Sex Education different is the earnestness in which teenage issues are tackled. The show is unapologetic about such topics as masturbation, losing one's virginity, sharing a first kiss, making friends, family problems, and abortion. The way these sensitive topics are written about, you may think the script was written by a real-life teenager–someone who gets it.

Right off the bat, the show received a fantastic response. Currently, Sex Education has a Rotten Tomatoes score of 91%. "Bawdy, heartfelt, and surprisingly wise, Sex Education is a raucous romp through a group of teenagers whose sexual misadventures are so thoughtfully rendered, adults could learn a thing or two from them," reads the show's critics consensus.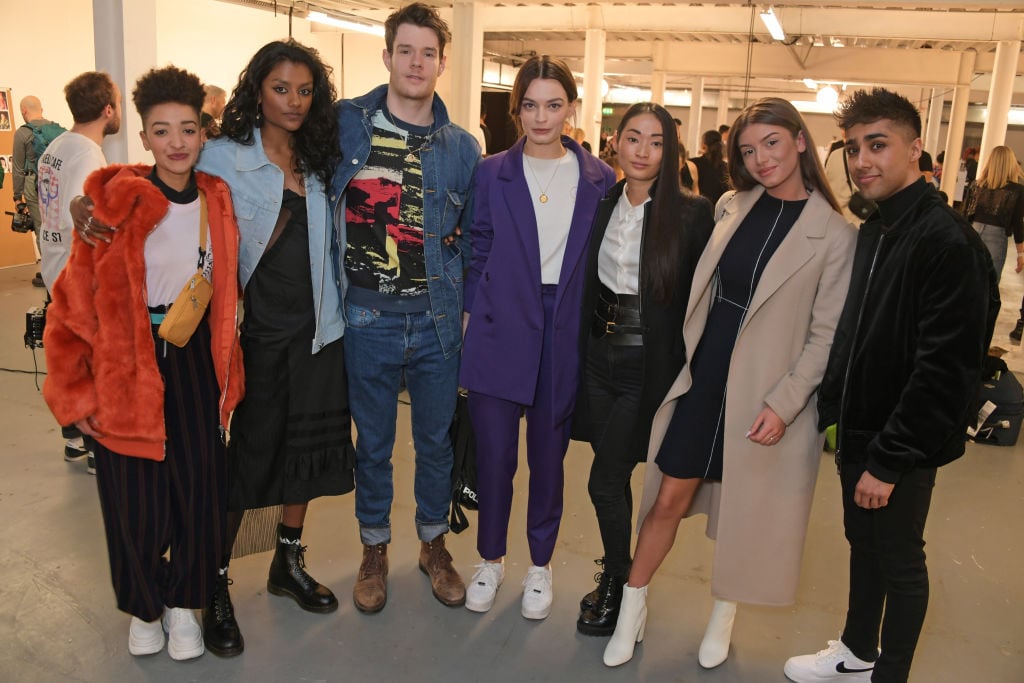 Because the show was immediately so widely viewed and well received, Netflix ordered a second season shortly after the premiere of the first.

"The reception to series one has been so exciting," said the show's writer, Laurie Nunn (who is not, in fact, a teenager). "Seeing how people across the world have connected to characters that began as ideas in my head is incredible. I'm hugely grateful to every person that has taken the time to watch the series, and I can't wait to continue this amazing journey."
'Sex Education' season 2 cast
All our favorite characters will be returning in season 2: teenage sex therapist Otis (Asa Butterfield), his sexually liberal mother, Jean (Gillian Anderson), smart bad girl Maeve from the wrong side of the tracks (Emma Mackey), Eric the brave and fierce (Ncuti Gatwa), sweet Aimee (Aimee-Lou Wood), troubled Adam (Connor Swindells), driven Jackson (Kedar Williams-Stirling), and cool Ola (Patricia Allison). And thank goodness because there are a lot of loose ends that need tying up!
What will season 2 of 'Sex Education' be about?
Nunn mentioned in an interview with Thrillist that Otis has been a fantastic main character to follow. She will continue to keep Otis as the central character but would like to flesh out some of the supporting characters as well.
"He's a fantastic leading character but the fact that we've got this great ensemble and these amazing young actors who have also just brought so much to those characters. It just feels like they could go anywhere," said Nunn. "I love the idea of getting different characters together. If not together in a relationship, just together in the space. Like, I never thought those two characters would have a conversation and there will be loads of opportunity for that."
We can also expect to see more of the Maeve/Otis/Ola love triangle, Jean and Jakob (Mikael Persbrandt) and their attempt to squash their feelings for one another for the sake of their children, and more of Eric's metamorphosis into who he's always wanted to be.
When will 'Sex Education' return to Netflix for season 2?
Not soon enough. Production for the show is set to begin spring of 2019, so it's looking like the show will hit Netflix either later this year or early 2020.
Read more: The Real Reason Netflix Needs 'Space Force' to be a Hit
Check out The Cheat Sheet on Facebook!