'Sex Education' Season 2: The Director Filmed an Alternative Ending That Changes Everything
Some viewers did not at all like the ending to Season 2 of Sex Education, the hit Netflix series. It turns out the writer and the director weren't so sure about it either. 
Alternate endings to movies and TV shows are typically left unreleased for a reason. Sometimes the ending is shot and tested and audiences don't respond well, so a new, supposedly more satisfying conclusion is created.
However, the opposite seems to have happened with Sex Education.
'Sex Education' — What fans wanted vs. what they got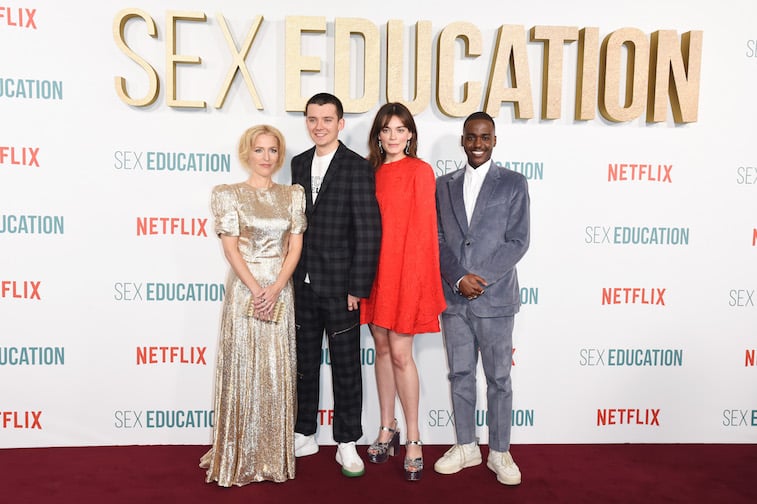 Courtesy spoiler alert applies for people not caught up with season 2.
Asa Butterfield and Emma Mackey's characters Otis and Maeve have felt like endgame to many viewers. However other romantic interests have gotten in the way. Such is the nature of "will they or won't they romances" from Rachel and Ross on Friends to Maddie and David on Moonlighting.
But Sex Education taught the wrong lesson for many viewers. The ending we saw had Otis leaving a voicemail, admitting how stupid he was and asking for Maeve to call her back. But before Maeve can hear the voicemail, Issac (George Robinson) who has feelings for Maeve, deletes the message. Viewers saw red, like Anger from Inside Out.
But that's not the only way it went down. According to BT.com, The show had shot a different ending. In that version, In director Ben Taylor told Butterfield and Mackey: "Otis act like you've just seen Maeve. Maeve, act like you've just seen Otis."
Viewers would have seen smiles on both character's faces. Given the reaction to the ending that was used, fans probably would have preferred the other ending. 
How has 'Sex Education" been received?
Aside from some dissatisfaction with the ending of season 2, the show has been received very well. Sex Education probably got some notoriety from the title alone, with viewers thinking they were going to see something racy, but the show was about a teen who has a sex therapist (Gillian Anderson) for a mother. Otis had been attracted to Maeve, but went into a relationship with Ola (Patricia Allison) instead.
Critics on Rotten Tomatoes have been fond of both seasons 1 and 2 of the series. Season 1 scored a 91 percent and season 2 a 97 percent, with the critical consensus of the latter reading "Bawdy, heartfelt, and surprisingly wise, Sex Education is a raucous romp through a group of teenagers whose sexual misadventures are so thoughtfully rendered, adults could learn a thing or two from them. "
Some fans may think the showrunners could learn a thing or two from their own characters, but to hear Taylor tell it, being mad at a show is part of the experience. "I think shoes will be thrown at screens. In a good way. I love being p***ed off at stuff. You think you want it, but you don't," he said. "I think about it all the time, because you want [the show] to be satisfying and nourishing and all the right things.
Netflix might consider alternate endings as part of the show
Alternate endings have been a part of the movies from practically the beginning, and they often tend to pop up in stories about romance and/or sex.
The original ending of the 1987 hit Fatal Attraction had Glenn Close frame Michael Douglas for her murder before killing herself. That ending tested poorly, so a new ending with Douglas' wife Anne Archer killing off Close was shot instead. You can see both versions online.
While it would probably be a mistake for Sex Education to get the Bandersnatch approach that was such a hit for Black Mirror. Netflix might do well to include the alternate ending of Sex Education as a bonus feature.
Disney+ includes bonus features with a number of its movies. It would be cost-prohibitive to go forward with two different story paths, but viewers might at least be satisfied to see what might have been.