Why Was 'Sex Education' Season 3 Delayed on Netflix?
Sex Education Season 3 kicks off in mid-September 2021. The show introduced premiered in 2019. And, with, the exception of Asa Butterfield, nearly all were unknown actors. Some viewers were disappointed that the third season was delayed on Netflix. Especially after one heck of a cliffhanger in the season 2 finale. Fortunately, fans can expect higher-quality content because of the delay.
What is 'Sex Education' about?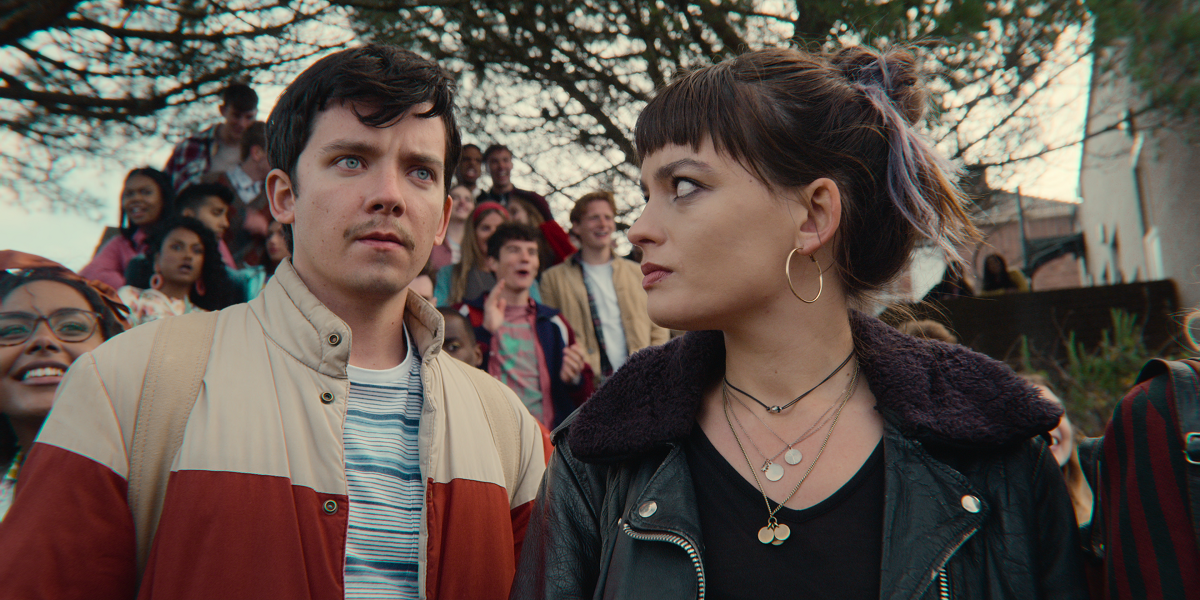 In the beginning, the series focuses on the complications of sexual intimacy and relationships among the Moordale Secondary School students. However, as it's progressed, this expanded to include Gillian Anderson's Jean and the other adults in the show, allowing for even more nuance. And while other personal areas are explored, most problems are typically related to sexual activities.
The comedy-drama follows Otis Milburn (Butterfield). He's an insecure student who, at first, has a hard time dealing with the fact that his mother is a sex therapist with a healthy sex life. Then, there's his best friend from Eric Effiong (Ncuti Gatwa), who comes from a religious who isn't accepting of his sexuality and how he explores it.
In the first season, Otis meets Maeve Wiley. Together, the two team up to create a business in which Otis uses the knowledge he's gained through his mother to advise the students of Moordale when it comes to sex and relationships.
You can't make a show about sex while social distancing
The coronavirus (COVID-19) pandemic halted production for many shows beginning in early 2020. Sex Education ranks among them. Since the essence of the British show is surrounding the topic of sex, friendship, and other close relationships, this tracks. Instead of coming out in January 2021, keeping it on schedule with the previous seasons, they had to wait months to begin filming, and then experienced delays throughout.
Additionally, The Guardian reports that summer filming required strict safety measures to complete, including "regular testing, cast bubbles, as few people on set as possible, [and] the writers' room happened virtually." This isn't abnormal for production during the pandemic. But challenges arose when keeping cast members safe while filming intimate scenes.
"It is about intimacy and sex and relationships, and we couldn't make the show without that being part of it," said writer and creator Laurie Nunn. "I didn't even manage to get to [the] set this year. It felt a bit jarring," she added. Not having the creator on set is fairly unusual, but needed to be done for safety.
'Sex Education' Season 3 shakes things up in mid-September
Many praised Sex Education for addressing a diverse set of sexual dilemmas and breaking down the stigmatizing barriers. But fans won't be seeing the same momentum continue into season 3. In fact, it promises to take things down a notch. At least, a trailer promises this.
The trailer depicts the student encouraging others to come to Moordale. But they don't seem happy about it. They're led by the new headmistress, who wants to "get the school back on track" after the STI outbreak last season. The school is recommitting to a more abstinent-focused structure that restricts the students from being their colorful selves. Even their uniforms are lacking their usual spirit and energy.
While this sounds much less interesting than the last two seasons, it seems like we just may be seeing only the beginning of students fighting back and getting Hope Haddon (Jemima Kirke) out the door. After all, what's more fun than watching a strict, closed-minded individual come in to tell you what you can and cannot do — only to be taken down in a satisfying way by the end?
Sex Education Season 3 premieres on September 17, 2021, on Netflix.
RELATED: 5 Netflix Shows to Watch If You Already Binged 'Sex Education' Season 2