How 'Sex Education' Season 3 Is Different From Past Seasons
Great news for fans of Sex Education: Season 3 of Netflix's British-American TV show returns in September 2021. The series combines elements of modern and '80s culture in the U.S. and U.K. It showcases teenagers learning about love, sex, and growing up, as one of their own guides them.
The first two seasons of Sex Education received critical acclaim and a large fanbase of viewers. However, the third season looks as though it will have at least a few changes, including a new teacher who shakes things up and a slightly different color scheme. Here's what we know.
'Sex Education' Season 3 teaser trailer
A Sex Education Season 3 teaser trailer ignores the cliffhanger at the end of season 2. The trailer, framed as a commercial for the school, showcases Miss Haddon, the school's new headmistress. She notes she's replaced Mr. Graff to "get the school back on track" after the season 2 chlamydia outbreak (among other things).
In the trailer, the students' words and actions seem awkward, scripted, and even forced as they commend the school's educational and extracurricular activities. They're not happy with the changes that Miss Haddon institutes, including abstinence-only sex education. Will the penis graffiti wall survive? The logline from Netflix reads as follows:
It's a new year, Otis is having casual sex, Eric and Adam are official, and Jean has a baby on the way. Meanwhile, new headteacher Hope tries to return Moordale to a pillar of excellence, Aimee discovers feminism, Jackson gets a crush and a lost voicemail still looms. Prepare for commitment animals, alien phenomena, vulva cupcakes and much more of Madam Groff.
Netflix teases big changes at Moordale in 'Sex Education' Season 3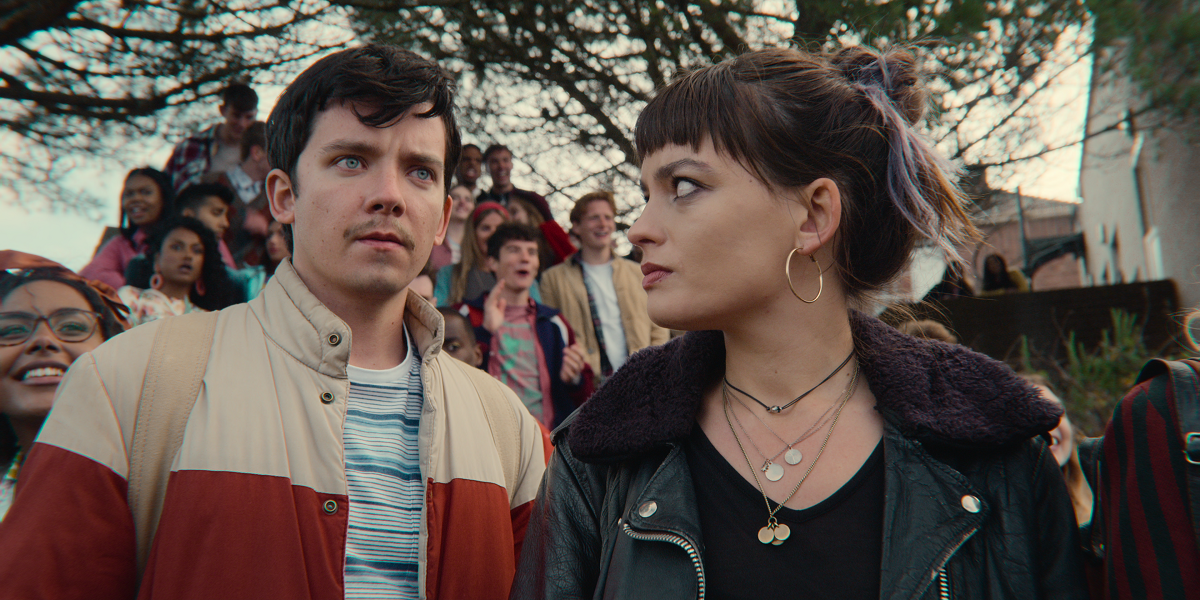 Under Haddon's command, Moordale and the show at large take a sober turn, starting with drab gray uniforms with only hints of the school's trademark red-and-yellow color scheme. In an article in The Guardian, costume designer Rose Dias states, "It's a big change from their colorful world, to this drab, straight world. We wanted it to be slightly oppressive and also dull, but we didn't want it to be so dull that you lost the Sex Education vibe."
The school's colorful characters will have to at least look less interesting. Sci-fi sex-fiend Lily, especially, will have to trade in her bold, over-the-top outfits for this new uniform. Could other antics be squashed under this new regime? We might not have to worry too much, as the article also promises the third season will come "back with a bang."
One thing's for certain, we'll definitely get more of the characters we've come to know, love, and occasionally loathe. The promotional posters Netflix created for Sex Education Season 3 are inspired by horticultural guidebooks, each featuring a character's name and a description. Who knows what we will learn about these unique "species" of people in the upcoming season? 
The wait will soon be over
After the intense interactions, major hurdles, and reveals of Sex Education Season 2, viewers impatiently wait to learn if the characters will bloom or their growth will be stunted. Otis' interaction with his father still needs to be resolved. The teenager wonders how he can avoid hurting those he cares about the most.
Additionally, many want to know if Otis and Maeve will finally become a couple. And the third season can't come soon enough. Netflix debuted the show in January 2019 and kept the release date consistent when season two premiered in January 2020. So the wait for the third season has been significantly longer than anyone might have guessed.