'Sex Education' Season 3: Who Will Replace Mr. Groff?
Sex Education premiered on Netflix in 2019. With the third season coming in September 2021, the TV show made a few changes in cast and story. Sex Education tells the story of a kid named Otis Milburn, who uses what his sex therapist mother teaches him to run a for-profit sex clinic at school. Otis is a shy kid, and he's helped by a best friend and the school's resident "bad girl." Sex Education has fairly high reviews, and is almost surprisingly heartfelt, given the subject matter. But in a school shake-up, the headmaster, Mr. Groff, is being replaced.
Who is Mr. Groff in 'Sex Education'?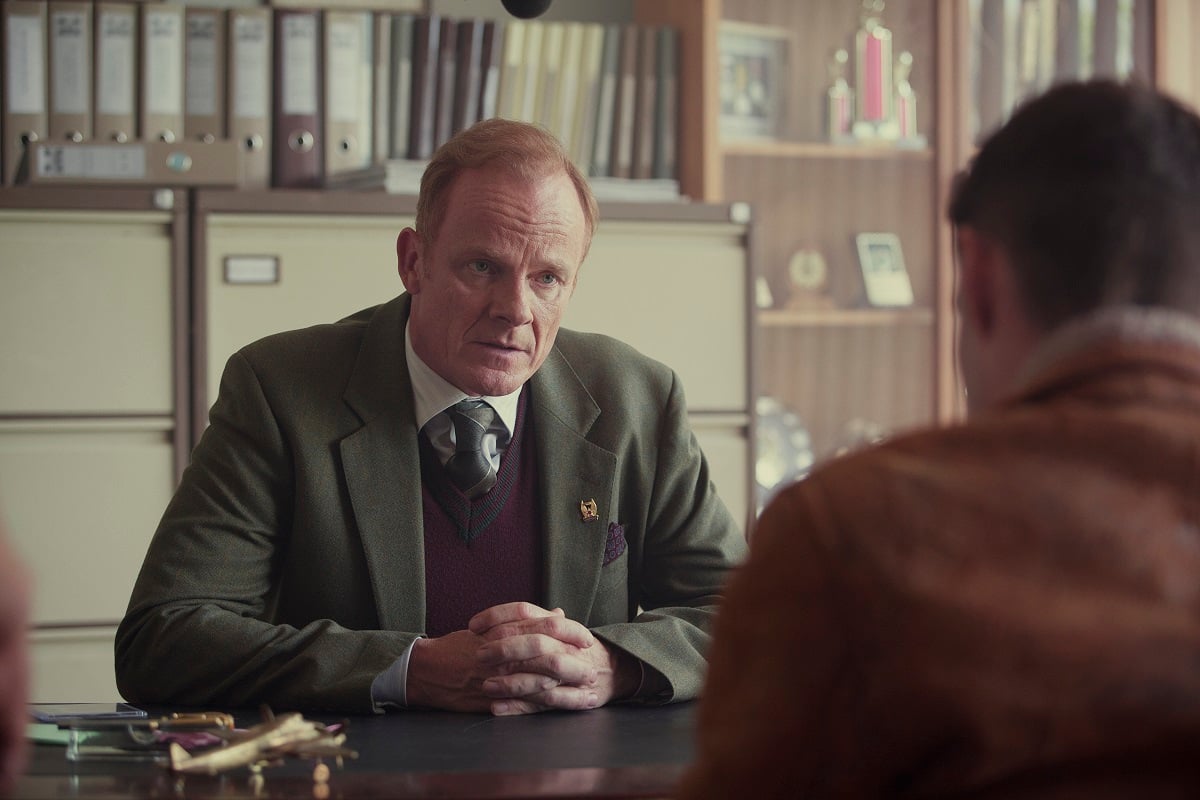 Michael Groff (Alistair Petrie) was the headmaster of Mooredale Secondary School for the first two seasons of Sex Education. Unsurprisingly, a for-profit sex clinic run by students isn't an endeavor that the school's headmaster would have endorsed. That alone didn't make Mr. Groff the series villain, though.
Mr. Groff's son, Adam, is the school bully. There have been run-ins between Adam and Otis' friends. It is later revealed that Mr. Groff's treatment of his son directly affects his behavior. He lashes out at others because he can't lash out at his father. 
Unfortunately, Mr. Groff's motivations are a little less clear. He tends to come across as nothing more than the bully that people thought his son was. With unclear motivations and emotional outbursts, Mr. Groff became more of a caricature of a villain than an actual villain. 
Hope Haddon replaces Mr. Groff
At the end of season 2, after humiliating himself at a school play, Mr. Groff is forced to go on leave. His replacement is seen in the season 3 trailer. Hope Haddon is the new headmistress at Mooredale Secondary School. So far, we've only seen her in the trailer, but she made quite an entrance. Haddon looks to be strict and no-nonsense. 
The trailer is shot as if it's a video for recruitment at Mooredale Secondary School. Otis, Eric, and Maeve are all part of the advertisement, repeating lines touting Mooredale's excellence, with obvious coaching. The headmistress wants to make Mooredale a pillar for excellence. 
The students' forced participation in the video suggests that Haddon has some authority, or has somehow exerted her authority. Conversely, Mr. Groff ended season 2 without any real authority as headmaster, and most of that was by his own doing. Holly Haddon could be a far more effective villain for season 3.
'Sex Education' Season 3 promises to be different
With Hope Haddon taking over as a headmistress, the students may find themselves with an antagonist that has more authority than Groff had. That could be a promising start for Sex Education Season 3. 
There's also the matter of Mr. Groff himself. He didn't leave the show. In a season 3 trailer, Mr. Groff is seen hiding in some bushes. Mr. Groff's character arc was a little lacking in season 2, but there's a chance for redemption in season 3. He could be either another antagonist, perhaps as he seeks to reclaim his job as headmaster from Haddon. 
ScreenRant also suggested that he might go the other way, and maybe grow as a human. That could be an interesting take on the character, and a redemption arc might be fun to watch. Whatever way it goes, season 3 of Sex Education is bringing in enough changes that it promises to be a breath of fresh air.
Sex Education Season 3 premieres on Netflix on September 17, 2021.