'Sex Education': Who Do Fans Think Eric Should Be With?
Sex Education Season 2 came out in January 2020. In the second season, viewers get to know the show's characters even better.
We learn more about Maeve's relationship with her mom. We dive deeper into Lily's cosmic world of fantasies. We watch Otis navigate his first real relationship with Ola. We watch Dr. Jean become overwhelmed in her relationship with Jakob. We witness the high school girls rally together in support of Aimee. Jackson confronts his moms about swimming. And fan-favorite Eric has to choose between the new, cool guy at school, Rahim, and his forbidden romance with Adam.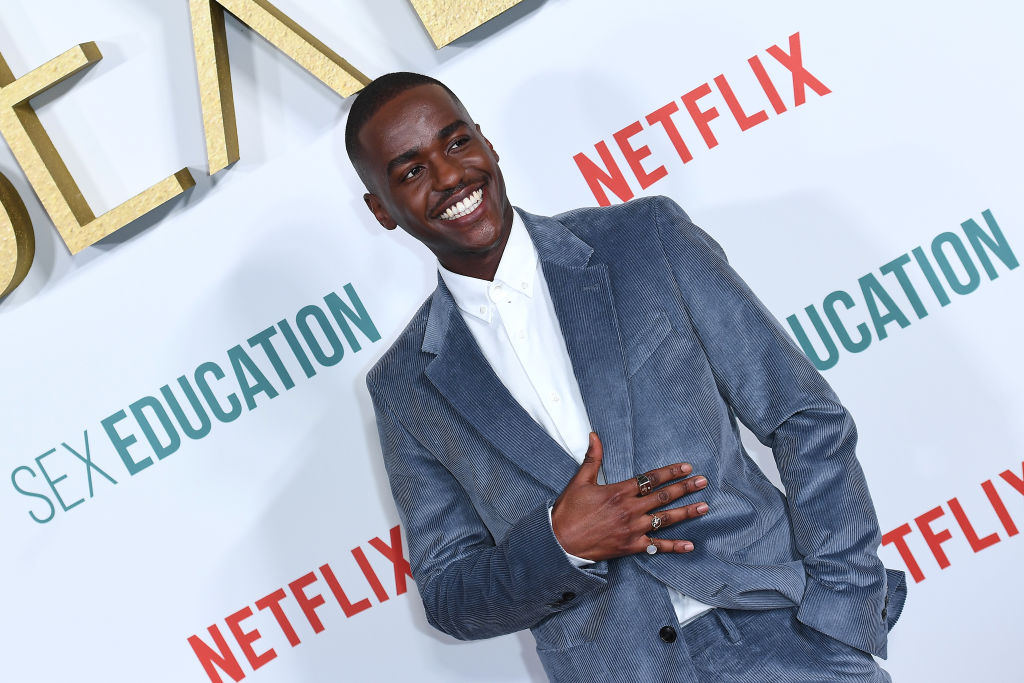 There are so many fleshed out, vibrant characters in Sex Education, fans love to talk about who are their favorites. Eric seems to always make the list. And it's no big surprise. Eric is strong, a good friend, and trying his best to love who he wants.
It was heart-wrenching for Sex Education fans to watch Eric be mistreated by Adam in former episodes. When Rahim comes along, many viewers let out a big sigh of relief. Finally! Eric will be with someone who will treat him like a king! But you can't pick who you have sparks with. And Eric is clearly still drawn to Adam.
Many 'Sex Education' fans wish Eric would have ended up with Rahim
It's safe to say that many Sex Education fans are team Rahim.
"eric from sex education chose adam over rahim ?! he chose an abusive manipulative relationship over a healthy one. we never choose the ones willing to move mountains for us," tweeted one fan.
"watching sex education and eric PISSED ME OFF with that adam bullsh*t when he had a WHOLE hunk of delicious Rahim ????????? JAIL," wrote another.
"Basically, Eric's arc in Sex Education season 2 was finally finding a man (Rahim) who openly loved him and then breaking up with him to be with his bully (Adam)," tweeted another.
There are some fans, though, who are rooting for Eric and Adam.
"i ship adam-eric more than eric-rahim but definitely he dont deserve to cry," tweeted one fan.
"okay but adam and eric deserve the whole world <3" wrote another.
"i'm watching sex education, so … Adam and Eric kissed and i knew this would happen!!! damn, i'm f*cking shipper and there's no cure for this, is there? anyways i'm so happy for them!!" tweeted another.
What Ncuti Gatwa thinks of Eric's 'Sex Education' journey
The actor who plays Eric, Ncuti Gatwa, told PopSugar he's thankful that the Sex Education writers made Eric, and every other character, so nuanced. Eric is a teenager who's figuring stuff out the best he can, just like everybody else.
"[With Eric and Rahim] you've got this young, gay couple, who are both openly gay but think completely differently about religion — and that's very interesting," he said. "So I am happy that Sex Education is portraying those types of relationships to be very nuanced because I think, in the past, they haven't been . . . I think it's about time that we start showing LGBT people, start sharing new stories being very nuanced, very fully fleshed, and a lot more of them."
"I think quite often what we do in this world is just group people that share an experience together entirely and think that they all [think the same way]. Like, 'all white people think like this', 'or all black people think like this', 'all gay people think like this.' But we're a big mix of a whole lot of things, all humans on this earth are," Gatwa continued. "People come from all different backgrounds and Eric definitely represents a lot of intersections — there's a lot of people in this world that do. I thought that it was really important to show that."
Read more: 'Sex Education': Emma Mackey (Maeve) Is Most Proud of the 'Sisterhood' in Season 2