'Sex and the City': Chris Noth Blasts Kim Cattrall Over 'Sad and Uncomfortable' Feud With Sarah Jessica Parker
ARTICLE HIGHLIGHTS Chris Noth was "annoyed" by the success of Sex and the City and almost passed on the reboot. Noth calls Kim Cattrall's feud with Sarah Jessica Parker "sad and uncomfortable" and reveals that he feels protective of his onscreen love. Mr. Big and Carrie Bradshaw are back on the HBO Max SATC reboot …
ARTICLE HIGHLIGHTS
Chris Noth was "annoyed" by the success of Sex and the City and almost passed on the reboot.
Noth calls Kim Cattrall's feud with Sarah Jessica Parker "sad and uncomfortable" and reveals that he feels protective of his onscreen love.
Mr. Big and Carrie Bradshaw are back on the HBO Max SATC reboot And Just Like That…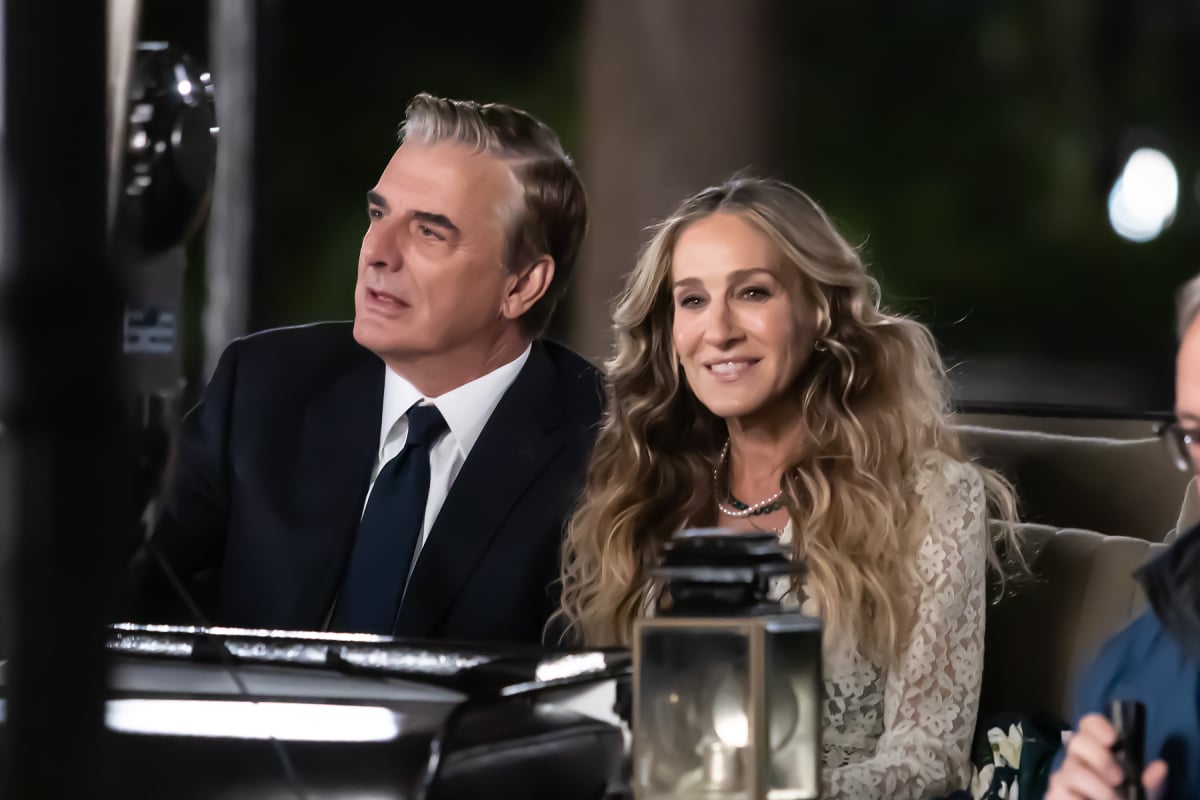 The Sex and the City reboot — And Just Like That… — is now playing on HBO Max. But there is one popular character who is notably missing — Kim Cattrall's Samantha Jones. Cattrall refused to reprise her role for a number of reasons. Most notably, her long-running feud with co-star Sarah Jessica Parker (Carrie Bradshaw).
According to star Chris Noth (Mr. Big), the rift between Cattrall and Parker is "sad and uncomfortable." And he wished it had never happened.
Chris Noth was 'annoyed' by the success of 'Sex and the City'
Noth was a working actor in the 1990s, and he even starred on a hit TV show. Many fans knew him as Detective Mike Logan for five years on Law & Order. But when he landed the role of Mr. Big on Sex and the City, everything changed. Noth admits the sudden fame wasn't easy.
"Initially, when the show became a cultural phenomenon, I was really annoyed by it, because I don't like to be called a character's name on the street and actors don't like [characters] sticking to them," Noth explained to The Guardian.
Eventually, Noth realized that he needed to stop resisting this because it wasn't going away. People are always going to connect him to Mr. Big, so he decided to "just let what you resist persist."
Chris Noth almost passed on 'And Just Like That…'
Noth admits that he almost turned down the opportunity to reprise the Mr. Big role in And Just Like That…. He wasn't a fan of the Sex and the City movies because they were so different from the original series. And, he felt like he had taken the Mr. Big character as far as he could.
What convinced him to be a part of the series was a long conversation with the show's writer and director Michael Patrick King.
"He took in a lot of my ideas and we came up with a way for me to work into it," Noth explained.
In addition to Noth, Parker is (of course) back as Carrie Bradshaw. Cynthia Nixon has also returned as Miranda Hobbes, and Kristin Davis is back as Charlotte York. But one member of the famous New York foursome — Cattrall's Samantha Jones — will not appear in And Just Like That.
Chris Noth slams Kim Cattrall over her 'sad and uncomfortable' feud with Sarah Jessica Parker
Noth says that he doesn't understand Cattrall's behavior in this situation or why she opted to turn down And Just Like That…. Ultimately, he wishes the feud had never happened.
"I have to tell you, I have absolutely no idea what her thinking is, or her emotions. I do know that I'm very close with SJ and [Cattrall's] descriptions of her don't even come close," Noth said. "I liked her, I thought she was marvelous in the show and some people move on for their own reasons. I don't know what hers were. I just wish that whole thing had never happened because it was sad and uncomfortable."
Noth concluded his statement on the Parker-Cattrall feud by saying that he doesn't like to see anyone "talking down" about Parker because "she's a target and people can be nasty."
"I feel very protective of her and I was not happy about that. That's all I'll say about that," Noth said.
The feud began when 'Sex and the City' ended
Rumors of a feud between Cattrall and Parker began around the time the original series wrapped back in 2004. But Cattrall still reprised the Samantha Jones role for the two Sex and the City films. However, in 2018 the feud between the two co-stars escalated when Parker posted condolences on Cattrall's Instagram.
After Cattrall's younger brother Chris died in February 2018, she posted a remembrance of him and later thanked fans and colleagues for sending their support. But she later clarified that Parker had sent her warm wishes and she wasn't happy about it.
Kim Cattrall called Sarah Jessica Parker a 'hypocrite' and 'not my friend'
Cattrall wrote on Instagram: "My Mom asked me today 'When will that @sarahjessicaparker, that hypocrite, leave you alone?' Your continuous reaching out is a painful reminder of how cruel you really were then and now. Let me make this VERY clear. (If I haven't already) You are not my family. You are not my friend. So I'm writing to tell you one last time to stop exploiting our tragedy in order to restore your 'nice girl' persona."
Parker never responded to or addressed Cattrall's post. But she did say during a 2018 episode of Watch What Happens Live with Andy Cohen that she was "heartbroken" by Cattrall's previous claim that they weren't friends, just colleagues.
"I found it very upsetting because that's not the way I recall our experience. I always think what ties us together is this experience — it was a professional experience but it became personal because it was years and years of our lives," Parker said.
And Just Like That… is now playing on HBO Max.