Sex Pistols: Johnny Rotten Got His Nickname Because His Teeth Were Green
Sex Pistols frontman Johnny Rotten got his nickname from guitarist Steve Jones. His teeth were so rotten they were green.
There are many famous stage names in music, but none are as dreadful as Sex Pistols frontman Johnny Rotten. The punk rocker, born John Lydon, got his nickname because his teeth were decaying and green. The name and his teeth only added to the frontman's intimidating persona.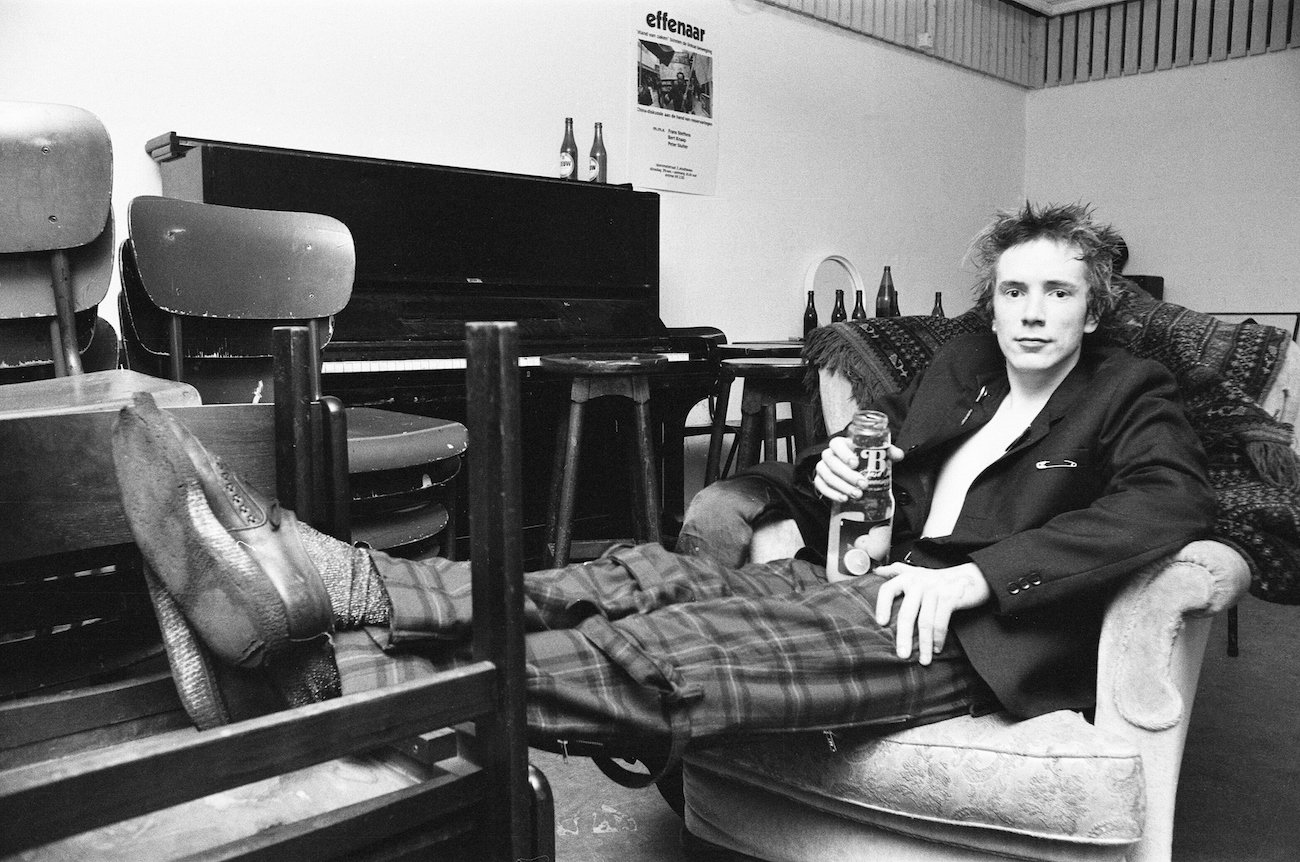 Sex Pistols guitarist Steve Jones came up with 'Johnny Rotten'
In an interview with Rolling Stone, Sex Pistols guitarist Steve Jones talked about why he nicknamed Lydon "Johnny Rotten."
Rolling Stone asked how bad Lydon's teeth were. Jones replied, "A couple of them in the front looked green. They just looked rotten. They weren't fangs or nothing. It was no biggie, but I guess it stuck."
Lydon told Rolling Stone he was OK with the nickname because it was funny. Jones added, "We were a very humorous band in our day. We took the piss out of everything."
As a kid, Sex Pistols frontman Johnny Rotten only saw a toothbrush when his father was cleaning his boots
The Sex Pistols frontman told the Daily Star that he only saw a toothbrush used when his father was cleaning his boots.
"There were bits of my teeth missing," Lydon said of how bad his teeth were growing up. "I had green mould growing on all the tops. I didn't brush my teeth."
Since then, Lydon has gotten his teeth repaired. "I've had surgery and parts of the inside of my mouth replaced. It's apt that my teeth are concrete grey because there's a lot of concrete in there. It's like having a mouthful of bricks."
John Lydon is still as angry as Johnny Rotten
Talking to SiriusXM, Lydon says he's still as angry as Sex Pistols frontman Johnny Rotten. "I can't help it," he said. Lydon said what's happening in his culture gets him angry. However, he writes a song and hopes it'll help.
In recent years, Lydon has focused his anger on Danny Boyle's upcoming limited series Pistol, based on the Sex Pistols' rise and fall.
In 2021, Lydon told The Sunday Times that Pistol is "the most disrespectful s**t I've ever had to endure. I mean, they went to the point to hire an actor to play me but what's the actor working on? Certainly not my character. It can't go anywhere else [but court]."
Lydon claimed no one had asked his permission to share the Sex Pistols' story. Later, Lydon filed a lawsuit against former bandmates Jones, Paul Cook, Glen Matlock, and the estate of Sid Vicious to stop the project from using any of the Sex Pistols' music. Lydon lost the suit, but that didn't stop him from bad-mouthing the limited series again.
In April 2022, Lydon released an angry statement in response to the release of Pistol's trailer through his representative on his website (per Rolling Stone): "John's 'likeness' is clearly being used to sell this series, a series he was not involved in, and was put together behind his back. Putting words in John's mouth and rewriting history. A middle class fantasy. Disney have stolen the past and created a fairytale, which bears little resemblance to the truth. It would be funny if it wasn't tragic."
Later in the month, Lydon told The Sun that Jones and Cook's decision to leave him out of the production was a "shockingly stupid move. It's so ridiculous. It's so preposterous. They can all f*** off. I supported them for years and years and years, knowing they were dead wood.
"None of these f***s would have a career but for me. They did nothing before, they've done nothing since."
So, Lydon's teeth might be better, but his anger is still strong.