Sex Pistols: Why Steve Jones Was Jealous of Sid Vicious
Steve Jones said he knew the Sex Pistols were made to "crash and burn" once they cursed on live television and Sid Vicious joined the band. Initially, Jones was jealous of Vicious because he had the right image and attitude for punk music. However, Jones quickly realized that that was all Vicious had going for him. Vicious had virtually zero musical abilities and his constant violent attacks became annoying in the end.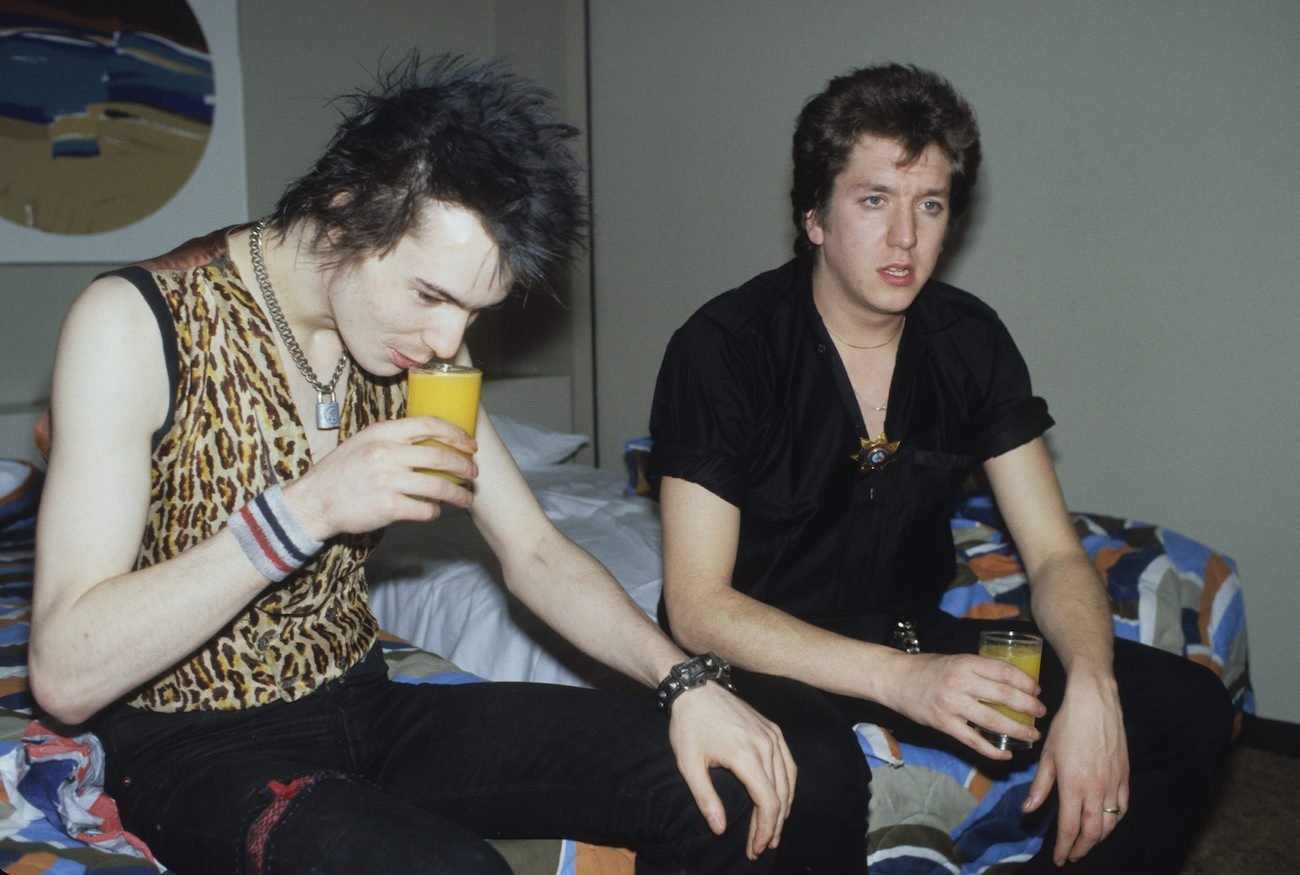 Sex Pistols' Steve Jones is happy Sid Vicious didn't play on the band's 'Never Mind the Bollocks'
When the Sex Pistols were making a name for themselves, Vicious was their biggest fan. He didn't miss a single gig. After Glen Matlock departed the band in February 1977, frontman Johnny Rotten enlisted his friend Vicious, born John Simon Ritchie, to fill in as the bass player.
Thankfully, the band had already recorded most of their only record Never Mind the Bollocks, Here's the Sex Pistols. Jones said he was relieved that Vicious didn't play on the record because he was a bad bass player. It's often been said that Vicious was only added to the band because of his image and attitude.
"He had a good sense of humor," Jones told Rolling Stone. "He had a sweet soul. And I think he could have been a contender, you know? I think he could have been a star in his own light. He is in a way, but not being known for anything other than Sid Vicious.
"But he did have some talent. I think he got slung in the deep end too quick and couldn't keep up – like all of us, in a way, but we had a little bit more experience than him.
"I attempted to show him where to put his fingers. He tried at first. He really gave it his best shot. I would put bits of tape where to put your fingers but … it was a pain in the a**. I didn't want to be teaching someone else how to play bass. So he got by in some weird ways.
"I'm glad he didn't play on the record. That would have been shambles. But you can hear him a bit in 'Bodies' because he's out of tune."
RELATED: 'Pistol': How Anson Boon Became Johnny Rotten as John Lydon Smeared the Limited Series
Initially, Jones was jealous of Vicious
Jones also admitted that it bothered him when Vicious joined the band because he got more attention than him.
"Now I look back and I can see why," he said. "He was the perfect punk, if you will. He had the perfect look, he did outrageous things, he and his girlfriend ended up dead. You can't top that, really."
However, no matter how good Vicious looked, he was still one of the reasons why the Sex Pistols broke up, claims Jones.
In his book, Lonely Boy: Tales from a Sex Pistol, Jones wrote, "The Sex Pistols were born to crash and burn, and that's exactly what we did." Jones told Rolling Stone that it became apparent to him after the Sex Pistols' infamous appearance on the Today show with Bill Grundy, in which they swore on live television, and when Vicious joined the band.
"It just didn't look like it was going to last much longer," Jones told Rolling Stone. "It all got dark and weird. Plus, we were all very young. We had no coping skills. I didn't for sure. I don't think any of us knew what was going on.
"We got caught up in the whole whirlwind of mainstream media [after Grundy] and we weren't interested in writing any songs.
"It was Sid just being an idiot, just wanting to get high and not trying to play bass. It was John just … We just was all drifting in different directions.
"We wasn't a band, like a unit. It was all over the place, and America just made it worse, because we weren't used to this big country and all the attention. It was just a weird time, and just in two weeks – however long we was in the States."
RELATED: Chrissie Hynde Almost Married Two Members of the Sex Pistols so She Could Stay in the U.K.
The guitarist has Vicious' bass, but not for sentimental purposes
Rolling Stone pointed out that Jones has Vicious' bass and asked if he had it for sentimental reasons. Jones said, "No. I just happen to have it and I haven't sold it yet."
Jones continued to say he's never even thought about selling it. Although "a couple of people have offered a bunch of money for it," Jones doesn't know if it would be bad karma to sell the instrument. "But there's no sentimental value," he said.
Jones didn't hate Vicious, but they had their problems with each other. Meanwhile, Jones and Rotten (a.k.a. John Lydon) haven't talked since 2008 and will most likely never again. As for their music together, Jones says he's proud of what the punk band accomplished, but he'd rather listen to Steely Dan than the Sex Pistols.
RELATED: How the Sex Pistols Celebrated Queen Elizabeth II's Silver Jubilee in 1977