Sex Pistols' Steve Jones Says There's Something About John Lydon That Makes Him Uncomfortable, but He Won't Say What It Is
Sex Pistols' guitarist Steve Jones and frontman John Lydon might have a connection through their music, but it ends there. The pair haven't spoken since 2008 and will likely never again, especially in the wake of the new limited series Pistol. Staying away from Lydon isn't a hard task for Jones. Something about the frontman has always made the guitarist uncomfortable, but he won't reveal what it is.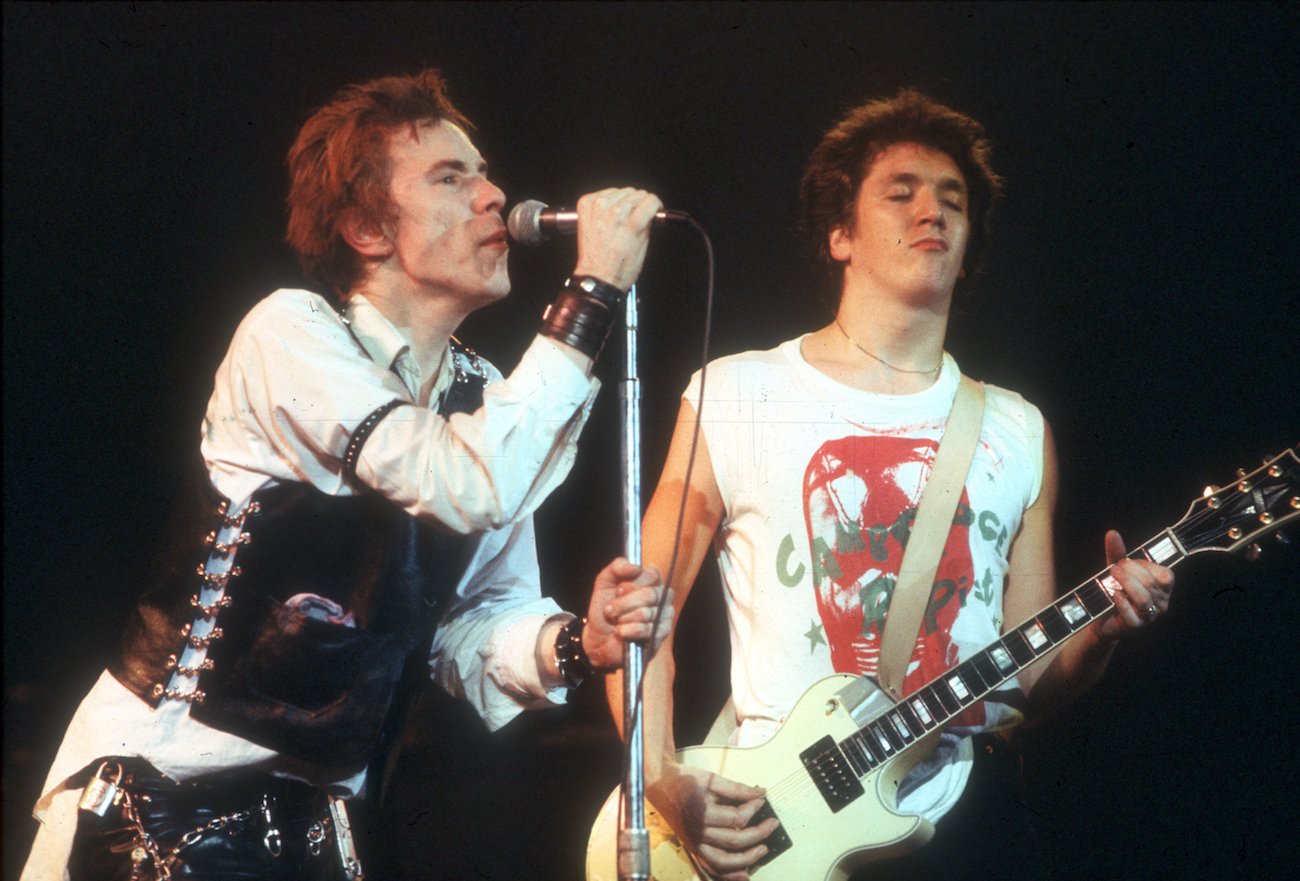 John Lydon thinks the band 'genuinely' didn't like each other
In 2017, Lydon talked with Rolling Stone about the 12 tracks on Never Mind the Bollocks, Here's the Sex Pistols, the band's only record, for its 40th anniversary. Speaking about "Problems," Lydon said everyone has problems with themselves as teenagers. However, problems extended to the band as well.
He's not convinced the Sex Pistols even liked each other.
"Problems were all the way through us as a band," Lydon said. "I don't know if we ever bothered to sit down and work out why we were a group. We not only appeared to the public as not liking each other, I think we genuinely didn't.
"It was the longest year and a half I've ever lived. I think all of us feel that way. When we talk, it all feels like a solid decade was crunched into such a tiny space of time. It was mentally draining and exhausting."
Lydon continued, "I know what kept me in the band, though: I had utter, complete respect for them as players. I knew we were all learning, but I really liked what everyone was learning. I was absolutely thrilled to be near Mr. Jones' guitar. The stability of Paul's drumming will always impress me."
However, the Sex Pistols wound up doing what Jones always thought it'd do; crash and burn.
RELATED: 'Pistol': How Anson Boon Became Johnny Rotten as John Lydon Smeared the Limited Series
Sex Pistols' Steve Jones says there's something about John Lydon that makes him uncomfortable
Despite their differences in the Sex Pistols, Jones and Lydon had similar senses of humor. However, there's something about Lydon that's always made Jones uncomfortable.
"It's funny because we have a similar sense of humor in a certain way, me and John," Jones told Yahoo!, "but it's something that just makes me uncomfortable when I'm around him, you know, and I don't what it is. Well, I do, but I don't want to say."
Jones agrees with Lydon on the Sex Pistols' chemistry. "I think there was a lot of friction in the Sex Pistols, but I think looking back on it and knowing a lot of other bands, you got to have that chemistry," Jones continued, "and that doesn't mean that you all like each other. There is an invisible friction that people pick up on when they go to see a band and it's important."
RELATED: Sex Pistols' John Lydon Is 'Really Proud' of Queen Elizabeth II for 'Surviving and Doing so Well'
Sex Pistols' Steve Jones and John Lydon haven't spoken since 2008
Decades after the Sex Pistols broke up, in 2017, Jones told Rolling Stone that he hadn't talked to Lydon since 2008.
"There is no friendship," Jones said. "He lives in L.A., I live in L.A., but we just don't talk. I think the last time I spoke to him was 2008 when we did a tour of Europe. I have no desire to speak to him and he has no desire to speak to me.
"That's totally fine. I wish him all the best. I've got no resentment toward him. It's just our marriage went wrong and we got divorced. You don't want to speak to your ex-wife, do you?"
It's hard to say if Lydon and Jones were ever friends. However, it's safe to say they never will be again after the drama that unfolded in the pre-production of Pistol, Danny Boyle's new limited series about the punk band.
The frontman filed a lawsuit against Jones, Cook, original bassist Glen Matlock, and the estate of Sid Vicious to stop Boyle from using any of the Sex Pistols' music. Lydon lost the suit because he'd signed away his rights to the band's music in the 1990s. Besides, the Sex Pistols decided that they would determine cases like this on a "majority rules" basis.
That didn't stop him from bad-mouthing the limited series, Jones and Cook. So far, Lydon has called Boyle "Boyle on the bum," and Pistol a "middle class fantasy," "a fairytale, which bears little resemblance to the truth," "tragic," "mimicry," and "karaoke." As for what he calls his sneaky ex-bandmates, they're "dead wood" to him.
Fans shouldn't hold their breath for a Sex Pistols gig. Although, it would be interesting to find out what it is about Lydon that makes Jones uncomfortable.
RELATED: A Member of the Sex Pistols Stole Gear From David Bowie's Ziggy Stardust Tour in 1973