'Shameless' Season 10 Finale: Fans React to Ian Gallagher and Mickey Milkovich's Wedding
Shameless fans who watched Mickey Milkovich and Ian Gallagher's relationship grow over nine years were admittedly emotional during the Season 10 finale when Gallavich got "gallahitched."
*SPOILER ALERT: This article contains spoilers from Shameless Season 10 Episode 12.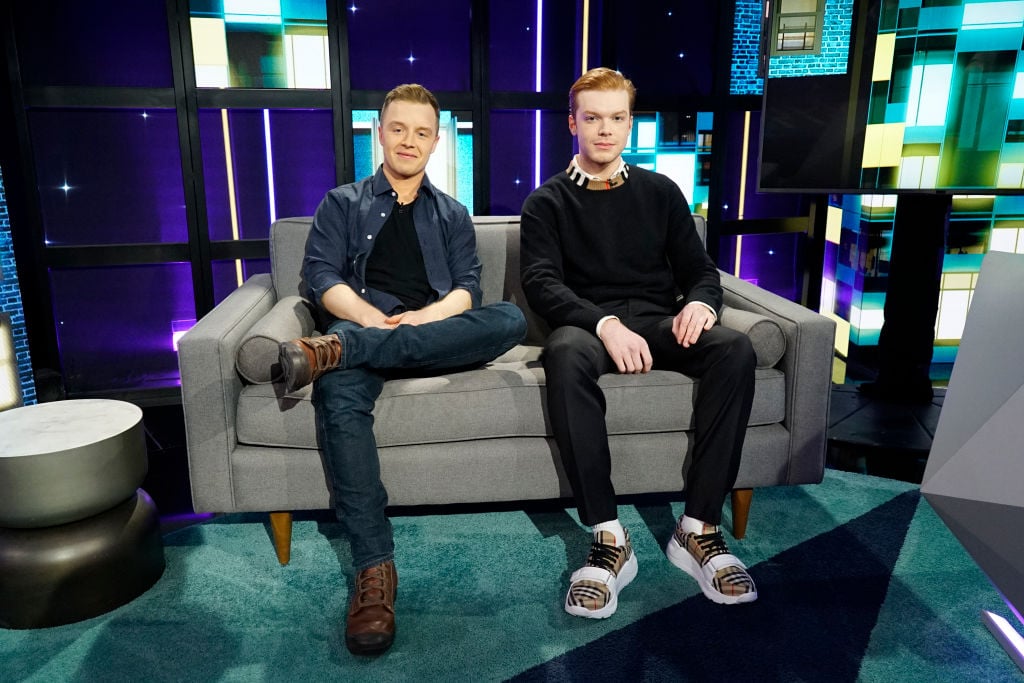 Ian Gallagher and Mickey Milkovich's relationship on 'Shameless'
The middle Gallagher came out as gay to his brother in the first season and began a sexual relationship with the owner of a local store, Kash. When aggressive thief Mickey Milkovich stole Kash's gun from his store, Ian attempted to retrieve it from him.
Instead, the two realize they are attracted to each other and had sex. While they maintained a sexual relationship, Ian ended the fling with Kash even though Mickey denied having any emotional feelings towards the Gallagher.
The store owner caught Mickey and Ian in a compromising position and had the Milkovich arrested for petty theft. After he got out of juvie, Ian's dad, Frank, walked in on the two having sex, and Mickey set out to kill him, believing Frank would tell his father. Instead, Mickey assaulted a cop and went back to juvie.
After Mickey returned, Ian wanted to have a similar traditional dating relationship he experienced with Ned, an older man, and Mickey obliged. However, Mickey's father, angry homophobe Terry, caught the two in the act and beat both of them.
He also called over a Russian woman, Svetlana, to rape Mickey as well as marry him. Even though Ian pleaded with Mickey to walk away, he went through with the wedding anyway, possibly triggering Ian's first symptoms of bipolar disorder.
Once Ian went missing for several months while elsewhere in the army, Mickey came back around, but the Gallagher felt like he needed more. Therefore, Mickey came out at his son's christening, and the two solidified their relationship.
But, the young Milkovich went to prison, so Ian began dating other people until Mickey escaped. He then considered fleeing to Mexico with the fugitive.
However, Ian chose to stay and had a psychotic break where he, and a good-sized following, believed he was the "gay Jesus." His actions resulted in a two-year prison sentence where he reunited with Mickey.
Ian Gallagher and Mickey Milkovich got married
Once Gallavich reunited in prison, they got on each other's nerves and raced to stab another inmate in order to receive solitary confinement. The couple both got out around the same time and continued their relationship.
Because Ian believed Mickey killed their parole officer, he asked the young Milkovich to marry him so they wouldn't have to testify against each other. Once they arrived at the courthouse, Ian got cold feet as he never saw a good marriage and still struggles with his bipolar diagnoses.
Mickey didn't take the rejection well and began dating, as well as moved in with someone he hooked up with one night. After Ian heard the new lover talking badly about Mickey behind his back, he beat him up and asked the youngest Milkovich son to marry him.
Even though Terry tried to stop their marriage by burning down the building, the couple married anyways with their friends and family in attendance.
'Shameless' fans react to the Gallavich wedding
While everyone cheered as Ian and Mickey kissed, surprisingly, Frank was one of the loudest. With tears in his eyes, he whooped and hollered as his son married the love of his life.
A Twitter user posted four still photos; two of Ian and Mickey and two with Frank cheering. She captioned it, "Same Frank same." Another user called them "the best glow up in history" and one Shameless fan noted they went "from 'a warm mouth' to 'husbands.'"
Several fans uploaded pictures of the wedding to their Twitter accounts with excitement that the day they've longed for since Season 5 has finally happened.
They also loved the exchange between Ian and his older brother, Lip, before he got married and the way he asked, "now?" before kissing his husband. Shameless returns in Summer 2020.