Shannen Doherty Was Touched To See How Much the 'Riverdale' Cast Loved Luke Perry
Luke Perry passed away earlier this year after suffering a stroke. He was currently starring as Fred Andrews on The CW's series Riverdale. Riverdale creator Roberto Aguirre-Sacasa prepared the season 4 premiere of Riverdale to pay tribute to Perry via his character. Shannen Doherty, Perry's Beverly Hills 90210 costar and love interest, will guest star on the episode, Aguirre-Sacasa announced at Comic-Con.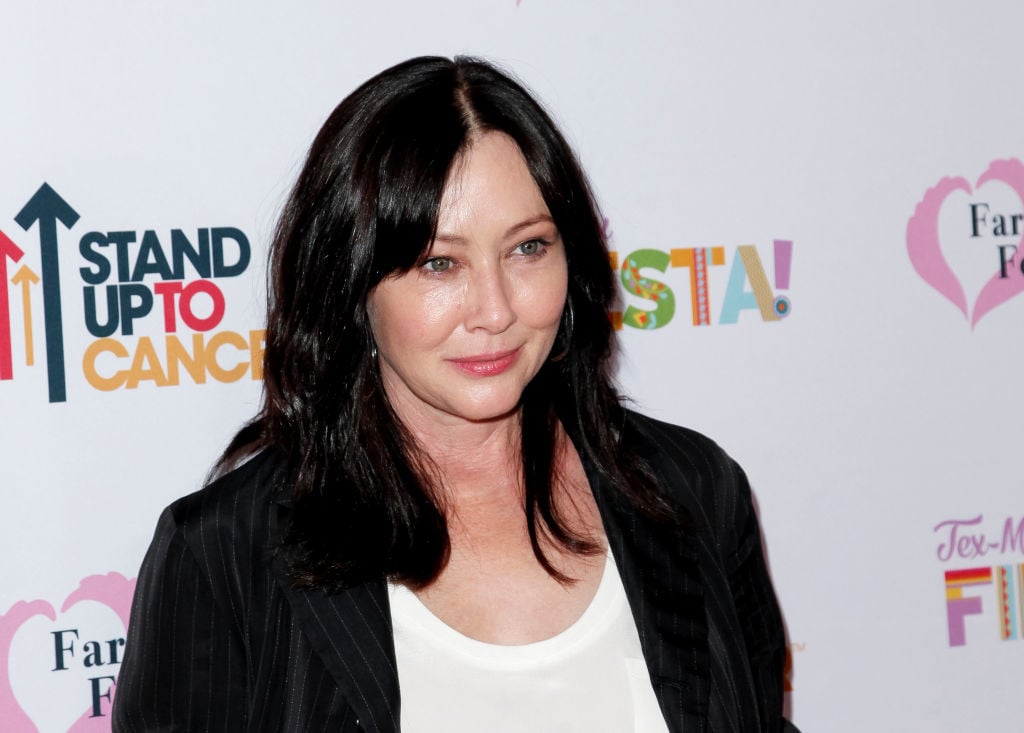 Yesterday, Doherty was on a Television Critics Association panel for BH90210, the Fox reboot of Beverly Hills 90210. Although the season premiere of Riverdale is a surprise, Doherty spoke about joining the cast of Perry's last show to pay tribute to him. BH90210 airs Wednesdays at 9 p.m. on Fox and Riverdale returns Wednesdays at 8 p.m. on The CW.
The 'Riverdale' cast's love of Luke Perry was palpable
When Shannen Doherty was asked to pay tribute to Luke Perry on Riverdale, she posted on Instagram how honored she felt. Once she met K.J. Apa, Lili Reinhart, Cole Sprouse, Camila Mendes, Skeet Ulrich, Madchen Amick and the rest of the Riverdale cast, she saw how much Luke Perry meant to them.
"That cast loves him, loves, loves, loves him," Doherty said. "It was extremely hard in the sense of the emotions but I feel really proud and honored and extremely humbled that they asked me and that I got to be a part of it.
Luke Perry's legacy lives on in the 'Riverdale' cast too
Luke Perry was a teen idol on a hot teen show in the '90s with Beverly Hills 90210. The cast of Riverdale is now where he was with all the fans on The CW. In the three and a half seasons he was on Riverdale, Luke Perry gave back to the new generation of actors.
"What was really beautiful was how much Luke had spent time mentoring them, which is such a Luke thing," Doherty said. "He just was a mentor, caretaker."
Luke Perry's family and colleagues helped Shannen Doherty on 'Riverdale'
Everyone in Luke Perry's life collaborated to make the Riverdale season premiere a fitting tribute to him. Doherty felt supported by the Perry family and his partners.
"I spoke to certain family members and they were behind it," Doherty said. "Luke's manager Steve was very supportive so I went into it knowing that I was being supported by everybody that really mattered to Luke and knowing that it was a show that he had been trying to get me on since day one. So it was like this really beautiful moment. It was cathartic in a lot of ways. Very, very hard and emotional."
Shannen Doherty did 'BH90210' for Luke Perry
As we reported from the BH90210 panel, Doherty was not planning on appearing in BH90210 until Luke Perry passed away. After that tragic loss, she felt doing the show was the right way to honor him.
"When Luke passed away, things drastically changed for me," Doherty said. "I felt like it was a great opportunity to sort of honor him, and then I am really glad I made that decision, because now I get to sit up here with a lot of people that I respect and that I love, and we went on this amazing journey together where we also got to really sort of heal through losing somebody who means the world to all of us."