Shaquille O'Neal Had to Win an NBA Championship Before Adam Sandler Would Cast Him in a Movie (Exclusive)
Shaquille O'Neal recently revealed that Adam Sandler said he would cast him in one of his films only after he brought home an NBA championship. O'Neal's reaction? No problem.
O'Neal recently chatted exclusively with Showbiz Cheat Sheet about how he became part of the tight-knit group of friends Sandler regularly includes to be in his films. What began as O'Neal and Sandler essentially roasting each other on the court eventually evolved into a friendship.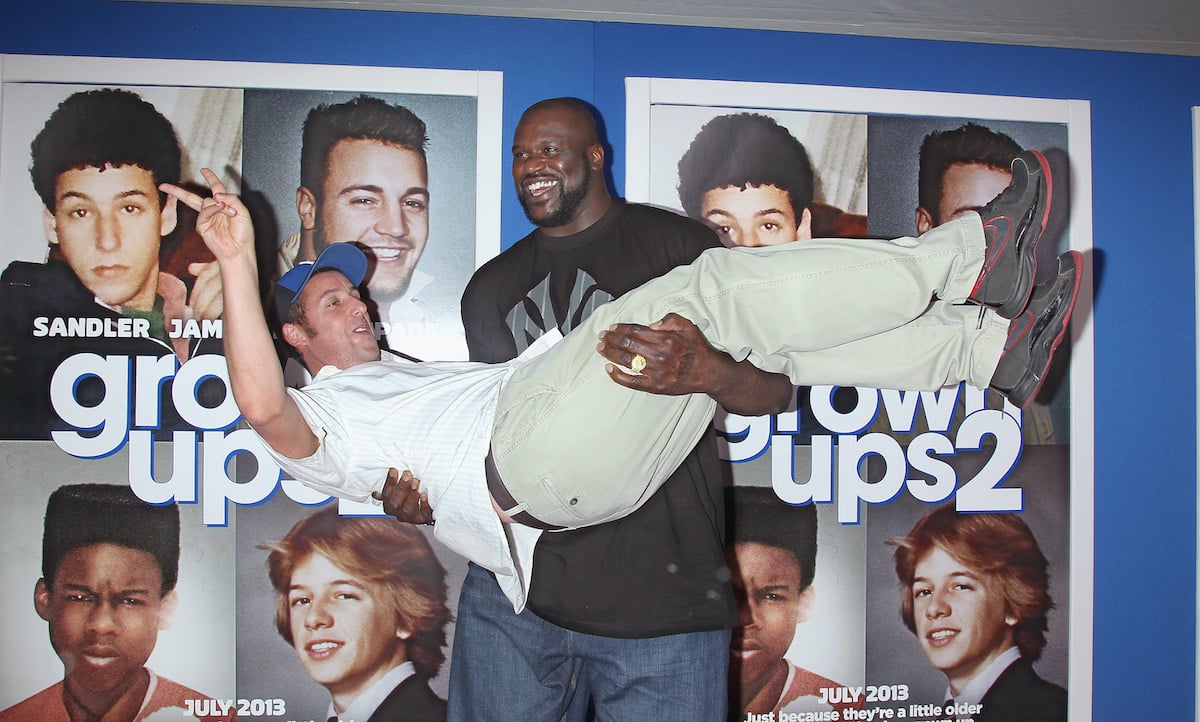 Shaquille O'Neal didn't audition, he just had to win a championship
Not many actors are challenged with having to win a professional championship title to score a movie role, but that was Sandler's offer.
"He used to sit by Jack Nicholson and every time I made a big play, the crowd would go crazy and I'd run by Adam and Jack," O'Neal recalled. "And I'd say, 'Adam put me in a movie!' And he'd say, "Win a championship first! Come on big fella! You're never gonna be in one of my movies unless you win a championship.'"
RELATED: Did John Mulaney Encounter the Real 'Craig and Stacia' During His 'House Hunters: Comedians on Couches' Episode?
O'Neal said he bantered back and forth with Sandler for some time until he brought home a Lakers championship. But he recalled being a little surprised when Sandler made good on his promise.
"So I won and got traded," O'Neal said. "One day I'm just sitting at the house and my agent said, 'Adam Sandler wants to talk to me. He has some movies lined up for you.' I was like, 'For real?' But he said a promise is a promise. So I've won four championships and I've been in about seven of his movies."
Adam Sandler said Shaquille O'Neal gets the biggest laughs
Indeed, O'Neal appeared in Sandler's Grown Ups series, Blended, Jack and Jill, and most recently, Hubie Halloween. Sandler said O'Neal gets some of the biggest laughs in his films.
"He doesn't demand much," Sandler said about O'Neal during an September 2020 appearance on Jimmy Kimmel Live. "We were shooting in Boston and he just kinda looked at me and I said, "Can I get you some baked beans?' And he just kept staring and I said, 'No, how about some fried dough?' I got nothing. I said, 'How about six pints of clam chowder soup' and he gave me the big smile."
RELATED: 'Hubie Halloween' Movie Review: Adam Sandler's Greatest Hits
O'Neal said that making films with Sandler brings him back to the camaraderie he experienced on the basketball court. He'd love to keep the Sandler streak going for as long as Sandler wants to cast him in his films.
Do Shaquille O'Neal's kids think he's funny?
While Sandler said O'Neal got the biggest laugh, O'Neal said his audience at home doesn't think he's that funny. "My kids don't think I'm funny," he deadpanned. "They think they're funny."
But O'Neal's comedic genius was well-established long before he became an NBA superstar. "I used to be what's called the class clown," he recounted. "When I was in college, the professor was talking about creating an image. But the way to express myself with people I have to be myself."
RELATED: 'Modern Family': Nolan Gould Has Been Building More Than Muscles During the Pandemic (Exclusive)
Being himself in a comedic arena comes naturally as O'Neal is going to "Shaq it up" in the new ad branding campaign for The General insurance. The first ad features O'Neal and a child schooling two insurance suits on the money-saving, value-added brand.